Groupe ADP to trial autonomous shuttle in traffic-dense environment
The airport giant Groupe ADP has announced Charles de Gaulle will become the first airport in France to trial autonomous shuttle busses.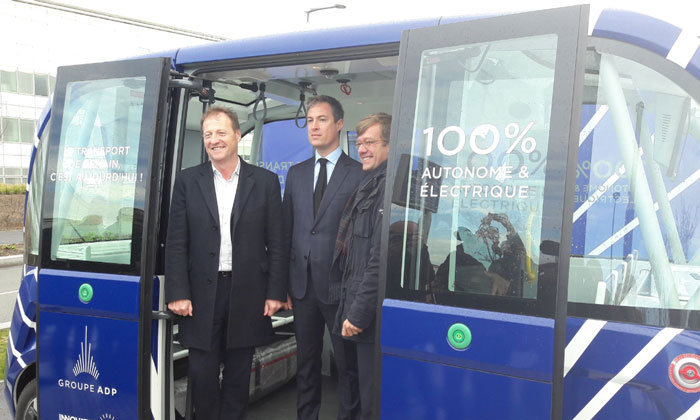 TRAILBLAZERS: From left to right: Christophe Sapet, Navya; Youenn Dupuis, Keolis; Edward Arkwright, ADP
The vehicles will connect its suburban train station with the Environmental and Sustainable Development Resource Centre and Groupe ADP's headquarters.
Keolis, the operator, has joined forces with Navya, the French autonomous shuttle designer, to carry out the pilot project until July 2018.
This initial trial represents an important milestone in Groupe ADP's strategy to become a key player in the autonomous vehicle ecosystem. The itinerary of the two shuttles has been designed to test how automated vehicles will behave on a high-traffic roadway, as well as how they merge and pass within an extremely dense environment that includes many pedestrians.
An intelligent road infrastructure system that uses traffic signals to communicate with the shuttles has been set up, a world first, in order to optimise the crossing of the road in complete
safety. Feedback from users (employees and passengers) is also one of the trial's determining factors.
Charles de Gaulle's airport city is a key area for the development of autonomous vehicles. 
 Edward Arkwright, Deputy CEO of Groupe ADP, said: "Autonomous transport services will play a key role in our aim to create a new generation of connected airports. With this first trial, Groupe ADP is paving the way for developing this technology within our airport networks in France and abroad. In these constrained environments, autonomous technology is a lever for optimising infrastructures for of a new mobility offer.
"Our airports' mobility needs are quite considerable – between the various terminals, between carparks and departure areas, or even airside – and could lead us to develop an autonomous vehicle fleet in the future.
"Within the framework of our Innovation Hub programme, the future of mobility is being built in the heart of the airport city."
The shuttles
The two shuttles, accessible to persons with reduced mobility, can carry up to 11 seated and four standing passengers. Each can reach 25 km/h on a 700-metre-long track. The service operates from 07:30 am to 08:00 pm and is free. An on-demand shuttle service is available by scanning a QR code with a smartphone.
"Keolis and the ADP Group have been working closely for several years now in order to develop mobility services adapted to the airport zones of the Paris region,"  said Youenn Dupuis, Keolis' Deputy CEO for Greater Paris region. "Keolis is proud to be supporting the ADP Group in their new autonomous vehicle trial, which enhances the range of services that we already provide them with, including the management of the Roissypôle bus station, the shuttle buses for Orly Airport, as well as our partnership with Le Bus Direct, a premium coach service between Paris and Orly and Charles de Gaulle airports.
"This is Keolis' second autonomous shuttle project in the Greater Paris region, following the launch of a first trial in Paris' La Defense business district in July 2017, with the local transport authority, Ile-de-France Mobilités. The Keolis Group is accelerating its transformation into new mobility solutions, and this new trial strengthens our status as a pioneer in autonomous mobility, with more than 90,000 passengers carried on our autonomous shuttles since September 2016."
 NAVYA CEO Christophe Sapet added: "NAVYA is delighted to be marking out the airport of the future together with Groupe ADP and Keolis. The airport of the future is based on smart and specially adapted mobility solutions that are able to communicate with the infrastructure that we have set up at Roissypôle with Groupe ADP.
"Airports are areas where the traffic is extremely concentrated and so it is really important to manage and optimise the flow. The aim of this trial is from now on, to provide a service that takes into account future deployments. Once again, NAVYA is showing that its fleets of autonomous shuttles are just as suited to improving the daily running of airports as they are to improving the overall passenger experience."