Fraport AG commissions fully automated people mover
Fraport AG, operator of Frankfurt Airport, has commissioned Siemens to lead a consortium to deliver a fully automated Airval people mover to connect the airport's Terminal 2 with the new Terminal 3 and Station at Terminal 1. The people mover is scheduled to begin service at the airport in 2023.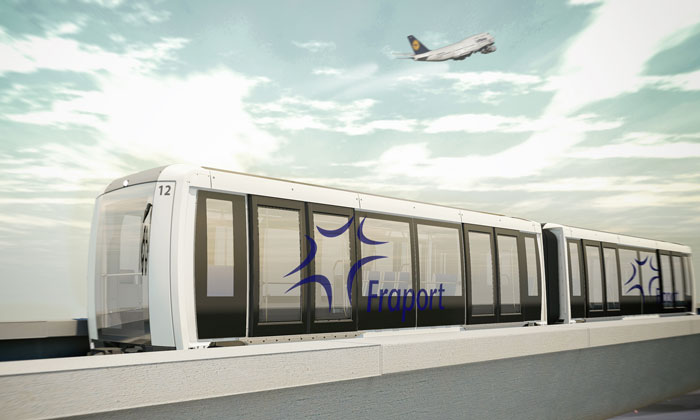 Along with Siemens, the consortium is made up of Max Bögl Group and Keolis Deutschland GmbH & Co. KG.
The line will be 5.6 kilometres long, and have two tracks and three stations. Siemens will also deliver 12 fully automated two-car trains equipped with GoA4 Communication Based Train Control, the trackwork equipment, the station platform doors, communication system, depot equipment and the power supply system. In addition, Siemens will take over the operation and maintenance of the system for five years with an option to extend service for another five years. 
The Airval is a fully automated passenger transport system running on rubber tyres and using a central rail guidance system. It offers high performance with short headways and is fitted with an energy management system that ensures high operating efficiency. The system will be designed and developed at Siemens' Val world centre of competence, in Toulouse, France. Val systems from Siemens are already in operation at the Roissy Charles-de-Gaulle and Orly Airports in Paris as well as at the O'Hare Airport in Chicago.
Dr. Stefan Schulte, Chairman of the Executive Board of Fraport AG, commented: "With the consortium, we have chosen a reliable system provider. The new passenger transport system will increase the comfort and convenience for our customers and sustainably strengthen the hub function of the Frankfurt Airport. 
The Airval trains, which have a top speed of 80km/h, will operate at the Frankfurt Airport with two-minute headway, 24 hours a day, seven days a week. In peak periods, they will be able to carry 4,000 passengers per hour, per direction. In addition, on-board internet access and information displays will enhance passenger comfort and convenience.