Aeroports de Paris buys nearly half Turkish airport's operator
A day after TAV Airports swooped in on Antalya International by purchasing 49 per cent of one of its owners shares, Groupe ADP has joined in.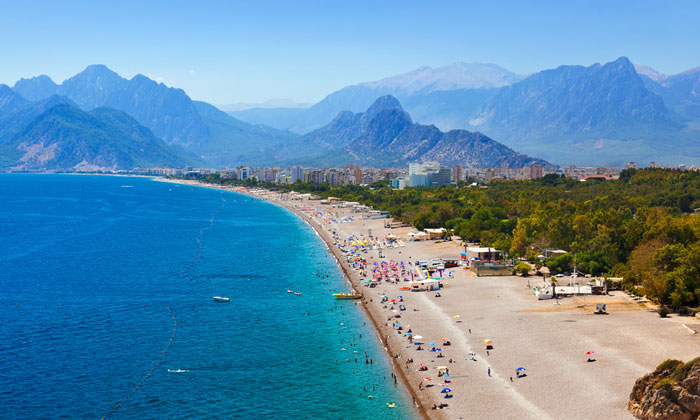 MEDITERRANEAN: The Antalya coastline is one of Turkey's most popular tourist destinations
Groupe ADP has announced the signing of an agreement to buy 49 per cent of Antalya International Airport's operator, ICF Antalya. 
ICF Antalya is the joint-venture managing the airport. TAV Airports and Fraport (which will still own 51 per cent of the shares once the deal is closed) would co-control ICF Company with equal rights.
The airport welcomed more than 26 million passengers in 2017, making it the second biggest in Turkey. 
The move, announced last week, came just one day after TAV Airports announced it had bought 49 per cent of IC ictas' 49 per cent stake in ICF Antalya. 
 The share purchase agreement between TAV and IC İçtaş will be finalised following the approval by the State Airports Authority (DHMI) and the Competition Authority. As per the agreement, TAV will have co-control of the company and 50 per cent dividend rights.
TAV Airports President and CEO Sani Şener said: "As TAV, our core business is airport management and we continue to focus on this industry. We will be happy to partner with Fraport in Antalya, one of the most prominent tourism destinations in the Mediterranean.
"Four years ago, we had shifted our strategy to grow our airport management portfolio while steering our service companies to grow beyond TAV, in order to compensate for the foreseen closure of Istanbul Ataturk.
"Today, our services and products are used in 77 airports across 19 countries. In our existing airports, we are serving to 115 million passengers and now we add more than 18 million international passengers, with the inclusion of Antalya in our portfolio.
"Being the second largest airport in turkey in terms of international traffic, Antalya Airport transaction grows our foothold in Turkey and further underlines our commitment to investing in our home country, and to the Turkish aviation market.
"With our extensive know-how, we aim to work towards strengthening Antalya's true potential. We'll continue looking for opportunities on a global scale and growing in the airport management industry".