Iris and facial-recognition gates go live at Dubai Airport
As part of a commitment to seamless travel, Dubai Airport has brought in 100 state-of-the-art biometric gates with 40 more on the horizon.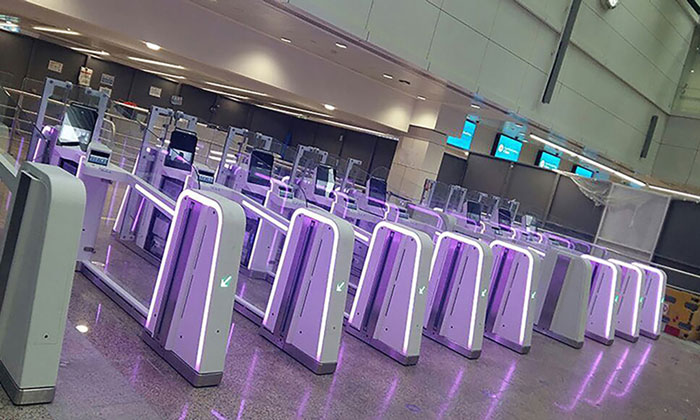 GONE IN A FLASH: The gates can identify passengers in one or two seconds Photo: PRNewsfoto/Princeton Identity
A fleet of state-of-the-art smart gates with facial and iris-recognition technology have gone into action at Dubai Airport (DBX).
Princeton Identity announced the installation of 100 Access500e kiosks at the Middle Eastern hub on Sunday. The kiosks' contain a face and iris biometric capture device which, Princeton Identity has said, can be integrated into a variety of application solutions. In the case of DBX, that has been to install it in a smart gate, commonly referred to as the 'Eyen' gate system. It boasts the capacity to identify passengers within one or two seconds.
"Princeton Identity and the Dubai International Airport share a goal of simplifying and speeding access to keep people and business moving, and the Access500e deployment at the DXB marks a new standard in passenger security," said Mark Clifton, Chief Executive Officer at Princeton Identity.
"Iris recognition is most reliable form of biometric identification, and the Access500e turns what used to be a slow process for travellers into a convenient, quick and more secure experience."
The Emirates Airlines terminals are the largest terminals within DBX. The airport saw nearly 14.9 million international visitors in 2016, and is expected to surpass 20 million visitors by 2020. 
"DXB has always set a high bar in terms of innovative and future-forward experiences and we applaud the leadership team's decision to tap the power of iris recognition to further enhance both traveler satisfaction and security," added Clifton.
Dubai is seemingly getting ahead of the game when it comes to seamless travel. In October, Dubai Airport unveiled an upcoming innovation at Gitex Technology Week. A tunnel, equipped with more than 80 cameras and biometric technology, will replace the established border gates in Terminal 3 this summer.  It scans the faces of travellers over a relatively short space, taking in their retinas and distinctive features as they move. And the walls of this tunnel will display a virtual aquarium.