Tunnel vision: Dubai Airport unveils the future of seamless travel with a virtual aquarium
A short walk among 80 scanners taking in your biometric data may soon be all that is needed for a smooth and serene journey through airport borders – unless you don't like fish.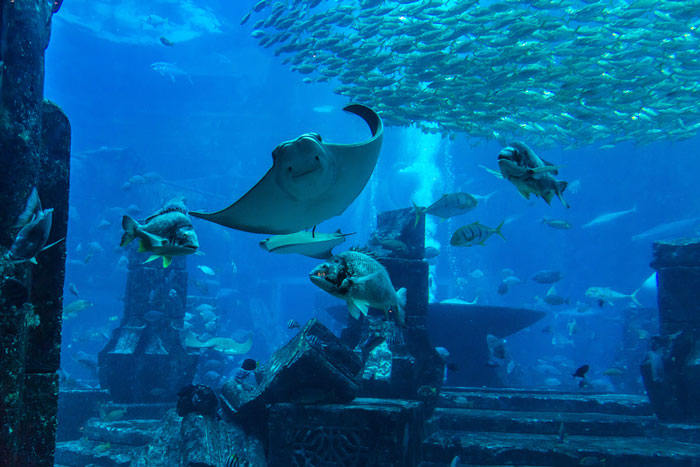 WHERE IT IS WETTER: The aquarium wall decoration is more than just a pretty feature.
By Summer 2018, passengers at Dubai Airport's Terminal 3 will have an entirely novel border experience.
A tunnel, equipped with more than 80 cameras and biometric technology, will replace the established border gates. It scans the faces of travellers over a relatively short space, taking in their retinas and distinctive features as they move. And the walls of this tunnel will display a virtual aquarium.
But the fish aren't just there to look pretty. They are an innovative way to attract flyers' vision to the areas of the tunnel where cameras can capture their biometrics more effectively.
The tech was unveiled at Gitex Technology Week, which ran from October 8 to October 12 at the Dubai World Trade Centre. Interested parties were given an opportunity to try out the tunnel during the event with attracts some of the most cutting-edge smart developments from all over the world.
The newspaper The National was the first to report on the innovation. In its editorial, it claims the idea came about when officials at the airport were considering how best to accommodate a gargantuan climb in passenger numbers over the next two years. 
The General Civil Aviation predicts 124 million passengers to pass through Dubai's airports by 2020. At the moment, Dubai International sees on 80 million.
Quoted by the newspaper, Major General Obaid Al Hameeri, Deputy Director General of Dubai Residency and Foreign Affairs, said: "The tunnel has not come out of nowhere, without any foundation.
"We have been working for about four years to transform the procedure from the traditional counter and in the future we will not need the counter at all.
"There will be auditing, of course, but not through the counter."
He added that security, as much as speeding up procedures and enhancing the travel process for passengers, is a priority.
"This will also benefit stakeholders," he said. "Now the traveller can spend more time shopping at duty free, or avoid missing their flight due to long queues."