2017 proves to be a record-breaking year for airports around the world
In what may be one of the biggest years in aviation history, here are just a few of the airports that have broken their own records.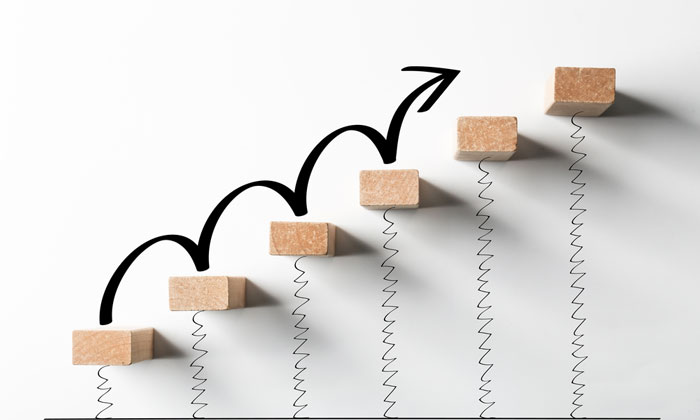 ON THE UP: Air travel has recovered from the financial crisis
A record December closed a record-breaking year for airports around the world. Here are just some of the airports that broke their own records in 2017.
Seventy eight million passengers travelled through the airport in 2017, up 3.1 per cent on last year with passenger volumes driven by larger and fuller aircraft.
Heathrow became one of the fastest growing major European hubs for cargo, with 1.7 million metric tonnes travelling through the airport – equivalent to the weight of 134,000 London buses or 136 London Shards. Across the year, the key markets for cargo were the US, East Asia, and Europe
Heathrow CEO John Holland-Kaye said: "Heathrow had its best year ever in 2017 helping to strengthen the British economy as the country seeks to redefine its role in the world. Our colleagues welcomed 78 million passengers and supported the delivery of record volumes of British trade to markets around the world. We're looking forward to continuing to deliver for Britain in 2018 as we progress our expansion plans." 
Last year  68.4 million travellers flew from, to or via Schiphol, representing a rise of 7.7 per cent relative to 2016. There were a total of 496,747 air transport movements at Schiphol in 2017, an increase of 3.7 per cent compared to 2016.
The airport's cargo volume grew by 5.4 per cent to 1.75 million tonnes. Last year Schiphol offered 326 destinations, four more destinations relative to 2016.
London Gatwick ended 2017 with its busiest December on record, as 3.2 million passengers travelled through the airport during the festive month, an increase of 1.5 per cent year-on-year. 45.6 million passengers used the airport in 2017, 5.2 per cent on 2016.
After a year of continued booming growth in Gatwick's long-haul connections, with new routes including Singapore, Rwanda, Seattle and Denver, December saw a 16 per cent year-on-year rise in passengers travelling long-haul.
Gatwick Airport, Chief Executive Officer, Stewart Wingate said: "2017 was a great year for Gatwick in which we delivered record passenger growth and an array of new long-haul routes, bringing our annual passenger total to 45.6 million and extending our long-haul network to 63 connections.
"Gatwick's soaring long-haul and cargo growth in December is an impressive conclusion to 2017 and we'll be strengthening the airport's global connectivity even further this year, with new services to Buenos Aires, Austin and Chicago already confirmed to begin in the first quarter alone.
"This year, we're also looking forward to British Airways' biggest summer schedule at Gatwick for almost ten years, which will see 15 per cent more weekly BA flights than last summer.
"We have ambitious plans to build on the success achieved in 2017 and reach 50 million passengers per year and beyond, setting new standards for Gatwick and playing an increased global role for Britain. This will be done while continuing to deliver the best passenger experience, which is at the heart of everything we do at Gatwick."
Though it is one of the smaller airports on our list, Keflavik Airport in Iceland has done the most growing. Shooting up by an immense 28 per cent in passenger numbers, it welcomed 8.8 million passengers by the end of 2017. It saw nearly two million more passengers than the year before and witnessed balanced growth across O&D and connecting traffic, resulting in another record-breaking year for the gateway.
"It's exhilarating to be part of the rapid growth we're experiencing here at Keflavik and it's showing no signs of slowing down," enthuses Hlynur Sigurdsson, Commercial Director, Isavia. He adds: "To get a clear idea of how rapidly our airport is growing, just two years ago we welcomed 4.8 million passengers which means in 24 months we've nearly doubled our traffic. Forecasts are already suggesting we will not only hit the definitive 10 million passenger mark but significantly pass it this year."
In 2017, a total of 107 destinations in 33 countries had a direct connection from Keflavik, operated by 32 airlines. Serving its furthest point Los Angeles (6,942 kilometres) 270 times during the year, its closest Vagar (803 kilometres) 43 times, Copenhagen was however the most frequently-served destination with around 1,750 flights throughout the year. The most heavily-used aircraft type at the airport in 2017 was the 757-200, followed by the A321.
London Luton Airport (LLA) welcomed 15.7 million passengers in 2017, marking an 8.6 per cent increase compared with the previous year and making 2017 the airport's busiest year on record. 
Passenger demand for air travel in the South East continues to soar. To help meet this demand LLA is investing £150million to increase its annual capacity by 50 per cent by 2020. However, improved rail links to the airport are vital in order to provide this additional capacity. This is why LLA is calling for four fast trains per hour to stop at Luton Airport Parkway station as part of the new East Midlands Rail Franchise. Doing so would help to free up much-needed capacity as well as providing an economic boost to the local area and the UK as a whole.
Nick Barton, CEO of LLA, said: "2017 has been another record breaker at LLA, and we look forward to welcoming even more passengers as we enter our 80th year.
"Throughout 2018, passengers will see the airport transformed as we officially open our new terminal and reach the first phase of construction for the Mass Passenger Transit* system which will replace the current shuttle bus and create a rapid link between the train station and the terminal. However, this is only part of the solution to better public transport links and is why we continue to call on the government for four fast trains per hour between central London and Luton Airport Parkway."
Seventeen and a half million passengers used Hamburg Airport in 2017. This is around 1.4 million passengers, or 8.6 per cent, more than in 2016. This was the first time that there were more than 17 million passengers in one year in the history of the airport. Aircraft movements, totalling around 159,780 in 2017, were lower than in the year 2000, when just under 10 million passengers used Hamburg Airport. Compared to 2016, the number of aircraft movements declined by around 0.5 per cent.
"The passenger growth of 8.6 percent in the year 2017 was higher than average," says Michael Eggenschwiler, CEO of Hamburg Airport. "At the start of the year we anticipated a significantly lower growth in passenger numbers. The actual development shows just how high the demand for mobility is amongst northern Germans. And it is our task as an airport to ensure the region's mobility into the future, for both private and business travellers. It is a positive development for our neighbours that the number of aircraft movements has remained constant, thanks to efficient air traffic operations."
Cologne Bonn Airport
Building on a landmark year in 2016, Cologne Bonn Airport delivered its best-ever year in terms of throughput in the airport's history, concluding 2017 with new all-time records for both passenger traffic and cargo. As a result, 2017 becomes the fourth consecutive year that both passenger and cargo traffic has grown.
Handling 500,000 extra passengers in 2017 than in the previous year, Cologne Bonn produced a solid 4 per cent passenger traffic growth, resulting in a total of 12.4 million passengers using the airport in 2017. Over one million passengers per month used the facility during April to October last year – the first time the airport has ever achieved this feat. Air freight also developed positively in 2017 ‒ processing 840,000 tons and representing a 7 per cent increase ‒ another highpoint for Germany's third-largest cargo airport.
Milan Bergamo Airport
Welcoming over one million more passengers last year than in 2016, adding three new airlines and launching 20 new flights resulted in Milan Bergamo Airport's most successful year in its history. Recording a healthy overall 10.5 per cent growth in passenger traffic last year saw a total of 12.3 million passengers travel through Italy's third busiest airport (in terms of annual passengers).
A total of 17 scheduled carriers are now in Milan Bergamo's portfolio, with a share of the airport's record growth being attributed to the arrival of its latest airline partners – Arkia Israeli Airlines, Ernest Airlines and Ukraine International Airlines. With 737-800s being the most frequent aircraft type to be seen at the Italian airport, boarding gate A12 saw the most passenger use throughout the year.
"With a combination of desirable routes and appealing services for both our airlines and passengers, we succeeded in delivering new levels of passenger numbers over the last 12 months," said Emilio Bellingardi, General Director, SACBO. "So far as 2018 is concerned we're incredibly optimistic that the strong positive trend in our traffic expansion will continue. We're witnessing the ongoing success of existing and well-established services as well as being able to provide new destinations."