Hamleys opens one-of-a-kind pop-up store in Gatwick Airport
Just in time for Christmas, Hamleys has moved in to Britain's second biggest airport with its only pop-up store.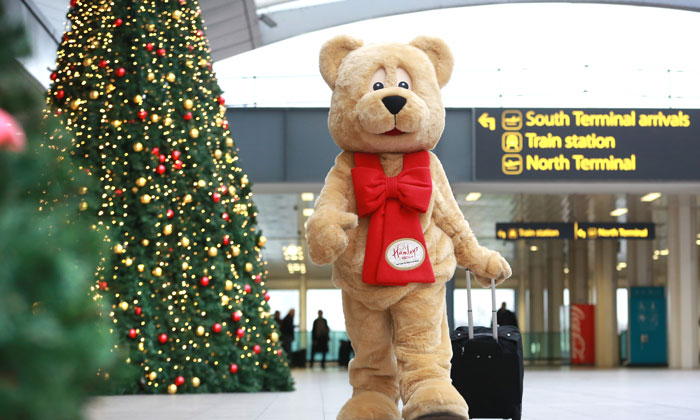 TRAVELLING WITH THE BEAR NECESSITIES: Hamleys was founded in 1760
The world's oldest toyshop has popped up in Gatwick Airport – and it might be sticking around.
Hamleys has opened the 25m2 pop-up in Gatwick's North Terminal, offering a number of this year's must-have toys alongside an array of classic favourites.
Gatwick Airport's Head of Retail, Rachel Bulford, said: "As we reach the end of what has been an exciting year for retail at Gatwick, it's fantastic to add Hamleys – a truly iconic London brand – to our wealth of quality retailers.
"Christmas is the perfect time of year to welcome Hamleys on board, and the store will be ideal for passengers looking to tick some gifts off the shopping list as they await their flight." 
Products available at the Hamleys Gatwick store include Hatchimals – the interactive toys that have proven extremely popular around the world since their launch late last year – as well as other much-loved lines including Playmobil, Barbie, Transformers, Disney's Cars, and Paddington Bear. There will also be a sizeable selection of Hamleys own-brand products.
The wide range of toys available at the Gatwick branch will cater to all budgets, with many of them specially selected for the airport due to their compact size and ability to fit neatly into passengers' hand luggage. All passengers can also take a shopping bag of new purchases on board with them.
Hamleys' Head of Marketing & Web, Mark Drummond, said: "This is our favourite time of the year and we are really excited to be able to bring smiles to children and families with a great selection of toys as they travel through Gatwick this Christmas."
Throughout December, the Hamleys Gatwick staff will dress as Father Christmas' elves to provide passengers with a distinctly festive experience when visiting the store. The world-famous Hamley Bear will also make special appearances.
Although the pop-up store has been launched for Christmas, it's set to remain a prominent feature of Gatwick's departure lounge throughout the winter and well into spring 2018.