London Luton Airport: What's to come in 2018?
With 2017 behind us, we hear from Nick Barton, CEO of London Luton Airport, as he tells us about what the new year holds for the British capital's fastest growing airport.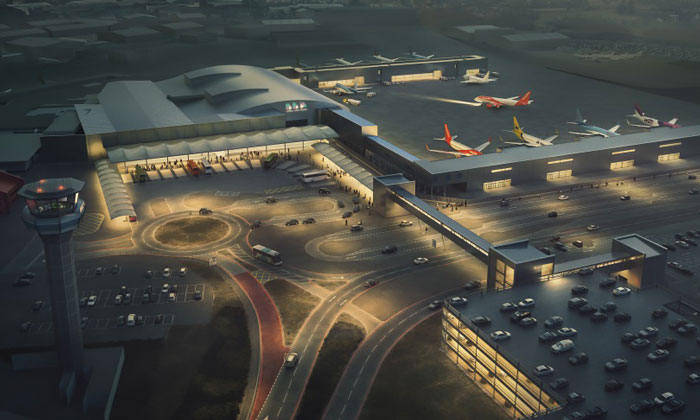 FASTEST GROWING: London Luton Airport redevelopment overview Photograph: London Luton Airport
2018 is a milestone year for London Luton Airport (LLA). We mark our 80th anniversary, reflecting with pride on how our business and industry have changed, while looking ahead with ambition about what the coming year and decades will bring.
Over the past 80 years, we have grown from a military airfield into an international airport. Our name change in 1990 from Luton Airport to London Luton Airport marked our position as one of London's major international airports, and today we welcome 1 million passengers through our doors most months.
It is fitting that, in our anniversary year, we will see the fruitions of our transformation into a bigger and better LLA.  We have made the biggest investment in our history to redevelop the airport to give travellers an easier and more enjoyable experience.
In 2018 we will be preparing to open our new terminal, which now boasts a selection of new restaurants, shops and bars for travellers. Outside of the terminal building, we have extended our taxiway and added additional aircraft stands. By 2020 we will welcome 18 million passengers per year.
As we increase our capacity, our partner airlines are expanding their routes.  In 2017, 22 new routes were added and we now offer passengers more than 140 destinations across Europe, Asia and Africa. Most recently, Wizz Air acquired Monarch's take-off and landing slots, meaning it will operate 28 additional flights every week and will add four more aircraft to its base at the airport. Thomas Cook has announced an enhanced Summer flying programme while Sun Express has quadrupled the number of its destinations.  In 2018 we will continue to grow our role as a gateway between London and the rest of the world.
We know that delivering a better experience for our passengers isn't just about their time from the terminal door to take-off.  It's important that travellers can reach us quickly and easily too.  That's why work will begin in January on a new Mass Passenger System (MPT), enabled by Luton Borough Council. The MPT is a fast transit system, which will link the airport and Luton Airport Parkway, replacing the current shuttle bus. Once complete, it will operate 24 hours a day and will reduce the journey between Central London and LLA to just 30 minutes – quicker than the journey to Gatwick or Stansted.
It is also why we are currently campaigning to secure more fast trains to Luton Airport Parkway.  Currently, we are London's fastest growing airport but the only one without an express-style service.  It means that we don't have adequate rail links or surface access – something the Transport Select Committee has identified as a significant limiting factor in airports' abilities to reach their full potential. 
In our case, the benefits of improving rail links are clear.  More fast trains to Luton Airport Parkway would help to unlock latent capacity at a time when the UK faces a chronic air capacity crunch. Not only would it give travellers a more simple and speedy journey, it would boost economic growth, bring an additional £110million in revenue for the Department for Transport (DfT) and improve connectivity between the North and South. All these benefits can be achieved through a simple timetable change, which would not require any capital spending or new infrastructure. It's an opportunity we can't afford to miss so we will continue to work with supporters like the CBI, easyJet and the British Chambers of Commerce to help make the benefits of more fast trains a reality in 2018. 
We have been focused on delivering social and economic benefits to the local community for many years and that won't change next year.  We remain committed to making a positive impact in our local community – whether powering economic growth, reducing noise from the airport or supporting good causes.
In January we are excited to be announcing our new charity partner. Each year we work with a local organisation, nominated and voted for by the community. For example, in 2017 we worked closely with Keech Hospice Care to provide specialist care services to adults and children with life-limiting and terminal illnesses. But this is just one aspect of our work in the community. We also run the 'Get into Airports' scheme with The Prince's Trust which helps young people gain the skills to work in all areas of the airport business. It's important to us that we play our part in supporting the local economy and working with young people is delivering that positive impact.
Another area we know matters to the local community is noise.  While noise is an unavoidable part of running an airport, we are working with local communities and our partners to reduce noise for those living under the flight path. This year, we initiated a trial which saw aircraft delay their landing gear deployment. This reduced ground noise by an average of 50 per cent and as a result, we have revised our Arrival Code of Practice. Throughout 2018, we will continue to work with airlines and aircraft operators to encourage them adopt this procedure to help ensure we balance the operational impacts of the airport whilst making a positive contribution to the local economy and community.
Although Brexit does bring uncertainty for all industries, we have no doubt the aviation sector has an increasingly important role to play in keeping Britain open for business. At LLA we are optimistic about the future – both for our business and our sector.
We look forward to playing our part by welcoming more passengers to a bigger, better LLA, whether they are travelling for business or pleasure – and we invite travellers, our partners and the local community to join us in celebrating our 80th anniversary this year.
Nick Barton was appointed to the position of London Luton Airport CEO in 2014. Before his move to Luton, Mr Barton had eight years' experience in a variety of executive roles, including Managing Director, at Stansted Airport.
Related airports
Related regions