Transatlantic flyers can check in luggage from any London address
Lugging bags down crowded streets and into cramped underground stations may soon be a bad memory for American Airlines passengers setting off from Heathrow.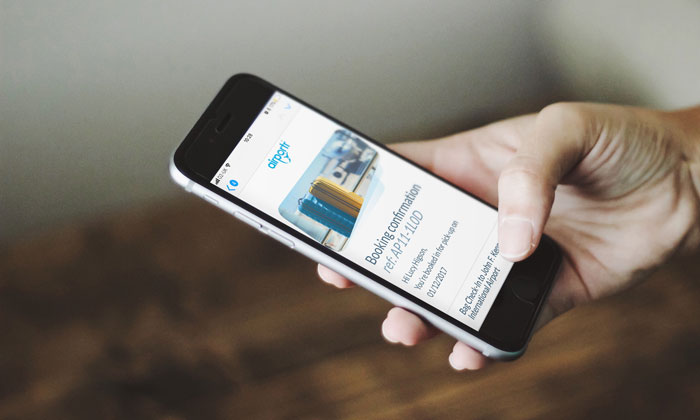 MOBILE TECH FOR A MOBILE AGE: Fully mobile bag drops are taking off
AirPortr, the London-based city luggage check-in and delivery service is now available to customers flying from London Heathrow to the United States on American Airlines, the world's largest airline.
The new partnership means passengers flying on any of American Airlines' 20 daily flights from London Heathrow to the U.S. can have their luggage securely checked-in from any London address, meaning they will not need to take their bags across the capital and check them in at the airport.
AirPortr CEO Randel Darby said: "Partnering with the world's largest airline, American Airlines, means we can serve more customers and takes us one step further in establishing mobile luggage check-in as a new standard in the air travel experience.
"American Airlines opens our service up to more passengers travelling from London to the United States and helps us better serve customers booking with American's transatlantic joint business partner British Airways."
American Airlines passengers flying into Heathrow can also have their luggage delivered to and from their central London hotels and instantly approve any excess luggage charges for overweight baggage via the AirPortr service on their doorstep.
Mr Darby added: "With more than 50,000 bags safely and securely delivered, AirPortr has been truly embraced by Londoners. From families juggling oversized luggage and leisure travellers flying with sports equipment, to young professionals not wanting to be that person with luggage during rush-hour, we've struck a chord with people wanting to take the hassle out of getting their bags to and through the airport."
Delivering expansion
Having launched with British Airways in October 2016, and recently attracting £2 million investment from The Stobart Group, AirPortr is the first mobile luggage check-in service in the world to be integrated into airline booking systems.
Also available to all British Airways customers flying from Heathrow and Gatwick, AirPortr is now available for 300 outbound flights per day with luggage check-in and deliveries starting at £30 per item for the first item and £10 thereafter.
AirPortr's services were developed in consultation with the Civil Aviation Authority and the Transport Security Administration in the US to ensure all processes meet aviation security regulations to give travellers peace of mind at every step of the journey.
American Airlines customers can book a one-hour collection slot through AA.com via airportr.com or with AirPortr's UK call centre up to seven hours in advance of their flight from London Heathrow to the United States.
An AirPortr driver will collect and weigh passenger's bags at the chosen time and scan and check passports and boarding passes. Luggage is then sealed in coded, tamper-proof cases.
Luggage is then screened according to CAA security standards and delivered to the airline for further screening and customers are sent IATA bag receipts around 90 minutes before take-off.
Passengers then collect their bags from the baggage reclaim at their destination airport.