London Southend Airport: London's newest airport
Posted: 19 December 2013 | David Lister, Operations Director, Southend Airport | No comments yet
Following a successful period of investment and innovation, London Southend Airport is now a viable alternative for travel in the South East of England. Operations Director, David Lister details the airport's development.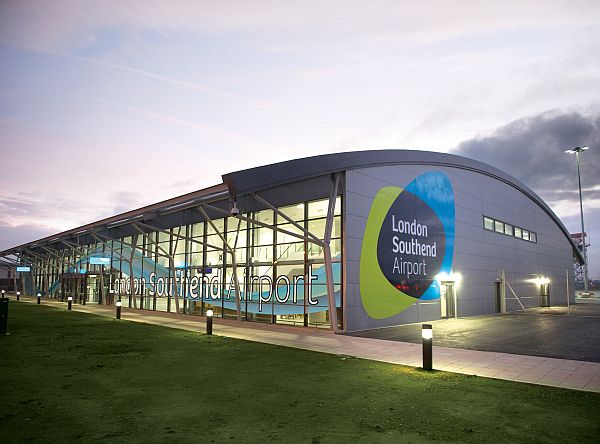 FRESH BLOOD: Southend is London's newest airport, but it is out performing its veteran peers in customer satisfaction.
When London Southend was named 'Best Airport in Britain' in Which? magazine's latest survey (September 2013), it was testament to all the hard work, dedication and investment that the team has put in over the past few years. The airport has had an interesting journey; one that began back in 1914 (when the airfield was first established) and progressed in peacetime to the 1960s heyday when Southend boasted the UK's third busiest airport.
This period of success was countermanded by lack of investment in the 1970s which saw the airport decline into something of an aviation backwater. Southend's renaissance started in 2008, when it was purchased by the Stobart Group and in the eyes of many, its regeneration has been quite remarkable.
Flying from Southend
World War I saw the creation of Southend as a flying base. The War Office listed the site as a potential landing ground in 1914 and the first flight followed in 1915, when Flight Sub Lieutenant A.W. Robinson took off in his Bleriot in an unsuccessful attempt to intercept a Zeppelin. This led to regular activity at Southend throughout the War and continued after the Armistice had been declared. In 1933, Southend Council purchased the site and two years later, it was officially opened as a municipal airport.
Sadly, conflict plunged the airport back into military service when the RAF requisitioned the airport to fend off the Luftwaffe during World War II.
With peace declared again, the airport was returned to civil ownership and a new runway was laid in the mid-1950s allowing both passenger and cargo flights to operate. This signalled a golden age for Southend which saw Sir Freddie Laker base his famous Skytrain service in the town, alongside British United Air Ferries and what became the world's busiest air route, Southend to Ostend. The airport even had a starring role in the 1964 James Bond movie, Goldfinger.
However, by the mid-1970s passenger numbers had dwindled as other airports adapted to the changing world of aviation and the ability to fly to new tourist destinations which were beyond Southend's capabilities. At this juncture, the airport diversified into becoming an important engineering and maintenance base.
Investment by the Stobart Group
The fortunes of London Southend Airport (LSA) were radically altered in 2008 when it was purchased by The Stobart Group. The UK's largest multimodal logistics company had come up with a £100 million private sector investment plan to totally redevelop the location into a fully-functioning, modern and efficient regional airport in time to serve the South East for the 2012 London Olympic and Paralympic Games.
CEO Andrew Tinkler said at the time: "It's not every day you get the chance to build a new airport for London. We wanted to offer travellers a better alternative so we designed an airport with one thing in mind – making the experience easier."
The vital key to unlocking the potential of LSA was to secure planning permission for a 300-metre extension to the runway. This would allow the new generation of medium capacity, high-efficiency jets such as the Airbus A320 and Boeing 737 to offer a wide range of business and holiday destinations up to 1,000nm away. Thus, putting Southern Spain and Eastern Europe within easy reach of Essex, Kent and London; destinations that could not previously be served by the airport. Planning permission was granted in 2010 and the runway extension was finally opened in March 2012.
At the same time a number of other infrastructure projects were also taking place around the airport site. A new ATC facility opened in July 2011, and it now serves aircraft flying through the area in addition to those using the airport, 24 hours a day, 7 days a week. The 26-metre tower contains an approach radar control room and a visual control room at the top of the building. The 'cab' offers panoramic views of the airfield and wider Thames Gateway area, with air traffic controllers able to see over 20 miles on a clear day.
A new dual-channel radar became operational in summer 2013, which significantly improved radar coverage and ensured our air traffic control team had the most appropriate technology available to maintain flight safety. The ATCR-33SE, from Selex, is the most advanced radar of its type in the UK and fully compatible with 4G – London Southend was the first airport to install it and was used as a test bed for the new technologies.
One of LSA's key developments was a new, light and airy, ultra-modern fly-through terminal building. The first phase of which opened in March 2012 and is less than 100 paces from a brand new railway station. At that time we made two key commitments to our customers:
That they will wait a maximum of four minutes to go through security
That those arriving with hand-luggage only can expect to travel from aircraft to train in just 15 minutes of the aircraft doors opening (a maximum 30 minutes if collecting luggage).
With typical Stobart logistical thinking, we designed our terminal with simplicity, speed and service as paramount considerations.
The new railway station sits on the Southend to London Liverpool Street rail line and has up to eight trains to London per hour with a journey time of just 53 minutes. The Olympic Park at Stratford can be reached in less than 45 minutes.
Another piece of the airport jigsaw was a 4-star hotel just five minutes' walk from the new terminal. Opened in October 2012, the five-storey Holiday Inn offers travellers the choice of 129 bedrooms and the showcase 1935 Rooftop Restaurant & Bar (a reference to the year that airport opened as a municipal airport), which has proved a huge hit with residents and the general public alike. Guests love the spectacular panoramic views of the airport and surrounding area whilst enjoying drinks or dinner.
With all these developments coming together, airline partners were required.
In June 2011 the Stobart Group and the UK's largest airline, easyJet, signed a 10-year partnership agreement to base three A319 aircraft at London Southend from summer 2012. This plan was accelerated ahead of schedule, with the addition of a fourth aircraft. easyJet currently has departures each week to Amsterdam, Alicante, Barcelona, Belfast, Berlin, Edinburgh, Faro, Geneva, Ibiza, Jersey, Krakow, Malaga, Mallorca, Newquay and Venice – flights to Tenerife start in December 2013.
In addition, Aer Lingus Regional, operated by Aer Arann, has three daily return services between London Southend and Dublin, where travellers are able to take advantage of transatlantic connections to Boston, Chicago, New York, Orlando, San Francisco and Toronto. Thomson/First Choice fly to Palma and summer 2014 will also see departures for Balkan Holidays.
With commercial operations in place, attention then turned to making London Southend an attractive destination for private jet clients.
The former terminal building at London Southend underwent a £500,000 facelift to become the state-of-the-art Stobart Executive Handling, which opened in July 2012 – again, in time for the London 2012 Olympic Games. This facility includes a meeting room (complete with full video conferencing technology), a pilot's rest zone and amenities for drivers who are waiting for passengers. There is a large, comfortable lounge with plenty of space for passengers to relax and enjoy refreshments whilst their aircraft is prepared. The whole area is equipped with cutting-edge security screening equipment, and also offers discreet, direct access – either on foot or by car – to the exclusive parking area.
In August 2012 IATA announced it was including LSA within its classification of the metropolitan area of London – meaning the airport officially became London Southend to the rest of the world. Whilst the UK Civil Aviation Authority has always classed the Essex airport as 'London', historically IATA has not. Southend being automatically offered as an option alongside the five other recognised London passenger airports (Gatwick, Heathrow, City, Stansted and Luton) has been crucial to putting us on potential customers' radars.
In addition to all this, it has been hugely important for us to build a passionate and loyal customer base. The development of LSA has been a huge boost for the local and wider Essex economy and I am proud to say that there are now an additional 500 people working at the airport than there were in summer 2011.
Customer satisfaction
In September 2012 LSA won the prestigious ERA (European Regions Airline Association) Airport Achievement Award – the second time in three years it achieved this top honour. The award recognises the best achievements by an airport over the previous 12 months and the positive role it has played in support of future intra-European air transport operations. LSA was picked as the winner by virtue of the number of major projects it had completed in a relatively short space of time and its focus on customer service.
At the beginning of 2013, LSA was rated highest in easyJet's Customer Satisfaction Survey across its European airports; scoring higher than more than 100 airports across Europe, including other London airports such as Luton, Gatwick and Stansted.
During the summer of 2013, LSA was named best in Britain in the latest Which? Airport Passenger Survey, earning a maximum five-star rating in five of the 10 categories assessed (check-in, airport security, passport control, information and navigation and airport design). The survey asked passengers about their experiences of flying from a UK airport in the past year – the scores were based on a combination of overall satisfaction and how likely participants were to recommend the airport to a friend.
The future
LSA experienced its busiest ever summer in 2013 with 230,000 passengers travelling through the terminal between 1 July and 31 August 2013 – a 29.9 per cent increase on the 177,000 who used the airport in summer 2012. This bustling summer took the total passengers to have used London's newest airport since the new terminal opened in March 2013 to 1.25 million.
We know we deliver extra-special customer service at London Southend, because our customers keep coming back. What is really important for us is that we continue to achieve those standards as our passenger numbers grow – hence we have initiated phase two of our expanding terminal building.
The building will increase by 90 metres in length and the number of check-in desks/baggage drop off points will also expand, as will the amount of space for passengers in security. The Departure Lounge will grow to enhance the experience for air-side passengers awaiting boarding. A larger arrivals area will have enhanced baggage reclaim facilities and a larger immigration area. Retail and catering facilities will be expanded throughout the terminal in order to provide a much wider range of shops and services available to passengers. The terminal development will also create 300 new jobs, arising from the increase in Southend-based aircraft and creating a variety of additional operational and service roles. The £10 million terminal extension will be complete in time for New Year 2013.
Five additional aircraft stands are also now open, significantly increasing our capacity.
With much debate about future airport capacity in the South East, we feel the overall investment at London Southend demonstrates the significant capability which now exists here and we are actively engaging with the Davies Commission to ensure that the airport's potential is understood as part of the Commission's deliberations. If you haven't already done so, I urge you to see what LSA has to offer and we look forward to welcoming you to the airport soon.
Biography
David Lister joined London Southend Airport in January 2013. As Operations Director he is responsible for all the operational aspects of the airport. Prior to joining London Southend Airport, he held various positions in the aviation sector, including Airport Security Consultant at Dublin Airport and Operations Director at Edinburgh Airport. In addition David has worked for several blue chip manufacturing organisations across the UK including GE, Motorola and Kimberly Clark, manufacturing diverse products from mobile phones to infant care products.