Kansas City's new single terminal to transform air travel
With inclusive features for travellers, nearly 50 eating and shopping experiences and having generated over 6,500 jobs, Kansas City International Airport's new single terminal will transform air travel in the region.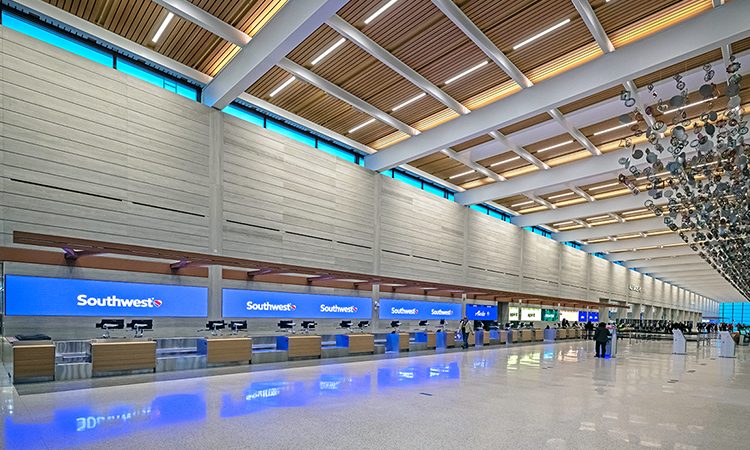 Credit: Jeff Roberts, JLR Photo
On February 28, first flights will depart from the new single terminal at Kansas City International Airport, marking the end of a five-year development, design and construction effort and ushering in a new era of air travel in the region.
The 1.1 million-square-foot, design-build project had been delivered ahead of schedule and on budget while providing a significant economic boom to the local community. The new facility, which wholly replaces Kansas City's existing terminal buildings, features two levels, one for departures and one for arrivals, with clear wayfinding and sightlines.
Developed by Edgemoor Infrastructure & Real Estate, the new terminal had been constructed by a joint venture team led by Clark Construction Group, and including The Weitz Company, and Clarkson Construction Company (CWC). 
In order to to provide a seamless transition from parking to gate, it also features an adjacent 6,200 space parking structure and the terminal opens with 40 gates, with the capability to expand to 50 gates in the future.
The new terminal's inclusive features include the Kansas City Air Travel Experience – an airplane simulation room for anxious, first-time travellers or individuals with a fear of flying – a sensory room, quiet room, indoor and outdoor pet relief areas, the Variety KC Inclusive Family Play Zone and glass boarding bridges to increase natural light, views of the airfield, and reduce flight anxiety. The new facility also boasts three times as many toilet fixtures post-security as the current terminals, with options including gender-neutral restrooms and family restrooms with adult changing tables.
Designed to showcase Kansas City's authentic culture and heart, the terminal features nearly 50 local and global eating and shopping experiences with 80% of the brands represented from the Kansas City region. The facility also features $5.6 million of newly commissioned art, showcased through 28 unique installations, 19 of which were created by artists who live in, or have ties to, the Kansas City area. 
At $1.5 billion, the new terminal is the largest single infrastructure project in Kansas City history. The team also implemented a series of programmes to remove barriers that typically impact disadvantaged businesses from securing contracts and developed a first-of-its-kind workforce training programme to build capacity in the local construction market. The workforce training programme created a pathway to careers in the construction trades for 200 men and women. Those individuals went on to work more than 200,000 hours on the new terminal, earning more than $6.5 million in wages and benefits.
In addition to meeting the city's goals for accessibility, inclusivity and diverse participation, the new terminal is also among the most sustainable airport facilities in the nation. The project recently achieved LEED® Gold certification, making it the first LEED v4 Gold BD+C: NC terminal/concourse project in the Midwest, and the second in the nation. Sustainable features include locally sourced materials, electric charging stations for personal and commercial vehicles, smart building systems, efficient lighting and improved air quality.
Related airports
Related regions