Phoenix Sky Harbor Airport welcomes new app for blind passengers
Phoenix Sky Harbor International Airport has introduced a new service app to support passengers who are blind or have low vision as they travel.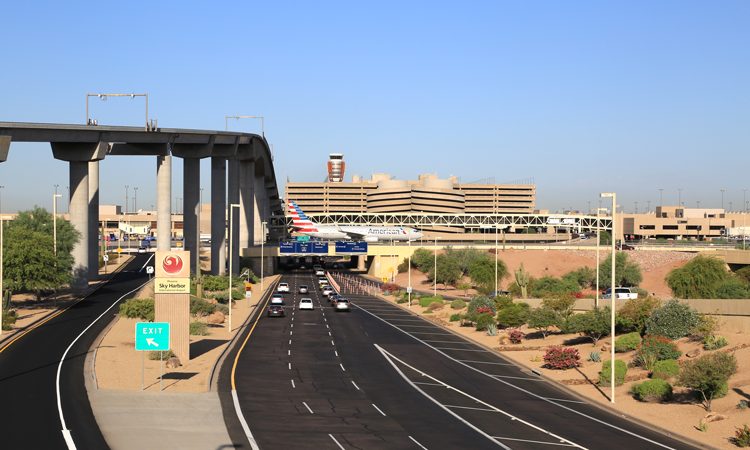 Credit: Phoenix Sky Harbor International Airport (PHX)
Phoenix Sky Harbor International Airport (PHX) has added a new service to support customers who are blind or have low vision as they travel. This new service, called Aira, provides guidance through a mobile app to assist passengers with a variety of needs, including moving through crowds, avoiding obstacles, finding gates, using self-service kiosks and navigating through Transportation Security Administration checkpoints.
"Aira is great addition. It offers a whole new level of assistance for passengers who are blind or have low vision and builds on Sky Harbor's ongoing efforts to be a welcoming place for all our residents and visitors," said Mayor Kate Gallego. "I'm proud to know that Phoenix Sky Harbor, America's Friendliest Airport, continues to be a leader in airport accessibility experiences for all travellers."
To provide this assistance, the Aira mobile app connects users with professionally trained visual interpreters, who use live-streamed video to translate visual information into descriptive audio at the touch of a button, providing better efficiency, engagement, and independence.
The Aira app is free to download and available in the Apple App and Google Play stores. While accessing the service for personal use can require a monthly subscription, Phoenix Sky Harbor will offer the service for free to users at the airport.
Phoenix Sky Harbor has partnered with the nonprofit Foundation for Blind Children to help promote the addition of Aira service at the airport. Airport experience tours are one of the ways the foundation helps their participants develop the skills needed to travel independently with confidence.
"Our organisation was founded to help people who are blind or visually impaired achieve greater independence, where vision loss is a diagnosis and not a disability" commented Marc Ashton, Foundation for Blind Children Chief Executive Officer. "By making this commitment to, and investment in greater accessibility, Phoenix Sky Harbor is truly helping to advance that vision."
In addition to Aira, Phoenix Sky Harbor International Airport offers a variety of tools and programmes for people with disabilities. Most recently, the airport implemented hearing loops in renovated areas of Terminal 3 and the newly-added Terminal 4 Eighth Concourse, to improve accessibility for hearing-aid users to airport announcements and the overhead paging system. Phoenix Sky Harbor also provides a sensory room for individuals with autism, dementia or other sensory-related conditions.
"At Phoenix Sky Harbor International Airport, we're committed to providing all of our customers the best possible experience, which includes making sure accessibility is a top priority," said Director of Aviation Services Chad Makovsky. "I hope that with the addition of Aira service, our passengers will be empowered to travel the way they want when they choose Sky Harbor."