Queen Alia Airport awarded ACI Asia-Pacific Green Airports Recognition
Queen Alia International Airport has been awarded the Green Airports Recognition 2022 by Airports Council International Asia-Pacific for pioneering green practices in transitioning towards a more sustainable future.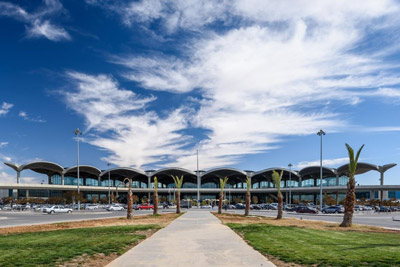 Queen Alia International Airport (AMM) has been recently acknowledged by Airports Council International Asia-Pacific (ACI Asia-Pacific) as one of only 12 airports in Asia-Pacific and the Middle East to receive the Green Airports Recognition 2022 for airports serving five to 15 million passengers. The airport was granted gold recognition for its dedicated efforts in transitioning towards a sustainable, low-carbon future, focusing on its achievements in heating and cooling system improvements.
This year (2022), the Green Airports Recognition was held under the theme of Carbon Management – in line with global industry goals to reduce carbon emissions and attain net-zero status by 2050. The recognition aims to promote environmental best practices to curb the impact of the aviation industry on the environment and champion airports that bring forth outstanding carbon management projects. To this end, participating airports demonstrated exceptional best practices in their respective decarbonization journeys – specifically in fuel consumption (Scope 1) and electricity consumption (Scope 2) carbon emission reductions.
In its application, Airport International Group shared AMM's experience in enhancing the heating and cooling systems inside and outside the passenger terminal. The two-phase project included utilising control optimisation software to improve cooling plant performance and decommissioning a historic cooling and heating plant, which resulted in significant decreases in energy consumption, carbon emissions and costs.
"We are delighted to witness AMM once again pioneer green practices within the regional aviation industry and are equally proud to have our experiences in carbon reduction recognised as best practices by ACI. Our commitment to climate protection has been unwavering for years, as evidenced by the wide range of environmentally friendly measures we continue to implement across AMM – in support of the UN Sustainable Development Goals and the Paris Agreement. On this note, I would like to thank our team, local and international partners and stakeholders for keeping us on track towards building a more sustainable airport," commented Airport International Group CEO, Nicolas Claude.