Robots roving Christchurch Airport
In this exclusive news story, Christchurch International Airport explains how passengers can interact with the airports two new sets of twin robots roving the terminals, one pair called Pepper and the other Nao.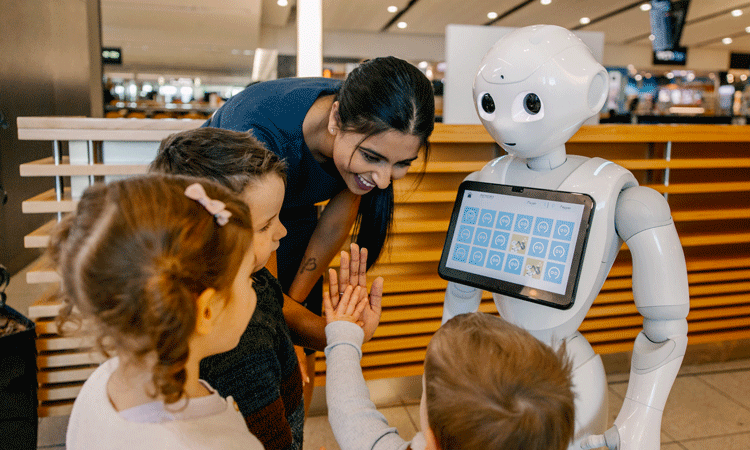 Shweeta Shayal and Pepper meet fans in the terminals at (credit) Christchurch International Airport (CHC)
Visitors to New Zealand's Christchurch International Airport (CHC) are proving curious – and excited to interact with something new.
In fact, they have discovered a new hunger – for lunch with humanoid robots.
The airport has two sets of twin robots, one pair called Pepper and the other called Nao. They are different in several ways, but all like to play to an audience and, until the COVID-19 pandemic impacted the programme, were doing just that.
It started with a request from a nearby school which heard there were robots in the airport terminal's 'Digital Innovation Zone'. The children visited the robots and an idea grew in the airport team to give other school children exposure to, and fun with, the new and exciting technology.
Airport Services Senior Co-ordinator, Shweeta Shayal, started spending a lot of time with the airport's four robots to understand and refine what they could do. She also wanted to know how they could better respond to her voice and entertain small audiences without getting stage fright!
"There was a lot to learn, but that's why Pepper and Nao robots came to our airport – so we could all learn how robots can work with us to help our visitors," said Shayal.
"Pepper is a robot designed to interact with humans. Our visitors are surprised and delighted when Pepper and little brother Nao 'play' with them, and it's lovely to hear the laughter during the sessions."
Once the robots' routine had been refined, another local school was invited to bring its students around 10 years old to the airport in their lunch hour. Students ate from their lunchboxes while Pepper made introductions and explained facts and figures about itself and the airport. But when the eating stopped, the fun began.
"The children loved playing with the robots, asking questions, playing games, dancing and singing, and taking the robots' hand for a walk through the terminal," commented Shayal.
After the visits the schools were asked to offer feedback to help the airport team improve the experience  so the visits could be refined in response.
Shayal added that any time she walks "cheeky little Nao" through the terminal crowds of people gather, asking questions, and taking photos and videos. Companies across the airport campus soon started requesting lunch dates with the robots too.
But for a while, it wasn't all about entertainment. When the pandemic struck, one of the Pepper twins worked for a few months in the international pathway greeting arriving passengers on their way to managed isolation and quarantine facilities. Pepper explained the process people would go through before they boarded a bus to travel to their quarantine hotel.
"Having Pepper in that area for those months reduced the number of our people operating in the area," said Airport Services Duty Manager, John Jones. "It also gave travellers calm, clear, and consistent information in an interesting way. People responded very well to the different way we offered that step-by-step information, and by the time they got to agency staff for processing, they were well prepared, so the whole process moved smoothly and quite quickly. Lessons learned from that time have also given us more confidence and ideas for what we will do next with the four robots."
Now New Zealand's border has re-opened, Christchurch Airport, the Gateway to the South Island, is seeing both an increase in passengers and an increase in robot activity to entertain and educate its visitors.