Birmingham Airport trials autonomous shuttles
Birmingham Airport has launched a trial period for driverless, autonomous shuttles, which have the potential to transform and improve efficiency and safety for passengers, staff, and airport users.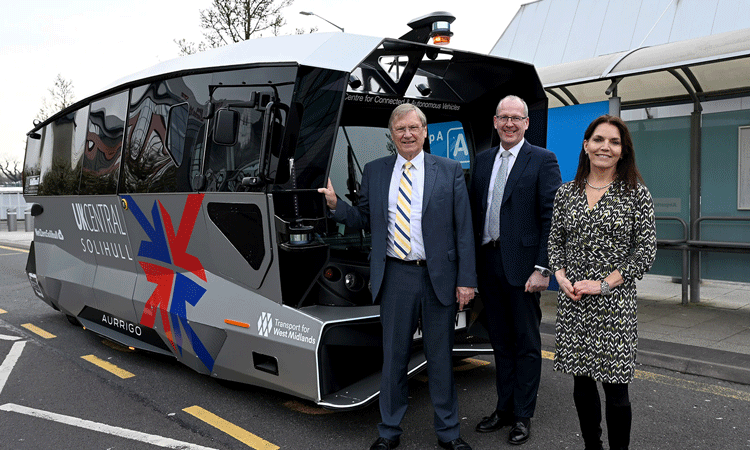 Credit: Birmingham Airport (BHX)
A driverless shuttle, owned by Solihull Council and designed and built in Coventry, made its debut in the grounds of a UK airport for the first time this week.
The 10-seater Auto-Shuttle will travel alongside live traffic on the roads near Birmingham Airport (BHX).
A route has been mapped out that will initially transport staff from the Departures entrance and Diamond House to Car Park 5, with the potential for the trial to be extended to passengers later this month (March 2022).
The zero-emissions autonomous shuttle uses a suite of sensors, including LiDAR, to understand its surroundings and move safely around its environment.
For the purpose of testing, and in line with current legislation, a safety operator will be on-board at all times, whilst the shuttle can also be manually driven with conventional controls to give the ultimate in operational flexibility.
This latest project is an exciting Solihull Council-led initiative to test how Connected Autonomous Vehicles (CAVs) might be integrated into the borough's transport network in the future and follows a successful trial at the National Exhibition Centre last year (2021).
Nick Barton, Chief Executive of Birmingham Airport commented: "Autonomous technology promises enormous benefits to airports and the service companies that support them, with the potential to transform the way we work and improve efficiency and safety for passengers, staff, and other airport users.
"We are really excited to be working with Solihull Council on this trial, which will provide us with invaluable insight into how we can start to safely incorporate CAVs into our vehicle fleet. This trial of fully electric vehicles, and testing their capabilities on site, is making sure we are working towards our net zero carbon target by 2033."
Councillor Ian Courts, Leader of Solihull Council added: "CAV technology has the potential to revolutionise the way we get around our towns, cities and rural areas as well as transport goods. I'm excited that we are the first Council in the country to purchase our very own zero-emission, road-legal, shared use Connected Autonomous Vehicle and we are keen to put it to use.
"This project is all about looking at how we can practically and safely start to incorporate autonomous vehicles into our future transport infrastructure. Already one of the best-connected destinations in the UK and Europe, Birmingham Airport is the perfect place to trial our shuttle providing us with a busy but controlled environment in which to gain further real-world operating experience."
This project forms part of the wider West Midlands Combined Authority (WMCA) funded UK Central investment programme, which is delivering a wide range of projects, from walking and cycling improvement schemes through to town centre redevelopments and build on the establishment of the Midlands Future Mobility testbed.