A summary of Katowice Airport's 2021 investments and passenger traffic
Despite a challenging year, Katowice Airport ended 2021 with a 61.1 per cent growth in passenger traffic from 2020, as well as continued developments and updates to the airport's infrastructure.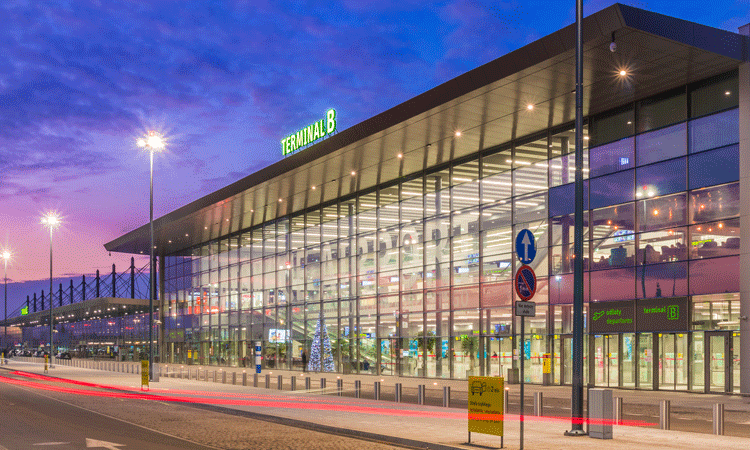 Credit: Katowice Airport (KTW)
The Upper Silesian Aviation Group (GTL SA) has summarised passenger traffic and on-going investments in 2021 at Katowice Wojciech Korfanty International Airport (KTW) in Pyrzowice.
Passenger Traffic
During 2021, 2,328,973 passengers, 883,192 more (+61.1 per cent) than in 2020, were handled at Katowice Airport. 2020's result constitutes 48 per cent of the record-breaking, pre-COVID-19 pandemic 2019, when 4 843 889 passengers travelled to/from Katowice Airport.
1,022,024 travellers, 31,037 more (+3.1 per cent) than in 2020, were handled on regular flights offered at Katowice Airport by Wizz Air, Ryanair, LOT Polish Airlines, and Lufthansa. The most popular regular routes in 2021: Dortmund (143,100 passengers), London-Luton (67,400), London-Stansted (43,900), Warsaw (38,100) and Cologne-Bonn (37,500). The five most popular countries when it comes to regular flights: Germany (200,000 passengers), the UK (171,700), Italy (109,000), Greece (84,200) and Ukraine (63,100).
1,293,612 travellers were handled on charter flights, i.e. 864 666 more (+201.6 per cent) than last year (2021). Passengers most often travelled from Katowice Airport to: Antalya (246,700 passengers), Hurghada (118,000), Marsa Alam (92,700), Rhodes (69,100) and Heraklion (63,000). The five most popular charter countries in 2021: Turkey (326,000 passengers), Greece (310,000), Egypt (235,000), Spain (127,000) and Bulgaria (62,000).
Last year (2021) confirmed the significance of charter traffic. This segment of traffic recovered faster than regular flights; it was also less prone to continuous changes within sanitary regulations. At over 55 per cent, charter traffic in 2021 achieved the highest share in the total number of handled passengers charters, as well as recording a better average for fill rates compared to regular flights. In case of the first segment, the average number of passengers on board was 160, and in case of regular flights 110.
In 2021, there were 28,856 aircraft take-offs and landings, i.e. 6,934 more (+31.6 per cent) than in 2020.
Development of infrastructure
In spite of the difficult industry situation, GTL SA did not loose its ability to develop the Katowice Airport infrastructure. The most important investment in 2021 was the expansion of passenger terminal B. The project began in September 2019, and the pandemic did not affect its realisation. A new terminal was put into service in August 2021. Thanks to this investment, which was worth over 100 million (PLN/zł), the throughput of passenger terminal infrastructure at Katowice Airport increased from six to eight million passengers yearly. Moreover, GTL SA continued the expansion of the aircraft maintenance base in 2021; the project is divided into two tasks. The first comprises the construction of a 6.4 hectares aircraft apron with nine stands for C-Class aircraft (Airbus A320/Boeing 737) in front of hangars. Construction works are basically over and the new surface will be put into service in spring 2022. The second task consists of building a third hangar with an area of 9.2 thousand m2 with two bays for serving aircraft the size of an Airbus A321neo, which began in the first quarter of 2021. The investment will end in mid-2022. Wizz Air will be the lessee of the hangar.
"The Upper Silesian Aviation Group is building a multi-functional airport which has infrastructure meant not only for passenger traffic, but also for cargo, as well as for for aircraft maintenance. By carrying out investment projects in the very difficult 2021, we proved that GTL SA is a healthy organisation with strong financial fundamentals and potential for further growth. I am certain that our current investments will make Katowice Airport stronger after the pandemic ends," commented Artur Tomasik, President of the Board of GTL SA.