Bordeaux Airport launches its first High Environmental Quality facility
Beneath the iconic control tower at Bordeaux Airport, a new High Environmental Quality facility has been launched, as part of the airport's modernisation plan.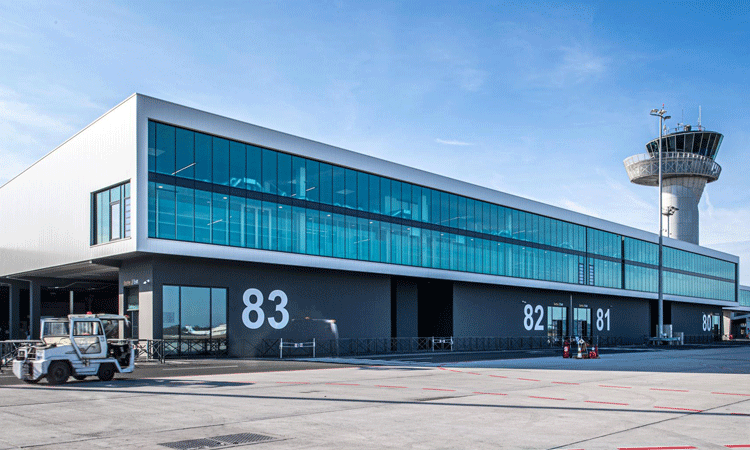 Credit: Bordeaux Airport
Bordeaux Airport (BOD)'s new international pier has been inaugurated (7 October 2021) by Simon Dreschel, Chairman of the Management Board of the Airport Company, in the presence of members of the Supervisory Board and numerous guests. 
As part of the airport's modernisation plan, focused on service quality and ecological transition, and in the framework of multiple projects, in particular energy management, this air-side construction beneath the iconic control tower is the first High Environmental Quality facility at Bordeaux Airport. This HQE© (High Environmental Quality) certification was awarded with a score of 'excellent'.
A long, fully transparent passageway links Hall A in Bordeaux Airport to its new international pier: 3,000m2 of new building including 2,000m2 devoted to passenger areas, where four lounges totalling 1,000m2 offer a vast panoramic view of the take-off runway.
Lighting, air quality, hygrothermics, and acoustics: comfort is key 
The building was designed with a casing and high-performance systems to maintain a highly-comfortable indoor atmosphere, and boasts a distinctive and imposing façade of special glazing. Combining protection from solar over-heating and noise reduction, it provides a significant proportion of natural light, offset at nightfall or in cloudy weather by automatic variation in the LED lighting system.
Coupled with the insulation of the façade, the use of interior materials and suspended ceilings limit acoustic vibrations and reduce the sound level inside the building by 50 decibels, which brings the perceptible noise of the airport to the same level as that of a car. 
Excellent air quality is ensured by the presence of CO2 sensors and constant flow regulation with renewal by carbon filter, in addition to low emissions of VOC1 from interior furnishings. Hygrothermal comfort is ensured by heating and air conditioning via the airport heating network and constant atmospheric monitoring.
The new facility and its duty-free shops, restaurants, and patio form part of a more general redevelopment programme for Hall A. Numerous changes have been introduced in recent months to the security check systems; the modernisation of the re-designed inspection and screening facilities, and the installation of 'Parafe' biometric gates for international arrivals, and departures have enabled a significant improvement in passenger flows.
High energy-efficiency and a reduced environmental impact
The construction project was managed by Dune Construction, as the agent of a consortium of companies, and Dufon Architectes architecture firm, set the tone for the environmental target of the project. With more than 90 per cent of worksite waste recycled as energy or matter, in addition to active and preventative monitoring of pollution and other disturbances, this clean worksite obtained 'High Performance' classification from the NF HQE© standard.
The certification awarded to the pier, which is now in operation, guarantees environmental and energy efficiency in line with the best practices currently in effect. Its annual energy use2 is therefore 11 per cent lower than that of an airport complying with the most recent thermal regulation (RT 2012). Regarding water use, it enables an annual saving of 1,000m3 of drinking water,3 i.e., the equivalent of 200,000 toilet flushes.
Bio-sourced, high-performance and classified 'A+', interior furnishings including paint and suspended ceilings were chosen to emit as few pollutants as possible. Wood furnishings are sourced from sustainably managed forests, and the linoleum flooring is composed of 90 per cent fully natural and recyclable materials.
A strategy of accelerated transition for the environment 
This new pier is one of multiple projects at the airport to enhance its service quality and strengthen the management of its environmental impacts. At a time when the airport, aeronautics, and industrial sectors are responding actively to climate issues and the acceptability of air transport, Bordeaux Airport's resilience and relaunch plan in the wake of the health crisis is maintaining an €8 million investment programme in this area for the coming years. 
Despite the context of the COVID-19 crisis, the airport teams have pursued an active strategy for the certification of the platform's environmental management, thus obtaining ISO 14001 certification in December 2020, followed by the first level of certification from the European Airport Carbon Accreditation (June 2021), which targets a carbon neutral airport with offsetting by 2030. Efforts are continuing to obtain higher levels of certification.
At the same time, numerous ongoing or imminent projects for Bordeaux Airport illustrate this current transition towards biodiversity, waste and water management, improved energy use, and renewable energy. Among many examples which are expected to bear fruit as of 2022: the complete replacement of the 'curtain walls' of Hall B by high energy-efficiency glazing, the renewal of the vehicle fleet with hybrid and electric vehicles, and the installation of more than 1,500 solar panels, which will render the 'PO' car park (closest to the terminal buildings) fully self-sufficient in electricity production, thus reducing by four per cent the annual energy consumption of Bordeaux Airport.
References
1    Volatile organic compounds
2    This energy performance is specifically the result of:
–    centralised steering and management of all energy use 
–    high-efficiency heat recovery of discharged air
–    programmed night-time ventilation in mid-season and summer, to cool the building passively
3    – toilet facilities equipped with water-saving devices and dry urinals
– supplied by rainwater stored in a tank with a capacity of 3 weeks' autonomy