Tampa Airport reflects on the impact of COVID-19 on airport business
Reflecting on the impact of the pandemic over the course of 2020, Tampa Airport is optimistic for the future and aviation's recovery.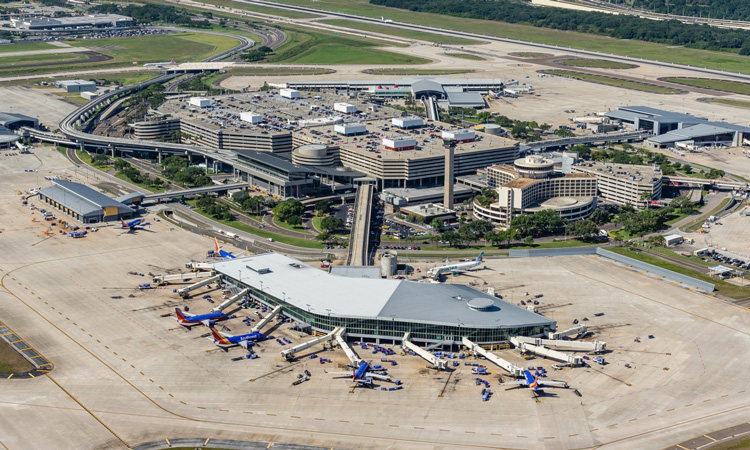 On 9 April 2020, fewer than 1,500 passengers passed through Tampa International Airport (TPA), its lowest point as part of the longest sustained traffic drop in airport history. Global fear of COVID-19 was at its peak as many planes sat empty, restaurants and bars were closed for business and workers were sent home.
Since then, it's been a year-long bumpy road to business recovery in the ongoing battle against COVID-19. However, if the 2021 spring break season is any indication, it appears that travel is on the rise, as vaccine availability increases across the U.S. and people are feeling more comfortable booking flights again.
More than 1.4 million passengers travelled through TPA in March 2021 – an average of more than 50,000 passengers per day. April 2021 is looking even stronger. Over the Easter weekend (2 April to 5 April 2021), Tampa Airport saw an average of more than 60,000 passengers per day. While it still falls short of the 80,000+ per day during spring break in 2019, the rapid return of activity is slightly ahead of 2021 projections as TPA continues to analyse and plan for the summer travel period.
"We're cautiously optimistic, along with our airlines, concessionaires and other airport tenants," said Tampa Airport's CEO, Joe Lopano. "We want to see business return and we want to see it return safely. We still have a long way to go with COVID-19 recovery, particularly in other parts of the world, before we see a true sense of normalcy. But, by all of us continuing our efforts to keep air travel safe, along with the widespread availability of vaccines, we're on the right track."
While aircraft operations and passenger traffic slowed at Tampa Airport, its work did not. The airport was among the first in the U.S. to implement health and safety measures – such as distancing markers and plastic shields – in April 2020 and, in October 2020, was the first to open a voluntary COVID-19 testing site offering both rapid and PCR tests for all arriving and departing passengers.
Construction work buzzed along as the airport made significant progress on several projects, including its express curbs and SkyCenter commercial office complex. It opened a new, enclosed long-term garage walkway to the main terminal, installed touchless E-gate boarding pass scanners at all four shuttle entrances and unveiled amenities such as water bottle filling stations and airside terminal pet relief areas.
Tampa Airport also became the first airport in the country to offer 5G mobile speeds across the nation's three major cellular carriers, just ahead of service as the host airport for Super Bowl LV in February 2021. Additionally, it recently launched a new online booking system for parking and 'TPA to Go', a convenient airport restaurant delivery service.
While TPA's traffic projections and the timing of its returning international routes remain somewhat uncertain, recent developments show glimmers of hope. In early April 2021, the U.S. Centers for Disease Control and Prevention (CDC) updated its guidance for travellers, saying that those who are fully vaccinated are at a low risk of contracting COVID-19.