Passenger COVID-19 testing programme extended at Tampa Airport
After launching the testing programme in October 2020, Tampa Airport and BayCare Health System anticipate operating the site for several more months.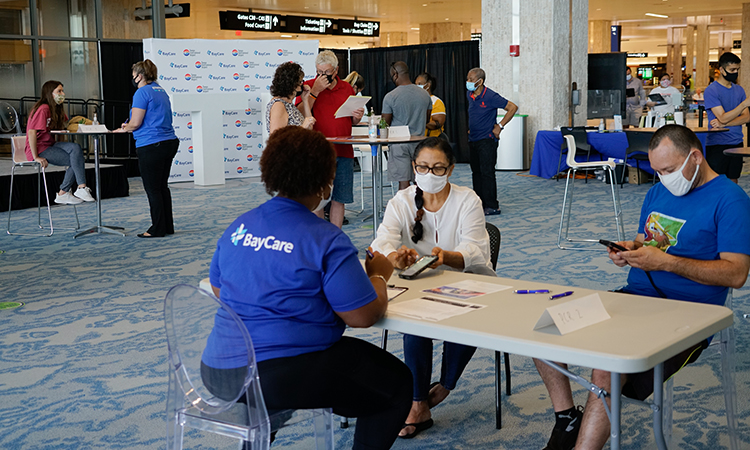 Credit: Tampa International Airport
Tampa International Airport (TPA) and BayCare Health System have announced the expansion of the airport's COVID-19 Passenger Testing Program into 2021 after the success of its first three months of operation. 
The COVID-19 testing site is located in the airport's Main Terminal, near the entrance to Airside F. Since the programme launched on 1 October 2020, the testing site has processed more than 12,000 Food and Drug Administration (FDA) approved COVID-19 tests (including both Polymerase Chain Reaction [PCR] and rapid antigen tests). 
"The numbers make it clear: Passengers appreciate the convenience and the confidence that our TPA COVID-19 testing site provides, making travel safer for themselves and those around them," said CEO of Tampa International Airport, Joe Lopano. "We're thrilled to continue our partnership with BayCare in offering this voluntary testing service into 2021."
Both the airport and BayCare anticipate operating the site for several more months. The pricing of $150 for the PCR test and $60 for the rapid antigen test remains the same.
"We know that, until there is a herd immunity, testing will continue to be key to combatting this virus and making us all safer," said Donna St. Louis, BayCare's Vice President for Business Development, whose team oversees the service. "We welcome the chance to partner with Tampa International Airport to provide this service and access for our community."
Programme highlights to date include:
An average of approximately 133 tests per day, peaking at more than 280 in a single day 
Usage of PCR and antigen tests is roughly even, with guests slightly preferring PCR tests
The majority of those tested continues to be departing passengers who tested days in advance of travel. 
Testing is voluntary and is open to all arriving and departing passengers who can show proof of travel. Passengers departing from TPA to destinations requiring a negative PCR test – the most accurate and broadly accepted internationally – are advised to take the test three days before departure and can expect results within 48 hours. Passengers should check to ensure that they receive their test results in accordance with the requirements or guidelines for their destination.