Oslo Airport searching for suppliers to develop more efficient baggage handling solutions
By working with suppliers to develop an innovative baggage handling system, Oslo Airport and Avinor intend to improve efficiency and competitiveness.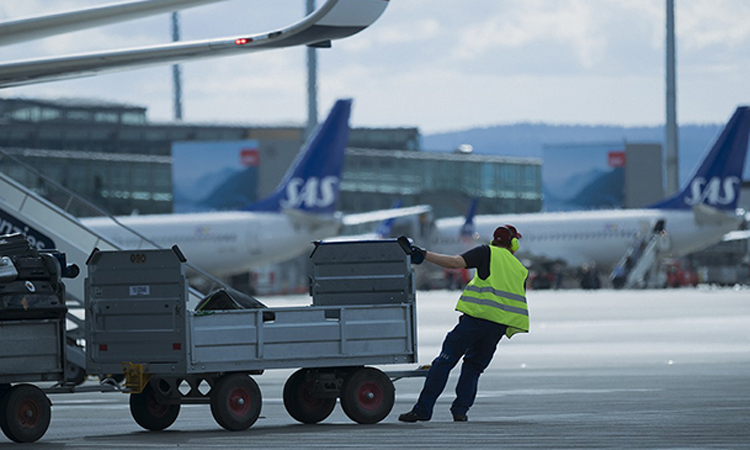 Credit: Oslo Airport
Oslo Airport (OSL) – operated by Avinor – has announced that it is looking for suppliers that can help to develop innovative solutions for more efficient baggage handling between the baggage hall and the aircraft at the airport.
The current processes that take the departing baggage from the baggage hall to the aircraft, and the arriving bag from the aircraft to the baggage hall, are mainly based on manual lifting and manual driving. It is a time-consuming, expensive process that, to a large extent, has been unchanged for 50 years. Avinor intends to automate these processes as far as possible.
Airlines spend significant amounts of money per year on baggage handling services at Oslo Airport. Approximately 50 per cent of these costs are related to the processes between the baggage hall and the aircraft.
Automated baggage handling will benefit airlines, handling agents, Avinor and other professional groups working with heavy manual work significantly. Stine Ramstad Westby, Manager of Oslo Airport, said that improvements to this service will be useful for other airports operated by Avinor, as well as airports around the world.
Avinor is currently searching for innovative suppliers as a result of a pre-project that is underway to replace the oldest baggage system at Oslo Airport, which has been in operation for more than 20 years.
The baggage system is the heart of the airport. Any technical failures have major consequences for the rest of the large machinery that keeps the airport running 24 hours a day. To ensure stable operations, as well as providing efficient and competitive services to the airlines, it is important that Oslo Airport has a baggage facility that is modern and has a technology that is robust to handle the stresses, said Westby.
By replacing the old facility, Avinor will be able to streamline airport operations by connecting the system to new technologies extending beyond the baggage system itself, thereby meeting airlines' expectations for efficiency and automation. An early involvement of innovative suppliers will allow Avinor to carry out a successful pre-project with access to expertise about the system. This will ensure a reduction of risk and uncertainty, as well as providing a better basis for deciding on building decisions in 2022.
In addition, Avinor and Oslo Airport intend to contribute to the development of automated baggage handling and, as a result, is building a test centre of approximately 1,500m2. Here, suppliers will be invited to test and improve new concepts, in close cooperation with handling companies and airlines. The ultimate goal is to buy and use the approved solutions in connection with the replacement of the old baggage system, with a view to production from 2025.