Santiago Airport sustainability plan unveiled by Nuevo Pudahuel
The Chilean capital's air terminal, Santiago Airport, has begun its efforts to become a net-zero carbon emissions airport by 2050.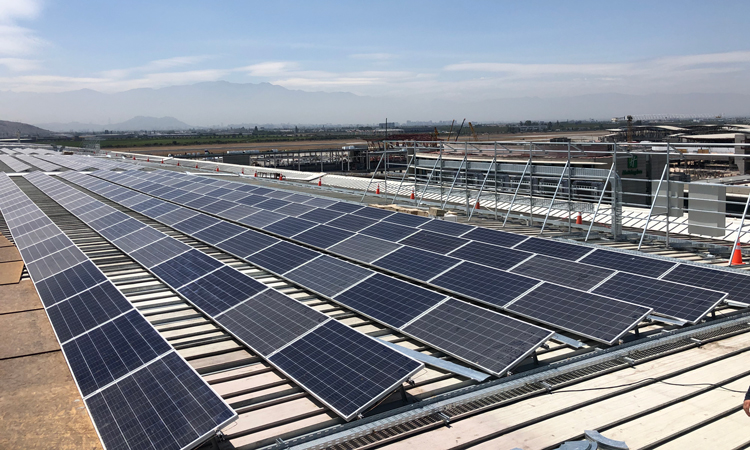 Credit: Nuevo Pudahuel
Santiago International Airport's (SCL) concessionaire, Nuevo Pudahuel, has embarked on an ambitious environmental plan to reduce the carbon footprint of Chile's main air terminal, with the aim of becoming a net-zero emissions airport by 2050 – subsequently reinforcing its commitment to the local community.
Santiago Airport is operated by Nuevo Pudahuel – a consortium formed by Groupe ADP, VINCI Airports and Astaldi Concessioni under a 20-year tendering contract. During 2019, the air terminal transported almost 25 million passengers. Since the concession was granted in 2015, AMB Airport has undertaken a major environmental transition in terms of energy, electric mobility, biodiversity and waste management that will reduce emissions by 40 per cent by 2030.
The terminal has been awarded with Airport Carbon Accreditation Level 1 by Airports Council International (ACI), making it one of only 20 certified airports in Latin America and the Caribbean. Nuevo Pudahuel has also been accredited by Huella Chile, an initiative of the Chilean Ministry of the Environment, the purpose of which is to raise awareness about climate change.
The first recycling programme at Santiago Airport was introduced in April 2017, with a waste separation plan that is implemented in the various airport zones that the concessionaire operates – such as the passenger terminal, cargo terminals and apron service areas. During 2019, Nuevo Pudahuel recycled 174,000kg of carton, 84,000kg of glass, 3,000kg of paper, 305,000kg of wood, and 24,000kg of vegetable oil.
In 2018, the consortium launched an energy plan with French sustainable energy provider, ENGIE, to ensure that 100 per cent of the electricity supply comes from renewable sources. Following this initiative, they replaced more than 10,000 LED lamps, and the project will continue to encompass 100 per cent of the terminal by 2025, reducing the electricity consumption by 70 per cent. In the near future, Santiago Airport will have six stationary bicycles that will produce enough energy for passengers to charge their mobile devices in the boarding lounges.
Santiago Airport will soon benefit from 2,500 photovoltaic panels with a total power of 825kW, which will generate an annual average of 1,256MWh. This, in addition to the sets of solar panels at the international terminal project (four sets of 114 panels each), will help Nuevo Pudahuel achieve a reduction of 547 tonnes of CO2 per year, or the equivalent of planting more than 1,000 trees.
During 2016, Nuevo Pudahuel launched a tree donation programme in cooperation with the Municipality of Pudahuel, offering passengers, airlines and institutions the possibility of joining this effort to reduce the impact of their activities through an online donation. So far, passengers have donated more than 500 trees that have been delivered to the Pudahuel borough; the trees are planted in the borough to create new green areas. As the concession holder, Nuevo Pudahuel has also reforested more than seven hectares with native Chilean species that include acacia caven, quillaja saponaria and schinus polygamous, representing a total of more than 20,000 trees planted on airport grounds.
Xavier Lortat-Jacob, Nuevo Pudahuel's CEO, stressed: "We believe that air traffic development must go hand in hand with environmental actions, this is why we have undertaken an ambitious environmental programme. We are working to reduce our carbon footprint by 40 per cent over the next few years; becoming a net-zero emissions airport by 2050, in line with Groupe ADP and VINCI Airports' values."
The International Terminal (T2) will be almost 250,000m2 in size and takes inspiration from the landscapes, geography, flora and fauna of Chile. The project consists of a new passenger handling area and four piers, or boarding lounges, dedicated to international flights; two of these have already been inaugurated.