Single-use coffee cup recycling stations introduced at Glasgow Airport
The recycling stations offer a sustainable solution to Glasgow Airport's passengers and staff using single-use coffee cups.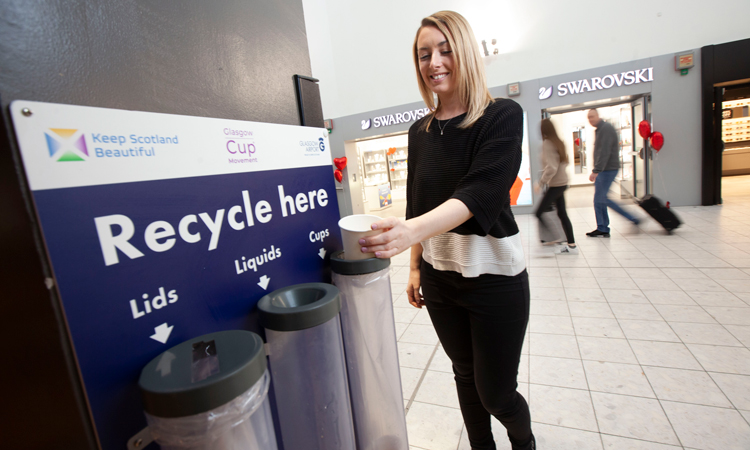 Credit: Glasgow Airport
Glasgow Airport (GLA) has introduced new recycling stations at three catering outlets within the terminal, designed specifically for the sustainable recycling of single-use coffee cups. 
Each station features three collection tubes, allowing passengers and staff to recycle the coffee cups, lids and their contents, where previously, they could only be disposed of in general waste bins and, subsequently, sent to landfill.
The stations have been placed in the James Martin Kitchen, Panopolis and Starbucks catering outlets in the main departures area, with the intention to install a further four stations. 
Glasgow Airport's Sustainability Assurance Manager, Kirsty Webster, said: "As a responsible business, we are committed to reducing our environmental impact. As disposable cups are composed of paper with a thin plastic liner to keep them from leaking, recycling them requires a specialised process.
"The remaining liquid has also been a barrier to recycling, as if there's nowhere to empty the contents of the cup, they are often tossed in the general waste bins. These stations provide both staff and our customers with the means to dispose of their leftover drink and the disposable cup in a sustainable manner, and they are proving really popular."
An estimated over 500 million single-use coffee cups are used in Scotland each year, with just four per cent being recycled. Approximately 95 million are used in the Greater Glasgow area each year. Since its introduction in the James Martin Kitchen in the summer of 2019, over 12,000 cups have been recycled.
The new stations have been introduced as part of the Cup Movement in Glasgow, a city-wide initiative from environmental charity Keep Scotland Beautiful. Glasgow Airport joined the Cup Movement in summer 2019, gaining access to Scotland's first cup collection and recycling service, delivered in collaboration with Simply Cups. 
Paul Wallace, Campaigns and Social Innovation Manager at Keep Scotland Beautiful, said: "Transport hubs like Glasgow Airport are a key part of our takeaway coffee culture, with thousands of travellers reaching for a drink in a disposable cup each day as they wait for their flight to board. Having an initiative like this in a key hub in and out of Glasgow helps send a strong message to locals and visitors alike about the importance of waste reduction. Every step counts as we transition towards lower impact ways of living."