Brian Cobb
Chief Innovation Officer of Cincinnati / Northern Kentucky International Airport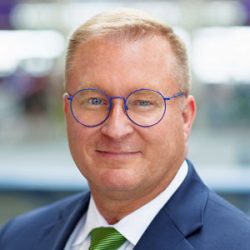 Brian Cobb is the Chief Innovation Officer for the Cincinnati/Northern Kentucky International Airport (CVG), a 30-year veteran in aviation, and a graduate from Embry-Riddle Aeronautical University. From trained pilot to executive leadership roles at the largest, fastest growing US Regional Airline to CVG, one of the fastest growing Airports in the US, Brian has the experience and passion for what is needed next for tomorrow and beyond. He is a persuasive facilitator and speaker for diverse industries and media, frequently sharing a narrative of how visionary leadership through innovation supports a culture of collaboration, navigates through crisis, attains successive and sustainable wins, and builds upon a strategic positioning throughout business life cycles and personal growth. Following a personal motto of, "Let's go build great things together," Brian continues to bring CVG Airport to the forefront as an award-winning airport, known for its delivery on brand promises and future-forward actions consistently noted as industry firsts.    
Brian's integration of talent and technology into the airport eco-system has positioned CVG as the first US airport to trial and or deploy…
autonomous retrofit baggage tug; also, the first of its kind in the world
autonomous robotic cleaning equipment with advanced artificial intelligence
robotic concessionaire for impulse-buy attraction and revenue enhancement
robotic concierge units to transport carryon baggage for limited mobility consumers
cloud-based passenger check-in technology allowing check-in processes anywhere
wearable technology for enterprise asset management, safety, and security
graphene-based paint for energy management, sustainability, health and safety
IoT devices for monitoring and engaging with employees and customers
drones for photographic advanced wayfinding
personal electric vehicles for passengers with reduced mobility
His community outreach is to connect the start-up eco-system to universities and established businesses while leveraging CVG as a living laboratory that serves as a catalyst to transform the region, industry, and beyond.
Related airports
Related people