Compliance vs. compassion
Brian Cobb, Chief Innovation Officer at Cincinnati/Northern Kentucky International Airport (CVG), describes the airport's ambitions to advance accessibility among its community.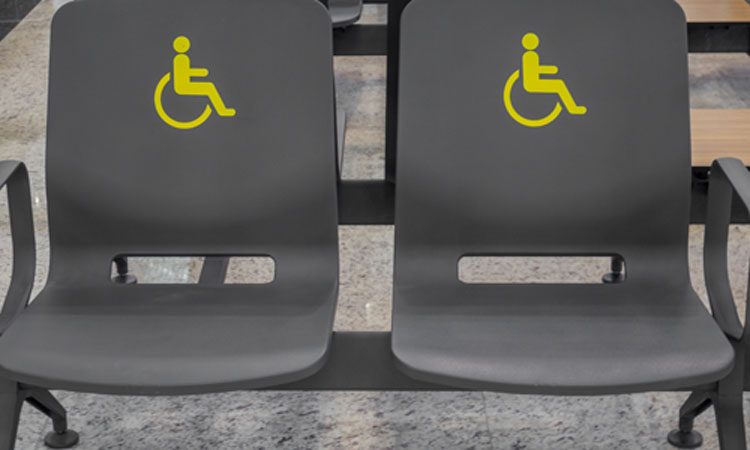 AS A SKYTRAX award-winning airport for seven of the past eight years, Cincinnati/ Northern Kentucky International Airport (CVG) is well positioned as a leading global airport. A key tenet is to 'Go Beyond', further prescribed for employees and business partners to 'make travel through CVG an unforgettably positive experience'. This conscientious approach encourages furthering its market base among those less travelled. It's about giving a voice and options to those who have been turned off, or worse, turned away from the joys of air travel.
Where compliance falls short
We're likely bound by rules established by a regulatory body, and within those rules are more specific standards for supporting disabilities on behalf of employees. The inevitable question is: "Will we comply to minimum standard, or will we go beyond to maximise accessibility."
Immediate questions from the organisation's leaders come into play, with typical lines being "is it really necessary?", "there are other, more important priorities?", "what is the return for what seems like a small number of users?". These questions can be frustrating, giving the appearance that the bar is set higher to reach approval for accessibility needs. How many of us are lobbying for the compassionate approach that actually lowers the bar as the ethically right thing to do?
Consider the cost
No business is successful by discouraging use of its product. Couple this with the consistent rise in disabilities, considering improved global diagnosis, such as Autism Spectrum Disorders (ASD) and burgeoning physical challenges. Juxtapose this with the growing wealth of the world's developing nations' population and direct forecast impact for air travel demand. If we do nothing towards social acceptance and support for improving accessibility, we risk depriving air travel for an entire population and their caregivers. Or perhaps we're better to market this in financial terms as losing consumer confidence and their business.
Consider this simple market impact for ASD. The U.S. Center for Disease Control (CDC) in 2018 "determined that one in 59 children in the United States are diagnosed as being on the spectrum", with "Autism affecting all ethnic and socioeconomic groups"1. While the spectrum itself has varying degrees of capabilities, the fact remains that social challenges exist. These social challenges can be debilitating. Furthermore, their caregivers are often constrained themselves as they must consider all limitations in daily life.
Facilitate change
CVG created LIFT™ (Leading Individuals Forward Together) in 2012. The programme has been met with resounding success and consistent growth. Initially formed for support around ASD, LIFT has since branched to include numerous disabilities and travel-related health challenges. With support of community health professionals, each learning event is designed to provide comfort and encouragement for the individual and their caregivers, raise understanding and instill sensitivity of the disability among airport community personnel and employees.
The award-winning LIFT programme continues to organically build upon its prior successes. Recently expanded programmes include the introduction of non-ASD learning disabilities, miniature therapy horses, site familiarisation for service animals in training, and awareness for heart patients with advanced mechanical implants.
After learning about an invasive experience through security and multiple lines of questioning by airline staff that one heart patient had to endure, CVG staff recognised the lack of awareness surrounding a new technology. A ventricular assistive device (VAD) is an advanced treatment option for end-stage heart failure. It is a mechanical pump that's implanted in the heart to help it pump more effectively. Unfortunately, the device design appears as the passenger is hiding wires connected to an exterior pack. The pack is actually a battery unit connected to multiple wire leads that may not be disconnected at any time.
CVG's U.S. Federal Agencies and airline partner staff were fascinated with the in-person patient learning through first-hand experience. Immediate knowledge sharing took place and compassion took hold as each agency and airline committed to sharing the learning materials among their respective headquarters.
In place now
Before-you-fly interactions at CVG are notable given our interest in starting our customers' journey prior to when they leave home. Customer experience staff worked to develop several options to pre-journey the airport for those less familiar or not well-travelled in a larger airport environment. Leveraging Google 360 technology, staff coordinated with a 360 specialist to photograph and stitch full facility tour capabilities in high-resolution. CVG remains one of very few U.S. airports to offer touring capabilities via desktop or mobile.
Another of CVG's initiatives included the addition of Aira. As a subscription-based, third-party company, Aira offers real-time hands-free wayfinding navigation for the visually impaired.
Over recent years, CVG has removed all revolving and bi-fold doors and replaced them with automated, wide-access doors; modified all security lanes to accommodate wheelchairs; reprogrammed elevators to 'home' position with doors open and lights on at the most frequently used floor; developed a ground-based business continuity plan for conveyance outages and/or emergency egress whereby accessible ramps will be mated to passenger-loading bridges and coupled with accessible shuttle buses.
On the horizon
In the coming years, CVG expects robotics and autonomous technologies to advance the experience of PRMs. CVG was the first U.S. airport and the second world-wide to trial WHILL, an advanced personal electric vehicle. CVG's premise was simple: Could we reduce the need for human service to push wheelchairs if a consumer with limited mobility could navigate the airport via WHILL? The study period indicated a reasonable acceptance rate and quick study – 30 seconds or less – on how to use the semi-autonomous chair. The add-on benefit of the device was a caregiver feature, allowing them to navigate the chair via smartphone over Bluetooth connectivity. The future design considered full-autonomy mode via connecting to Wi-Fi nodes acting as waypoints. Ultimately, the device has yet to be incorporated for full passenger use due to the facility design requiring multiple up-down transitions. However, CVG has been quick to share its study results with others which led to additional pilots and full deployments in airports around the globe.
A robotic development currently underway is the modification of Segway's Loomo. Loomo is a next-gen miniature Segway that doubles as a self-curated robot via open code capabilities on the Android platform. CVG is collaborating with one of its university partners on a use case to again facilitate a 'digital concierge' with critical focus on passengers with limited mobility. We anticipate Loomo operating as a terminal-to-gate wayfinding guide, capable of transporting a customer's carry-on, acting as an interpreter, and several other to-be-developed features.
CVG's hard work and dedication ensures that our staff and airport community remain transfixed on the horizon, advancing industry agendas, and ensuring that all existing and future customers enjoy access to the fascination of flight.
Reference
1. www.autismspeaks.org/autism-facts-and-figures
Biography
BRIAN COBB, Chief Innovation Officer at Cincinnati/Northern Kentucky International Airport (CVG) is a graduate of Embry-Riddle Aeronautical University, having received his bachelor's degree in Aeronautical Science. He also holds commercial pilot and flight instructor licenses and associated aircraft ratings, and received ACI's "International Airport Professional (IAP)" designation in 2013. Cobb has over 25 years of aviation experience, working in both airline and airport sectors.