Orlando International Airport (MCO) leading the way in biometrics
Phil Brown, CEO of the Greater Orlando Aviation Authority, reveals how Orlando International Airport – the busiest airport in the state of Florida with more than 46 million annual passengers – has turned to biometric technology to enhance the passenger journey through the airport and seamlessly integrate into the airport's verification processes.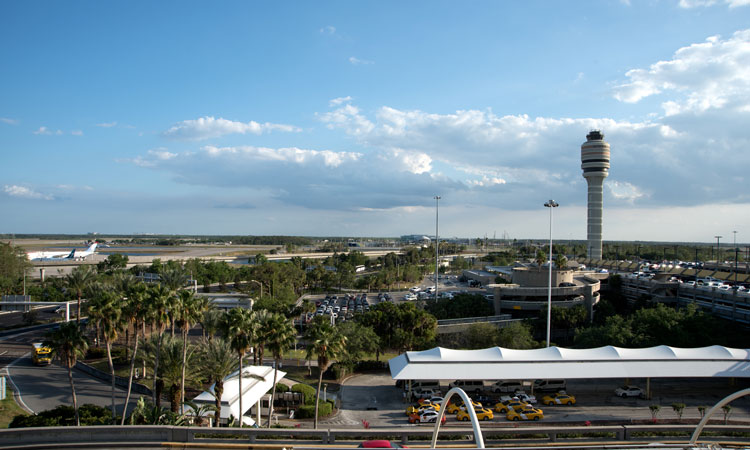 These are exciting times for the air travel industry. Airports worldwide are expanding, modernising and welcoming a growing number of travellers. Since 2007, international traffic has been Orlando International Airport (MCO)'s strongest area of growth, rising from just over two million passengers to more than six million annual passengers in 2018 on a rolling 12-month basis.
This surge has not been unexpected, but our desire to stay ahead of the curve has accelerated efforts that will enable us to continue delivering our unique brand of customer service known as The Orlando Experience®. A major component of that effort is a $4.2 billion Capital Improvement Programme, which includes construction on Phase 1 of our new South Terminal Complex, along with completion of the South Airport Automated People Mover (APM) Complex/ Intermodal Terminal Facility (ITF); 2,400-space Parking Garage C; and expansion and renovations to the North Terminal Complex.
Advanced technology will also play a significant role in enhancing the travel experience and increasing throughput. With expectations that MCO will remain on an upward trajectory, the airport – following internal discussions and consultations with partners – made the decision to become the first airport in the country to fully deploy the U.S. Customs & Border Protection (CBP) Biometric Entry and Exit Program. The passenger processing system employs facial recognition technology to facilitate the arrival and departure of all international travellers.
Following months of successful testing, the Greater Orlando Aviation Authority (GOAA) Board approved $4 million in funding to implement facial recognition systems at MCO's 30 international departure gates and at CBP checkpoints located in the airport's two Federal Inspection Stations. The unprecedented move required several steps before the system became operational, including installation of automated gateways at the airline departure gates, computer hardware and cameras at the Federal Inspection Stations and incorporating SITA's Smart Path technology to ensure accurate facial scanning and processing.
MCO's Chairman, Frank Kruppenbacher, has long championed the board's vision to continually innovate operations to redefine the guest experience. Utilising facial recognition technology reinforces MCO's commitment to remaining one of the world's most welcoming and user-friendly airports. It is just the most recent example of MCO leading the way in biometric integration. Our timeline of milestones also includes:
2005 — MCO was the first airport in the U.S. to enter into an agreement with the private sector to expedite a security screening process for registered travellers. The team of Verified Identity Pass, Inc. and Lockheed Martin was awarded a contract to operate 'CLEAR', the registered traveller programme at Orlando International Airport. Applicants submitted fingerprints and iris images and were issued membership cards after clearing a security threat assessment by the Transportation Security Administration (TSA).
2010 — Orlando International became the first airport in the U.S. to re-introduce the new CLEAR programme, the only biometric-based secure identification programme for movement through airport security. The expedited security checkpoint processing programme was under new management by Alclear. The new company also agreed to reinstate all previous CLEAR memberships.
2014 — MCO became the first airport in the U.S. to pioneer a new generation of biometric self-service kiosks for overseas, Visa Waiver arrivals. Automated Passport Control (APC) kiosks allow eligible passengers to complete their Customs Declaration Form on touch-screen machines, in addition to having their passports scanned, fingerprints captured, and photograph taken. A receipt with the passenger's information and facial image is then provided for clearance. The system increases efficiency and reduces passenger wait times, while enabling CBP agents to focus more on inspection and less on administrative functions. The programme requires no pre-registration or fee.
The decision, in 2018, to become the first U.S. airport to commit to facial recognition technology for 100 per cent of international travel reaffirmed Orlando International Airport's position as an industry leader and innovator. MCO's deployment of biometrics to expedite the international travel process is expected to transform travel to and from the United States. Travellers will benefit by realising a greatly reduced need to continually present identity documentation at multiple stops along the passenger journey.
Over the course of several months, Orlando International Airport, in conjunction with CBP, tested the system for passengers boarding British Airways (BA) flights to the United Kingdom. The system accelerated passenger processing on BA's Boeing 777 aircraft, often completing boarding in less than 15 minutes, while eliminating the need for passengers to handle boarding passes and passports. Testing on the system for arriving passengers proved equally efficient at reducing processing delays.
How does the exit process work?
Prior to boarding, CBP generates biometric templates of the historical images (including passport and visa photos) of travellers for a given flight and temporarily stores them in the Virtual Private Cloud. Each traveller approaches the departure gate during boarding to stand for a photo, which is captured by a camera operated by airlines/airport authorities.
The matching service verifies the traveller's identity by comparing the best photo taken prior to boarding to the historical images in the CBP database. Once verified, the passenger can board.
How does the entry process work?
CBP uses airline manifest data to retrieve existing traveller photographs from government databases, including passports and visas, to build a photo gallery of travellers who are expected to arrive in the United States.
At the inspection booth, CBP captures a photograph of the traveller and matches it to a photograph in the pre-assembled gallery.
After the matching service verifies the traveller's identity, the CBP Officer conducts an inspection to establish the purpose and intent of travel and thus either directs the traveller to baggage claim or refers them for further inspection.
The facial recognition verification process takes less than two seconds, with a 99 per cent match rate. CBP chose a facial biometrics system because it seamlessly integrates into the airport's current verification processes. By comparing the photographs of travellers with those that are already on file in Department of Homeland Security (DHS) holdings, no new data is required.
Based upon its commitment to innovation and public-private partnerships, CBP built a facial biometric matching service to support airport and airline stakeholder integration for biometric exit and other passenger services. A facial biometric capture device (camera) can be installed at an airline or airport departure gate without any significant changes to existing airport physical infrastructure. A biometric entry-exit system based on facial recognition is minimally disruptive to the flow of travel.
Regarding concerns over the logistics of collecting and storing the biometric data, CBP provided assurance that it would safeguard the privacy of all travellers. CBP has published several Privacy Impact Assessments, employed strong technical security safeguards, and has limited the amount of personally identifiable information used in the new biometric process.
In assessing the big picture of biometrics, CBP opined that its partnership with Orlando International Airport would transform the passenger experience for arriving and departing travellers and change the face of air travel by making it more secure and efficient. Since MCO is a predominantly origination and destination airport, nearly 94 per cent of its passengers will appreciate the speed and convenience this technology will bring to their airport journey.
The future is rapidly taking shape at Orlando International Airport as each day brings us closer to the projected 2021 opening of the first phase of our South Terminal Complex. With the continued promise of faster and more secure clearance methods, airlines and travellers will benefit from shorter processing times and standardised arrival procedures at the new facility. Identity verification through biometric technology complements our longterm vision for safe, secure and seamless travel from kerb to gate.
Biography 
Phil Brown is the CEO of the Greater Orlando Aviation Authority, responsible for the operation and management of both Orlando International Airport and Orlando Executive Airport, with an annual budget of over $500 million. In addition, Phil currently serves as Chairman of the American Association of Airport Executives (AAAE) Airport Legislative Alliance, Chairman of the Gateway Airports Council, member of the U.S. Travel Executive Committee and member of the AAAE Policy Review Committee. He holds a Master's degree in Business Administration from the University of Tennessee, and is an Accredited Airport Executive by the AAAE.