Phil Fine interviews Changi Airport, Singapore
Journalist Phil Fine recently spoke to Changi Airport Group's corporate marketing and communications team, about what the future holds for the airport.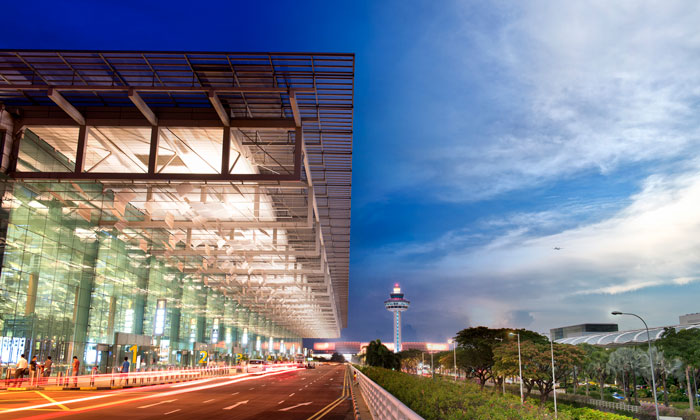 With just 5.5 million people, Singapore is one of the world's smallest states. But it's also one of the most important transportation hubs.  Its container port is one of the busiest on the planet. And its principal airport, Changi, is an Asian hub, boasting over 100 airlines with connectivity to 380 cities worldwide. 
For starters, we're expanding to meet expected demand. Terminal four, our newest facility, will open in the second half of 2017. We're already handling more than 58 million people a year on a 66-million passenger capacity. And this new terminal will boost capacity by 16 million. Moreover, by partnering with both companies and start-ups, we're continuing to offer travellers more than mere off-the-shelf solutions. We're also adding a new mixed-use complex, Jewel, set to open in 2019. It will feature a hotel, retail shops, along with food and beverage stores. It will also include  Singapore's biggest indoor garden.
In addition, we're building a fifth terminal which will double Changi's overall capacity. Set to be one of the biggest facilities in the world, the terminal will initially handle 50 million passengers. And because it will be linked to Changi's existing terminals, it will make it easy to transfer from one flight to another.
Most important, of course, we're continuing to listen to what our passengers say. That way, we'll not only be able to meet, but we'll be able to exceed their expectations.
Singapore, of course, isn't the final destination of everyone who flies into Changi.
Definitely not. Of the 58.7 million passengers we handled in 2016, roughly 30 per cent, or 17.6 million, continued on to other destinations. So, we're working hard to boost connectivity. Last year, we added flights to Dusseldorf in Germany, to Canberra, the Australian capital, and to Wellington, New Zealand. Other destinations we now serve include Nadi, Fiji; Sapporo, Japan; Urumqi, China, as well as Amritsar and Jaipur in India. On the long-haul front, we now offer non-stop flights to San Francisco by both United Airlines and Singapore Airlines. In addition, European airlines that serve Changi have increased their handling capacity. Finnair, for example, is now using Airbus 350s, while Swissair has switched to Airbus 340s from Boeing 777s. That's a 50 per cent increase in capacity.
In China, people are taking to the skies in record numbers. What are you doing to route them through Changi?
We're continuing to fine-tune our operations to give such passengers more personalised service. For example, we boast staff who are fluent in the world's key languages. Moreover, for those Chinese passengers going on our free tour of Singapore; they are guided in Mandarin. (The tour is offered to travellers with at least a six-hour layover).  In addition, even before flying in, Chinese travellers can read about Changi on the websites we've put up in their native tongue.
Tell us a bit more about terminal four.
It will make both check-in and boarding both automated and fast – in a word, seamless. And because we'll start using facial recognition technology, security will be enhanced. The boarding process will also be more convenient.