A look back on the Skytrax's top airports choices for 2017
We take a look back at the Skytrax awards 2017 with an excellent visual representation from Knoema.
If the quality of airports you transit strongly influences your assessment of your overall travel experience, head to Asia. According to the Skytrax World Airport Awards 2017, Asia boasts five of the world's top 10 airports.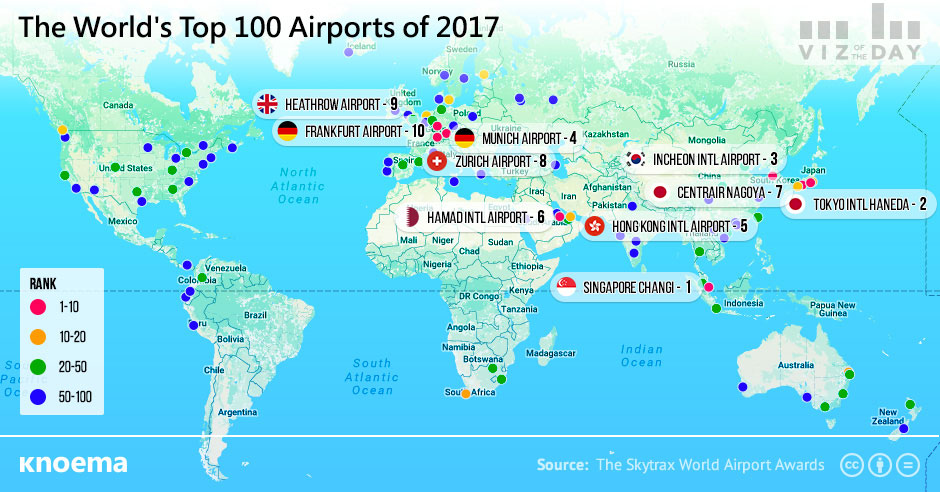 Europe came in a close second with four entries in the top 10, led by Munich Airport, ranked fourth globally. 
First place was awarded to Changi (Singapore), a rank attributable in part to its various facilities for leisure and entertainment designed to ensure maximum levels of passenger satisfaction.
Despite a record number of votes for Changi during the last few years, Singapore is not among the top 15 busiest countries by total annual passengers. That title always goes to the United States and China.
The Skytrax ratings are based on 13.82 million airport questionnaires completed by airline clients who travelled through 550 airports worldwide. The surveys sought details about travellers' experience across factors ranging from check-in, arrivals, and transfers to shopping and security and immigration. 
The countries with the greatest number of the world's top airports, the United States and China, also report the highest passenger traffic. But, beyond the United States and China, countries with airports from the World Airport Awards are distributed randomly within the ranking compared to total air passenger traffic. The number of passengers carried by any country seems to depend less on the rating of the airports and more on other factors such as the population of a country and its attractiveness to business, immigrant, and tourist travellers, all of which influence the air traffic handling infrastructure capacity.
Related topics
Related organisations