Future growth and connection at Vancouver International Airport
Vancouver International Airport prides itself on prioritising the community, traveller and economic expectations as it builds back from the COVID-19 pandemic. For International Airport Review, the airport explains further.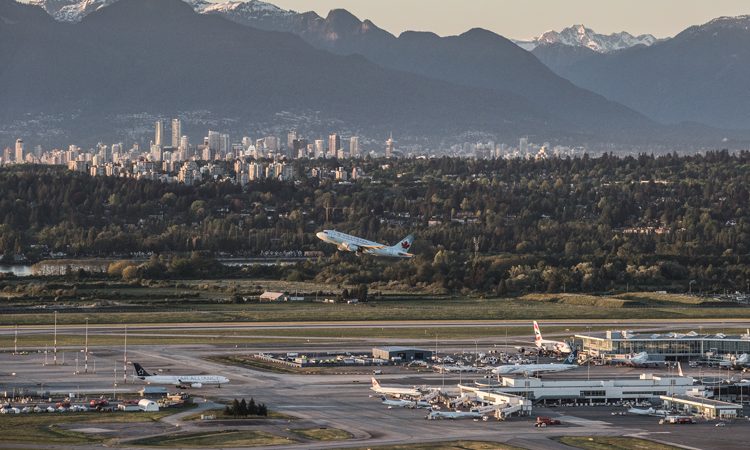 Credit: YVR
A world-class facility that was voted best airport in North America for 12 straight years, YVR has committed to reimagining its growth beyond core airport operations. We have sought unique ways to innovate by implementing digital technologies, maximising local economic efficiency via land use, as well as making dedicated commitments to climate and Indigenous reconciliation.
While the COVID-19 pandemic presented significant operational challenges, it also provided the opportunity for us to think outside the box and create innovative ways to adapt to changing travel and aviation realities. YVR President & CEO, Tamara Vrooman, recently highlighted these ambitious advances – both made and planned – in her first in-person address at the Greater Vancouver Board of Trade since becoming CEO in 2020: "As we reflect on lessons learned from the pandemic and look to the future, the importance of connection has clearly illustrated the responsibility we have to lead and grow with purpose to help build a community that is resilient, thriving and sustainable."
As Canada's second largest airport and gateway to Asia and the Pacific, YVR is a key point of connection for passengers, as well as the global supply chain. It was clear that as an airport we needed to proactively respond to the environment – and our team was up for the immense challenge that presented across its operations.
The data doesn't lie – YVR performed better than most other airports both during the pandemic and in the massive travel rush after many restrictions were lifted worldwide. We feel this is because we used the pandemic as an opportunity to review the industry end-to-end to identify efficiencies and refine long-term strategy and investments.
Digitisation of airport operations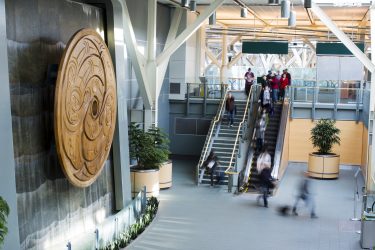 The sudden onset of the pandemic meant that airports worldwide needed to digitise traditional tactical functions of an airport, with passengers wary of touching screens or coming in close contact with airport employees, such as for checking-in and receiving boarding passes, leading to the implementation of digital solutions.
However, YVR has expanded on the challenge that COVID-19 presented … asking ourselves why stop there? What if we could digitise airport operations end-to-end in a simulated environment?
This is best illustrated through the release of YVR's digital twin in the spring of 2022. As one of the first airports in the world to implement this technology, the digital twin provides us with a virtual, real time interactive representation of airport operations. With both desktop and mobile interfaces, this digital infrastructure empowers our employees to monitor real time passenger capacity, aircraft movements, and other complex logistics in the palm of their hands.
We have also just introduced a new programme called YVR EXPRESS. Through the programme, travellers can reserve a spot at the security checkpoint ahead of their flight, allowing for a more balanced flow of passengers through security screening and reduced wait times. On the arrivals side, YVR has also streamlined the customs and border process for international passengers by allowing them to complete an advanced declaration form via the ArriveCAN mobile app or website up to 72 hours prior to arrival.
Behind the scenes, YVR has also partnered with Kale Info Solutions to implement a new Cargo Community System that will result in more efficient, transparent, and sustainable cargo operations. This will ensure that our safe and reliable movement of luggage and goods remain consistent as cargo volumes swell.
Vrooman further stated: "At YVR, how we move forward will impact our region and country, so we are very mindful of the priorities that we are setting and how we work across industry, with our many partners and with government to build a globally connected community."
Leveraging local economic value via land use
YVR is uniquely placed on Sea Island, on the traditional territory of the Musqueam Indian Band and home to a nature conservation site and residential neighbourhoods. Sea Island is also a place with immense commercial and industrial opportunity, largely in part due to its proximity to a major airport.
Redesigning YVR's land use plan to 2072 has unlocked significant economic opportunities, such as industrial operations that will support the aviation industry. More specifically, the plan opens 800 acres of land zoned for future commercial, which could lead to eight billion dollars in economic value, as well as 400 acres of field, which could lead to four billion dollars of economic value.
This is yet another example of how reimagining on-the-ground airport operations (quite literally) can lead to significant investments in long-term economic viability and growth that will benefit the airport and local region for years to come.
Prioritising commitments to climate and Indigenous reconciliation
A key part of YVR's forward-looking strategy is our approach to climate leadership and our ambitious commitment to become net-zero on carbon emissions by 2030. With our recent Level 4+ Airport Carbon Accreditation and the new Cascadia Corridor partnership with the Port of Seattle and Port of Oregon, we will continue work advancing the development, transport and use of sustainable aviation fuel as well as electrification of airport operations.
Naturally, climate is a cornerstone in YVR's continued commitment to reconciliation with the Musqueam Indian Band, the original stewards of the lands and waters of Sea Island. In 2017, the airport signed the Friendship and Sustainability Agreement, an integral 30-year agreement to create a sustainable future for the community through education, employment, revenue sharing and engagement protocol for long-term development and support of operations.
Musqueam has continued to be a foundational partner to YVR, and recently welcomed dozens of Afghanistan and Ukrainian refugees arriving through the airport. With a cedar brushing and welcome song, Musqueam elders meaningfully participated in the next step in these refugees' asylum journey in Canada.
Charting the path forward to meet the future of travel
"We are on track to welcome more than 17 million passengers this year, following an increase of 168 per cent from January to August and the single biggest increase of travellers in our 90-year history," added Vrooman.
The multi-pronged approach that we have taken to enhance our resiliency and sustainability makes us confident that we are well in-hand to manage these challenges and continue serving our communities.
Vrooman concluded: "We are proud of the entire YVR team for adapting amid challenging headwinds faced by the aviation and travel industries over the past two years, and we're excited for what's next as we look to the future of growth and connection in service of our community and the economy that supports it."
YVR is more than a place where airplanes take off and land. The airport plays a key role linking local, provincial, national and international communities to the world – a hub that will only grow more important as our world becomes increasingly connected again.