Three airports on one journey to a sustainable future
Derek Provan, Chief Executive Officer, AGS Airports Ltd, tells International Airport Review, about the group's sustainability strategy and their fight against climate change.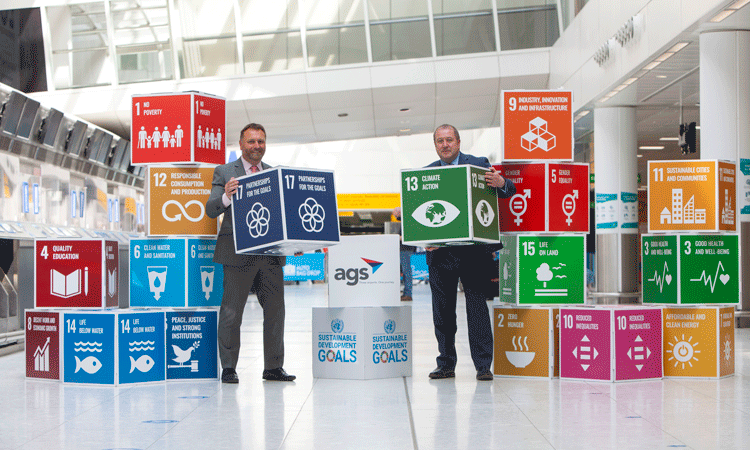 Caption: AGS Airports Ltd.'s Chief Executive Derek Provan and Scottish Transport Minister, Graeme Dey MSP, launch the group's sustainability strategy in June 2021. Credit: AGS Airports
AGS Airports Limited was established in 2014, however, our airports in Aberdeen, Glasgow, and Southampton have been serving their respective communities for decades.
We take enormous pride in the valuable contribution our airports make to their local economies in terms of generating employment, GVA and providing the vital connectivity that has allowed our regions to thrive.
Our purpose is to make national and international connections that benefit our regions, helping people prosper.
The coronavirus pandemic may have had a devastating impact on the entire aviation sector and brought our airports to an almost complete standstill, but as UN Secretary-General, Antonio Guterres said: "Aviation is an important engine of our world and will play a critical role in lifting the world to recovery from COVID-19".
He also rightly stated that recovery from the pandemic should be an opportunity for climate action. As we seek to re-grow and safely re-establish the connectivity that will drive our economy and prosperity, AGS is committed to responding to the most fundamental challenge of our time – the climate emergency.
A big responsibility
At AGS, we have always been acutely aware that operating such important pieces of infrastructure comes with responsibilities to our people, communities and to the environment.
Prior to the pandemic, governments were enacting legislation in response to the climate emergency. In February 2020, the UK aviation industry – through Sustainable Aviation – also responded when it came together to unveil its decarbonisation roadmap, which was the first national net-zero aviation commitment anywhere in the world. It sets out how the UK will be able to grow passenger numbers by 70 per cent whilst reducing net emissions from 30 million tonnes of CO2 per year today down to zero.
Direct emissions
As a group, we have set ourselves the target of achieving net zero carbon for our direct emissions by the mid-2030s. These are positive and important first steps, however, we recognise our airports have a wider impact over and above our direct emissions. That is why we are committed to working with the wider aviation industry to support our sector in achieving net zero carbon emissions (Scopes 1 to 3) by 2045.
How we balance the undisputed social and economic benefits our connectivity delivers with our responsibilities to our people, local communities and the wider environment is a key priority
In June this year AGS Airports Ltd. launched its new sustainability strategy. Anchored in the United Nations' Sustainable Development Goals, the strategy sets commitments against a wide range of material issues including decarbonisation, biodiversity, modern slavery, circular economy, community support and how we will support our people. Some of those commitments include:
Achieving net zero
AGS will maintain its commitment to carbon neutrality as it delivers its net zero roadmap to achieve net zero carbon for direct emissions by the mid-2030s.
AGS will support the continued development of Sustainable Aviation's Decarbonisation roadmap including the promotion of Sustainable Aviation Fuels, hydrogen and electric flight.
AGS will transition its fleet of vehicles to ultra-low emission vehicles and will continue the roll-out of electric charging infrastructure.
Supporting our communities
AGS will continue to invest in its community funds which have awarded over £2 million to local community groups and charitable organisations since 2010.
AGS will work with partners, including the NHS, to trial the UK's first medical drone distribution network.
AGS will work with local communities, schools, colleges and universities to provide training and internship opportunities.
Supporting our people
AGS will align policies and processes with the UN Guiding Principles on Business and Human Rights.
AGS will work with the Slave Free Alliance to review its approach to modern slavery and develop and publish an action plan, in addition to establishing a supplier code of conduct.
AGS will implement a gender equality strategy with objectives focused on flexible working, pay equality and gender composition.
Community support is key area of our sustainability strategy."
I am pleased to say we have already made significant progress in addressing our environmental impacts. Since 2018, we have reduced our direct carbon emissions by 52 per cent and in 2020 each of our airports achieved carbon neutrality status.
Our efforts to work towards a more sustainable future have been recognised by the leading global sustainability organisation Global Real Estate Sustainability Benchmark (GRESB) which in 2020 named AGS as sector leader in sustainability.
Creating partnerships
We have also joined airports across Europe in signing ACI Europe's Net Zero 2050 pledge; a commitment to achieving net zero emissions for the carbon under our control by 2050. These are positive and important first steps towards decarbonising our operations, however, we recognise there is more work to do.
I am proud to say that AGS has led the way by delivering over £2 million in support to a wide range of neighbouring groups, charities and projects local to our airports.
It is an undeniable fact that we must act now to reverse climate change. To do so will require partnerships through collaboration across all levels of government and society."
It is partnerships that underpin the United Nations Sustainable Development Goals.
AGS is leading a consortium that includes the NHS West of Scotland Innovation Hub, the University of Strathclyde and air traffic controller NATS to develop and trial the world's first national distribution network to use drones that will operate beyond visual line of sight (BVLOS) to transport essential medicines, blood, organs and other medical supplies.
The Care and Equity – Logistics UAS Scotland project, or CAELUS for short, brings together 13 organisations and has so far received £1.6 million in UK government funding to demonstrate how drone technology can improve access to medical supplies.
The project has the potential to revolutionise how essential medical supplies are distributed, particularly in rural parts of Scotland, and we are hopeful the first live trials will take place within the next 12 months.
Partnership working and the continual drive to innovate how the industry operates are already critical factors in setting aviation on a path towards net zero. Reductions will come from a range of measures including smarter flight operations, new aircraft and engine technology, modernising our airspace and the use of sustainable aviation fuels.
Sustainable Aviation Fuels (SAF) give us the ability to fly on recycled carbon. Produced from a range of feedstocks, including ethanol, household and agricultural waste, SAF can deliver up to 80 per cent carbon reductions for each litre of fuel used instead of traditional jet-fuel.
Of all the solutions to decarbonising aviation, SAF is available now and could potentially start reducing UK aviation emissions within the next five years. By 2050 the reduction in global aviation emissions could be at least 32 per cent.
Almost 200,000 flights worldwide have taken place using SAF which is now included in the UK Renewable Transport Fuel Obligation. What's more, it requires no modifications to existing aircraft or airports' refuelling infrastructure. What is needed is the ability to produce it on scale and encourage demand. As it stands, there is not enough supply and costs are too high with SAF costing approximately seven times more per litre than jet fuel.
In November, the world will look to the UK to set the agenda on climate action and ambition when Glasgow hosts the United Nations Climate Change Conference, COP26.
This will be the opportunity to agree a global response to what is a truly global challenge. Aviation is a force for good. It's one of the most global industries, connecting people, cultures and businesses. With the support of government, it can also help address the most pressing global challenge of our time – climate change.
Biography

Derek Provan joined AGS Airports, which owns Aberdeen International, Glasgow and Southampton airports, as Chief Executive Officer (CEO) on 16 April 2018. Born in Glasgow, Derek has over 20 years of experience in aviation and joined AGS from Heathrow, Europe's largest airport, where he was latterly Chief Operating Officer. During his time at Heathrow, Derek also held the position of Director, Future Heathrow. He was responsible for the future design of an expanded Heathrow to include surface access, terminals, airfield and airspace design and the creation of the hub's master plan and future operating models.  
Derek joined Heathrow in 2013 having spent three years as Managing Director of Aberdeen International Airport. Derek started his aviation career in 1998 at Glasgow Airport where he went on to hold a series of senior roles. He has a BSc in Fire Risk Engineering, Masters Degrees in Risk Management and Business Management and Research.