Three airports on one journey to a sustainable future
Derek Provan, Chief Executive Officer, AGS Airports Ltd, tells International Airport Review, about the group's sustainability strategy and their fight against climate change.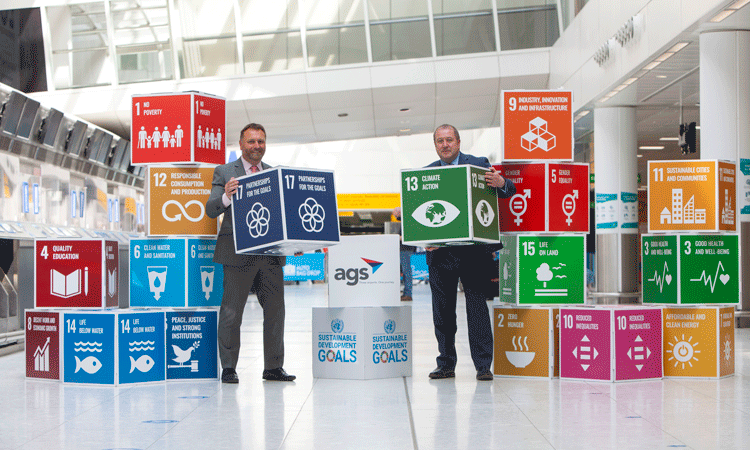 Caption: AGS Airports Ltd.'s Chief Executive Derek Provan and Scottish Transport Minister, Graeme Dey MSP, launch the group's sustainability strategy in June 2021. Credit: AGS Airports
AGS Airports Limited was established in 2014, however, our airports in Aberdeen, Glasgow, and Southampton have been serving their respective communities for decades.
We take enormous pride in the valuable contribution our airports make to their local economies in terms of generating employment, GVA and providing the vital connectivity that has allowed our regions to thrive.
Our purpose is to make national and international connections that benefit our regions, helping people prosper.
The coronavirus pandemic may have had a devastating impact on the entire aviation sector and brought our airports to an almost complete standstill, but as UN Secretary-General, Antonio Guterres said: "Aviation is an important engine of our world and will play a critical role in lifting the world to recovery from COVID-19".
He also rightly stated that recovery from the pandemic should be an opportunity for climate action. As we seek to re-grow and safely re-establish the connectivity that will drive our economy and prosperity, AGS is committed to responding to the most fundamental challenge of our time – the climate emergency.
A big responsibility
At AGS, we have always been acutely aware that operating such important pieces of infrastructure comes with responsibilities to our people, communities and to the environment.
Prior to the pandemic, governments were enacting legislation in response to the climate emergency. In February 2020, the UK aviation industry – through Sustainable Aviation – also responded when it came together to unveil its decarbonisation roadmap, which was the first national net-zero aviation commitment anywhere in the world. It sets out how the UK will be able to grow passenger numbers by 70 per cent whilst reducing net emissions from 30 million tonnes of CO2 per year today down to zero.
Direct emissions
As a group, we have set ourselves the target of achieving net zero carbon for our direct emissions by the mid-2030s. These are positive and important first steps, however, we recognise our airports have a wider impact over and above our direct emissions. That is why we are committed to working with the wider aviation industry to support our sector in achieving net zero carbon emissions (Scopes 1 to 3) by 2045.
How we balance the undisputed social and economic benefits our connectivity delivers with our responsibilities to our people, local communities and the wider environment is a key priority