Seattle-Tacoma Airport makes travel more accessible for all
Heather Karch, Aviation Facilities and Infrastructure Architecture Manager and Section 504/ADA Coordinator at Seattle-Tacoma International Airport, writes of the services and amenities that the airport has implemented and recently expanded in order to provide a positive passenger experience for all.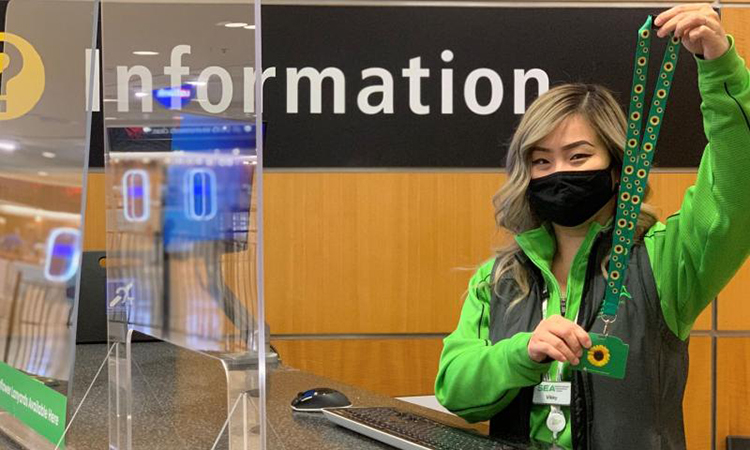 Credit: Seattle-Tacoma International Airport
Seattle-Tacoma International Airport (SEA) strives to make travelling as easy, safe and comfortable as possible for all. Fifteen per cent1 of the world's population has some type of disability, whether it's hearing, vision, cognitive or ambulatory. We continue to expand our understanding of the range of disabilities that impact our passengers, including those that are not always visible – these are referred to as hidden disabilities, an umbrella term for a large number of different conditions that can impact a passenger's travel experience. To address these needs, we have taken a targeted approach to expand our facility and customer service amenities to provide more accessible opportunities to improve the passenger experience.
We collaborate with the disability community to understand what is important and have recently focused on expanding services and amenities to improve the experience for those with hidden disabilities"
SEA Airport wants to support all travellers by becoming one of the most accessible airports in the country. These efforts are led by an interdepartmental team who work with internal and external stakeholders to improve all aspects of the travel experience. This includes evaluating each project or initiative through an accessibility lens to ensure that all passengers benefit as we continue to improve our operations, customer experience and facilities. We collaborate with the disability community to understand what is important and have recently focused on expanding services and amenities to improve the experience for those with hidden disabilities.
"The SEA brand promise is centred around delivering an exceptional customer experience, and we are committed to meeting the unique needs of everyone who uses our airport," said Julie Collins, Director of Customer Experience and Brand Strategy at SEA. "We are dedicated to providing travellers of all abilities with helpful, easy and comfortable service before, during and after they travel through SEA."
SEA's goal is to be creative and innovative in making customer service, operations and our facility more inclusive. Through the use of technology and apps, improved spaces and expanded services, the airport is able to address specific needs and improve the travel experience for all passengers. Here are eight amenities and services that we've implemented to make travel at SEA easier and more accessible for all.
Sensory Room
In April 2021, SEA opened the Sensory Room to provide a quiet area in the airport for travellers with autism, sensory processing disorders or other hidden disabilities, such as PTSD or anxiety. The Sensory Room is designed to be a calming environment where passengers can take a break and decompress during their travel experience to calm their bodies through interactions with carefully selected finishes, lighting and furniture. 
One in 54 children has been identified in the United States with an Autism spectrum disorder (CDC Statistics, September 2019), and the Transportation Security Administration (TSA) has reported a 56 per cent increase in the number of requests for assistance for passengers with Autism as of mid-year 2019.
SEA is one of only a handful of U.S. airports that offers this amenity. Our team consulted with parents of children with autism, occupational therapists and local leaders in the neurodiverse community for feedback in the design and construction process to incorporate caring and helpful furnishings and features. We also studied best practices from similar therapeutic spaces at Lumen Field in Seattle and airports like Miami International Airport (MIA) and Pittsburgh International Airport (PIT).
The result is a space where passengers experience dimmable lighting; interactive furniture featuring seating that rocks or compresses the body; a cosy booth to decompress; increased acoustics within the space, including wall panels; and a calming ceiling installation of a night sky. The room reflects the Northwest sense of place through the use of wood, a calming colour palette and graphics designed by a local artist, June Sekiguchi, that implies movement. Users can curl up in a seating nook, gaze up at the backlit night sky in a cosy upholstered rocking chair, take a seat in a comforting pressure chair that can also be used for rocking and interact with large 'rock' pillows. 
The final design is a beautiful space that provides a valuable customer service amenity to passengers who might otherwise avoid air travel. The Sensory Room is located on the train level of the A Gates STS Station, in the hallway near the elevators.
Sunflower lanyard programme
In 2019, SEA Airport became the first U.S. airport to offer sunflower lanyards to passengers with hidden disabilities, such as autism, PTSD or hearing loss. First pioneered at London Gatwick Airport (LGW) in the UK and recognised at a growing number of international airports, the sunflower lanyard communicates that passengers wearing it, or someone in their family, may need extra help when travelling. Because not all disabilities are visible, wearing a sunflower lanyard is a way to discreetly signal to staff that extra assistance, patience or understanding may be needed. To support these passengers, Airport Pathfinders, customer service staff, volunteers and the airport community can more readily tailor their customer service approach to the situation. 
Since launching at SEA, sunflower lanyards are now offered at a growing number of national airports, with more to come in 2021. SEA has provided programme advice to more than a dozen other airports and launched a quarterly working group of national airports that are currently using or planning to use the programme. In 2021, SEA Airport is seeking feedback on people's experience using the lanyard and is working to expand the locations where passengers can pick up a lanyard.
Currently, passengers may request free sunflower lanyards at the pre-security information desk between Checkpoint 3 and Checkpoint 4 (near the Starbucks and US Bank).
Social story and resource guide for travellers with autism
Social stories are a tool that is widely used in the autism community to prepare for upcoming social situations. As the pandemic dramatically impacted the travel experience, the SEA team created a social story to help travellers in the autism community to prepare for an airport experience of mask-wearing and physical distancing. Because the need for this resource accelerated, the social story was created a year earlier than previously planned. 
SEA worked with external stakeholders from the Arc of King County and Washington Autism Alliance & Advocacy to develop a 52-page storybook PDF that can be printed at home or viewed on a device before travelling. It is relevant to people with autism, their family and caregivers, as well as travellers with young children. The social story includesphotos that highlight mask wearing and physical distancing, simple sentences that explain the steps in the travel journey, sensory icons to identify potential triggers, a preview of COVID-19 signage, additional information about the sunflower lanyard programme, maps and links to helpful resources. In addition, when the airport changes, so does the social story: it was updated with information about the Sensory Room as soon as the space opened in April 2021.
Accessible technology
In March 2018, SEA launched free minutes for the assistive technology, Aira, while passengers are at SEA. Aira is a cell-phone-based tool to help travellers who are blind or low vision to navigate the airport. Travellers can use their smartphone with a forward-facing camera and the free Aira app. Connected through free SEA Wi-Fi, Aira connects a traveller with vision impairments to a professionally trained agent who observes the environment through the phone's camera and provides live narration as they move through the terminal. The Aira agent can provide rich visual descriptions when navigating, reading restaurant menus or flight information boards and locating luggage. Generally, using Aira minutes costs users about $1 per minute. The use of Aira minutes at SEA Airport are paid by the Port of Seattle, so users pay no costs when using the system from the garage to the main terminal and within all concourses.
Tips for using Aira:
Download the Aira app before you get to the airport
Cell phone access in the terminal can be inconsistent; switch to SEA Airport's free Wi-Fi for less video lag and more continuous coverage
Aira can be used with your smartphone with a forward-facing camera and the app
The terminal can be a loud environment; use headphones so that you can hear the attendant on the phone more easily.
Digital assistance
The FlySEA app is an important tool to help to navigate the airport. The app provides accessibility information by clicking the Accessibility button on the app's home page. There, you can learn how to get a wheelchair in the terminal, download the social story, use hearing loop or Aira communication services and get a sunflower lanyard for travellers with hidden disabilities.
The interactive map provides directions through the terminal and indicates accessible routes, pet and service animal relief areas and directions to the Sensory Room.
Improved accessible pick up at baggage claim
To accommodate passengers with limited mobility, any airport user who needs a wheelchair-accessible taxi has the option to arrange their pickup in advance, right outside baggage claim on the Arrivals Drive. A new pilot programme launched in January 2021 improves commercial access at the airport for travellers with mobility challenges. To remove prohibitive cost barriers, the required annual permit for wheelchair accessible commercial vehicles has been discounted by 90 per cent.
Commercial transportation operators are eligible for the discounted permit that allows unlimited pre-arranged pickups for travellers who need an accessible vehicle. The significant discount is an incentive to provide more accessible options for customers needing these services. SEA plans to evaluate the effectiveness of this pilot programme throughout 2021. Travellers choosing a taxi or flat-rate ride can still take accessible vehicles in the on-demand fleet on the third floor of the parking garage.
Adult changing tables in family restrooms
Two state-of-the-art adult changing tables are now available for travellers in the newly opened family restrooms on the concourse level of the North Satellite. Travellers will also have access to an additional adult changing table when the International Arrivals Facility opens later in 2021. Adult changing tables are important amenities for adults with disabilities who cannot use a standard restroom and are often relegated to using the restroom floor. These tables are a vast improvement from changing someone on the floor, which lacks privacy, respect and can feel unclean.
Pet and service animal relief areas
Service animals assisting people with disabilities should also have a good experience at SEA Airport. With five pet and service animal relief areas located before and after security, and three more opening in the future, SEA Airport is committed to providing a clean relief space for service animals.
At SEA, we believe that our community is a richer place when everyone can fully participate. This drives us to be creative and innovative in making our customer service, operations and facility more inclusive. Through technology, anticipating the needs of travellers and improved spaces, we strive to elevate the experience for all travellers.
References
Heather Karch is the Aviation Facilities and Infrastructure Architecture Manager and Americans with Disabilities Act (ADA) Coordinator at Seattle-Tacoma International Airport. Seattle-Tacoma International Airport (SEA) serves the people of the Pacific Northwest with essential services; access to hundreds of domestic and global destinations; and economic activity that supports tens of thousands of jobs and produces $20 billion in economy activity. At SEA, the airport promises to create, through a passionate service culture, an elevated travel experience that is inspired by the original nature of the Pacific Northwest.