Merging Swiss efficiency with Indian hospitality: Noida International Airport
For International Airport Review , Daniel Bircher, Chairman and Managing Director at Yamuna International Airport Private Limited (YIAPL), details the exciting plans for creating Noida International Airport and its focus on passenger experience, sustainability and contactless technology in bringing much-needed aviation infrastructure to Delhi and, indeed, the world.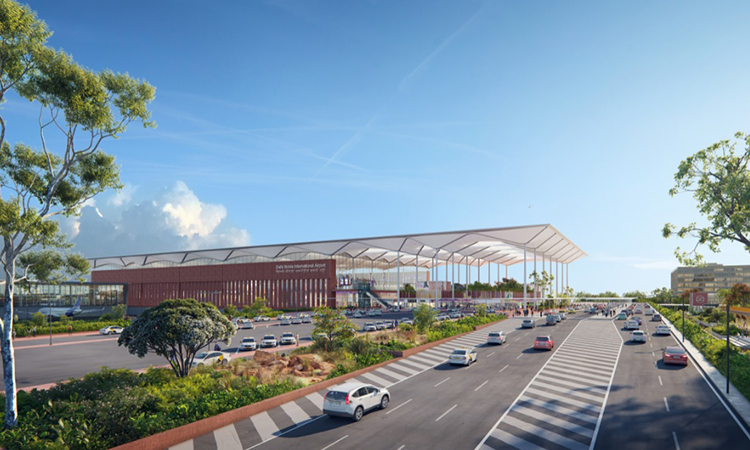 Credit: Yamuna International Airport Private Limited - An artist's impression of the new Noida International Airport.
The new Noida International Airport (NIA) has huge potential, with access to infrastructure, traffic and a large catchment area"
India, with one of the most promising demographics in the world, has a huge potential for economic growth. Even though it is currently heavily affected by the global COVID-19 pandemic, Indian aviation has been booming for the last decade. Thus, the country has been looking for ways to add much-needed aviation infrastructure. Such infrastructure gaps are evident in tier two and tier three cities, as well as in metro cities and, most predominantly, in Delhi, one of the world's largest metropolitan areas – a region with a very strong economic and industrial growth outlook. Traffic studies predict a potential growth of air travel beyond 200 million passengers for the Delhi National Capital Region (Delhi NCR) by 2060. Located strategically between Delhi and Agra, close to the fast-developing Noida and Greater Noida area, the new Noida International Airport (NIA) has huge potential, with access to infrastructure, traffic and a large catchment area.
Noida Airport's early beginnings
Our journey began in November 2019, when Zurich Airport International AG (ZAI) won the contract to build and operate the airport in Greater Noida for a period of 40 years. Later, in May 2020, we received the security clearance from the Union Ministry of Home Affairs. In October 2020, we signed the concession agreement with the Government of Uttar Pradesh to commence the development of NIA. Through the concession agreement, we have been granted the license to design, build and operate Noida Airport for a period of 40 years; the airport will be developed as a Public Private Partnership (PPP).
Through the concession agreement, we have been granted the license to design, build and operate Noida Airport for a period of 40 years"
In summer 2020, we selected a consortium consisting of Nordic, Grimshaw, Haptic and STUP as the architects to design the first passenger terminal of the Noida International Airport through a three-phase, design competition held between June and August 2020. The winner was selected from three shortlisted teams with demonstrated international experience in airport design – Gensler/Arup; Nordic/Grimshaw; and SOM/Mott McDonald. The design competition was conducted under exceptional circumstances, as the teams prepared and presented their designs by collaborating and communicating entirely remotely. All three teams managed this challenge extremely well. The winning design – presented by Nordic, Grimshaw, Haptic and STUP – was best suited to fulfil the defined project objectives: merging Swiss efficiency and Indian hospitality; creating a modern and seamless passenger experience; setting new benchmarks in sustainability for airport terminal buildings in India; envisioning green spaces inside and around the building; offering a concept for a future airport city; and providing flexible expansion options to serve 30 million passengers per year in Phase II of the project.
In the same month, Zurich Airport International and the Uttar Pradesh government also finalised the official nomenclature of the greenfield airport as Noida International Airport. The brand logo is a symbol that shows a Sarus Crane – the state bird of Uttar Pradesh – in flight. The symbol symbolises technology and connectivity on the one hand, and eco-consciousness on the other. The upward movement denotes positivity and upliftment of experience. It echoes Noida International Airport's vision to be India's leading airport in terms of quality, efficiency and technology and a role model for sustainable infrastructure and operations, delivering an exemplary experience to all customer segments.
User-friendly and digitally enabled airport for passengers
With NIA, we will be creating a customer-focused airport with an infrastructure design that offers efficient processes and excellent value for passengers, airlines and logistics partners alike. NIA will be a digital greenfield airport, enabling seamless flows through the airport and a contactless travel experience. We will build a sustainable airport ecosystem to benefit all of our partners and shareholders. To ensure that we understand our future customer's bugbears of current airport experiences and their expectations for NIA, we engaged with more than 30,000 users online.
Commercial efficiency for our partners
As the gateway to the riches of Uttar Pradesh and the Delhi National Capital Region, we are focusing our planning and design phase on developing an airport that is planned together with our partners:
For airline partners, NIA will have cost-effective processes and will support short turn-around times; specific focus will be on smooth and hassle-free transfer processes
For cargo and logistics partners, NIA will develop a flexible, modular and cost-effective infrastructure with high efficiency. NIA will have quick and convenient (intermodal) connectivity round the clock, to and from manufacturing hubs in the catchment area
For commercial partners, NIA will leave no stone unturned to ensure a clean and well-maintained infrastructure, easy and hassle-free accessibility and optimum dwell-time – which will be a win-win situation for the overall commercial concept in and around the airport.
Our experienced local team in Delhi, led by our CEO, Christoph Schnellmann, has been actively engaging with airlines, logistics and commercial partners to capture and understand the views and requirements of our vital partners at an early stage of the process.
Sustainable infrastructure
In line with the Indian government's National Action Plan on Climate Change, NIA's concept of India's 'net-zero emissions' airport will make the airport a role model for sustainable infrastructure and operations. It is our ambition to minimise or completely eliminate the airport's CO2 emissions; produce and consume renewable energy; reduce water consumption and waste-water emission; and develop a circular waste concept to ensure a safer environment for people residing around the airport. We have embedded these goals into every step of our planning and design process, be itconstruction, operation and further development of the airport.
Strong partnership with state and central government
We are committed to building a world-class airport in India, which will be a catalyst for the economic growth of India and Uttar Pradesh. The investment in infrastructure will fuel the economy in the Delhi National Capital Region, Greater Noida and the state of Uttar Pradesh, thereby also generating substantial direct and indirect job opportunities in the region. For the success of the project, air and ground connectivity will be of prime importance. Therefore, critical accessibility projects – such as the metro line from Greater Noida to the airport and connecting the airport with the planned high-speed train (Delhi-Varanasi) – rank high on the agenda with the Indian government. We are also confident that the greenfield airport will be treated fairly and in the same way as the existing Indira Gandhi International Airport (DEL),  not as a less important airport, particularly when it comes to traffic rights; communications, navigation and surveillance (CNS)/ air traffic management (ATM) services; and airspace management. This will allow both airports to best serve India's National Capital Region.
Daniel Bircher is the Chairman and Managing Director at Yamuna International Airport Private Limited (YIAPL) – a fully owned subsidiary of Zurich Airport International AG and the special purpose vehicle – created for the development, construction, operation and maintenance of Delhi Noida International Airport (NIA).
Bircher joined Zurich Airport in 2006 and has extensive project management and leadership experience within the aviation sector and related services. His expertise lies in international strategic management, business development and managing airport concessions, as well as continuous improvement for operational processes and customer service. Bircher specialises in strategic management, aviation, airports, as well as operations and safety, complemented by almost two and half decades of global experience.