Challenging the digital status quo at Cranfield University's DARTeC
Set to open in 2021, the Digital Aviation Research and Technology Centre (DARTeC) at Cranfield University aims to bring together sector leads from across the aviation industry within a collaborative research environment to create, experiment and challenge the digital status quo. International Airport Review's Junior Editor, Leah Hockley, spoke with three academics from the centre – Dr Saba Al-Rubaye, Dr Thomas Budd and Dr Dimitrios Panagiotakopoulos – about their roles, the research that they are undertaking and what they hope to achieve by working at DARTeC.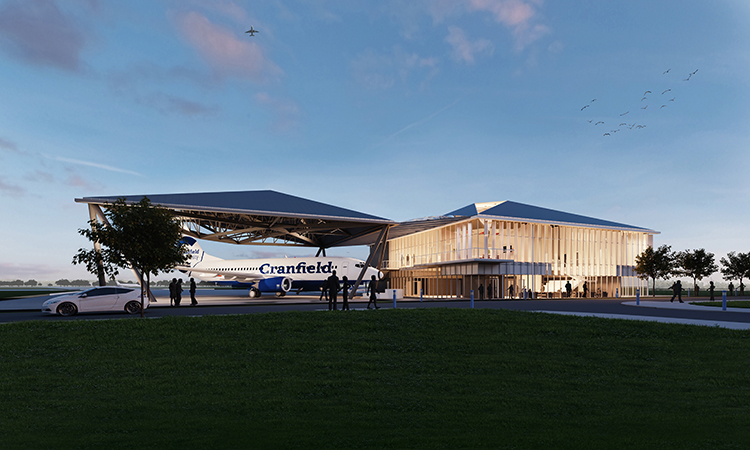 An artist impression of the new DARTeC building.
In a pre-pandemic world, before COVID-19 completely eliminated passenger demand and all associated revenues, aviation was one of the most thriving and economically beneficial industries in the world. In the UK alone, aviation contributed £52 billion to UK Gross Domestic Product (GDP), supported 961,000 jobs and generated £19.8 billion in tax revenues each year.
Prior to the pandemic, UK passenger numbers were expected to increase by a further 49 per cent by 2050, and a similar picture was echoed across Europe and the rest of the world. But the pace of air travel growth was already beginning to cause strains across the sector. Without quick and significant changes, the projected growth in passenger numbers was expected to result in an increase in travel time losses and cause greater social dissatisfaction with the sector.
Digital aviation
Digital aviation (or 'Aviation 4.0') has been considered as being the next significant business transformation within the sector, and one which can support the industry towards delivering greater customer satisfaction whilst addressing efficiency, cost and capacity issues. 
Digital technologies and connectivity are creating new opportunities that benefit the full value chain"
Digital aviation can mean many things. At its simplest, it is about harnessing and processing data through increasingly autonomous, connected and intelligent systems to improve efficiency, capacity, safety, cost and other service targets. Digital technologies and connectivity are creating new opportunities that benefit the full value chain, from manufacturing to operations, and from major corporates to individual passengers.
Any digital aviation initiatives that are undertaken need to deliver benefits that are clearly understood by the end-users – passengers or freight forwarders. One such significant benefit is on-time performance. An analysis of contributions to journey delays has shown that over 60 per cent of the factors that have caused delays in the past have a digital (data flow) connection and that no one part of the sector is the dominant root cause.