Airport cities: More than just offices, hotels and restaurants
Dr Viktoriia Myroniuk, Programme Leader for BEng/MEng Aeronautical Engineering at the University of Salford, discusses aspects of airport cities that are not commonly considered.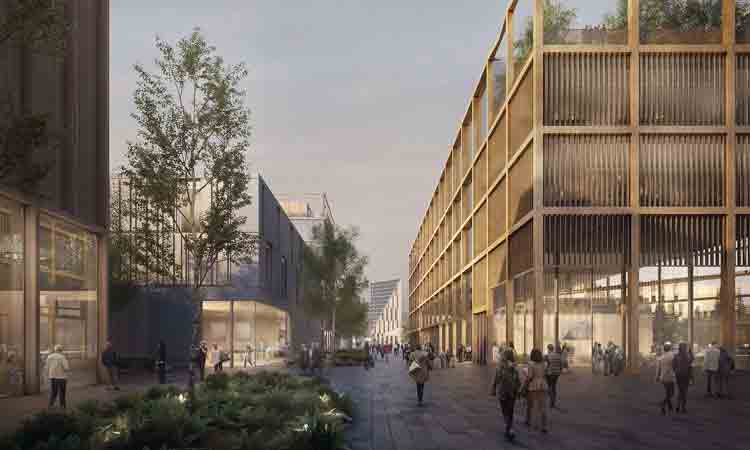 Credit: Oslo Airport City
Airport cities are becoming a commonly discussed branch of aviation, however there are many elements frequently forgotten about.
Considerations such as sustainability, tax-free zones, education and training, health centres, expo centres, and events and entertainment need to be included in the conversations and development of airport cities. Examples of these are detailed below.
Some airport cities are beacons of sustainability
Oslo Airport
Oslo Airport City (next to Oslo Airport Gardermoen) aims to become Norway's most eco-friendly commercial area – meeting current and future environmental requirements – by building an emission-free district with surplus energy.
Alongside extensive use of public transport, such as rail and bus, and optimising pedestrian and bicycle access to Oslo, there are plans for emission-free transport, which facilitates the use of autonomous transport solutions, for the short distance between Oslo Airport Gardermoen and Oslo Airport City.
Adaptable buildings and surrounding areas with the use of smart technologies will require fewer resources for remodelling in the future. Geothermal heating and solar energy will supply the entire area with heat, cooling and electricity, and the surplus energy will be exported. There will be green areas on the roofs and in outdoor areas to improve wellbeing, run-off water management and air quality.
Warsaw Chopin Airport
Within Chopin Airport City, vehicle traffic will be limited thanks to an internal road system and the use of walkways rather than roads. More than 32 per cent of the office park will comprise a park with ponds. Natural light will be used for at least 70 per cent of the leased net area. A maximum noise level for offices will be 40dB(A). Power and water consumption is expected to be cut by the use of modern technical solutions.
Stockholm Airport
Airport City Stockholm is being developed to be climate-neutral and all the buildings to be environmentally certified. There are advanced plans in place in regard to developing the cycling infrastructure.
Environmentally-friendly building materials are used and an ultra-modern system for waste recycling is being implemented. Buildings are situated in a way to get good daylight exposure in order to reduce energy use. Land and existing buildings are being repurposed as much as possible. New parks and green areas are taking shape in the city centre.
The central parts of Airport City Stockholm have wide pavements for pedestrians, together with bike lanes and roadways. With the developed mass transit system, all buildings will be within walking distance of a bus stop. Bicycle parking facilities will be located outside buildings and adjacent to bus stops, while car parks will be located mainly in underground garages or multi-storey parking structures to reduce car traffic and parking spaces in the city centre.
Dublin Airport
At Dublin Airport Business Park, great care has been taken in the selection of the building materials, which are, for the most part, entirely recyclable or reusable (for example, stone, aluminium, glass and concrete structures along with the complementary steel supports). The buildings at Dublin Airport Business Park have a greater level of energy efficiency in comparison to similar building types in Ireland due to the high-performance glazing used throughout, increased levels of insulation, the orientation of the buildings and the compact design of the building footprint. The buildings incorporate a 'green roof' system, which, whilst providing a habitat for flora and fauna, is highly insulating and reduces the amount of stormwater run-off. This, together with the permeable paving and the underground water attenuation, reduces the impact of the development on local waterways and the municipal drainage system.
Free zones and business concierge services
Abu Dhabi Airports
Abu Dhabi Airports Free Zone has been established to own, operate, develop and manage business/logistics parks and business centres (Free Zones) around Abu Dhabi Airports. Companies opting to set up at any of Abu Dhabi Airports Free Zone's precincts get Free Zone benefits, such as 100 per cent corporate and income tax exemptions; 100 per cent foreign ownership; 100 per cent repatriation of capital and profits; no custom duties; close proximity to the airport to facilitate imports and exports; quick, simple registration and licensing within 'One-Stop-Shop'; 24/7 security and access to facilities; and in-house IT and telecommunications services. One-Stop-Shop is the full spectrum of Free Zone services, such as company registration, licensing (trade licenses, service licenses and light industrial licenses), leasing and property management and rapid visa processing for employees.
Manchester Airport
At Airport City Manchester, an international business concierge service called Connect is available exclusively to Airport City occupiers and provides access to help and advice on a range of business (Connect Business) and lifestyle (Connect Life) issues by a dedicated business support manager (single point of contact). Connect Business is made up of three legal and professional partners: Deloitte, Addleshaw Goddard and Eversheds. These services will be powered by Global Advantage, a digital platform created by Deloitte, which will host a library of knowledge provided by the selected partners. Users can request a meeting with their preferred service provider via the platform. Services and information on offer to Connect Business users include legal support (commercial law, company secretarial, corporate/company law, employment, finance, private client and tax) and professional services (legal registration requirements, payroll and employee registration, data protection registration, securing maximum grant and incentives available, import/export duty advice, cash management and treasury advice, and business matchmaking and networking service).
Centres for education and training
Gulf Centre for Aviation Studies
The Gulf Centre for Aviation Studies (GCAS) in Abu Dhabi is a centre of excellence for airport and aviation training, which offers its own courses and those of its internationally recognised partners (JAATO, ACI, ICAO, IATA) to lead the development of the aviation industry in the United Arab Emirates and the region by developing highly qualified aviation professionals. GCAS is an IATA Authorised Training Centre, a Gold full member of ICAO TRAINAIR PLUS Programme, a fully certified and endorsed aviation training institution by the General Civil Aviation Authority (GCAA) of the United Arab Emirates, and accredited by the Abu Dhabi Centre for Technical and Vocational Education and Training (ACTVET). The training offered includes ongoing aviation training addressing the regulatory, operational and management needs of airports, airlines, service providers and industry stakeholders, as well as short courses, lecture series and higher education programmes developed with leading international universities.
Hong Kong International Airport
One of the key development components for the Airport City at Hong Kong International Airport (HKIA) is strengthening its role as a centre for manpower training for the aviation industry. In 2016, Airport Authority Hong Kong (AAHK) established the Hong Kong International Aviation Academy. Partnering with local and overseas education bodies, vocational training institutions, industry practitioners and other organisations, the academy offers a comprehensive aviation-related curriculum – from beginner programmes such as summer day camps and training-and-job placement programmes, to professional certificate courses for aviation practitioners and more advanced programmes.
In collaboration with the world-renowned École Nationale de l'Aviation Civile (National School of Civil Aviation) in France, it has developed an advanced master's degree programme in air transport management. The academy has the Full Membership Certificate for the TRAINAIR PLUS Programme from ICAO, which recognises its capability to develop ICAO-compliant training packages, and aims to achieve the ICAO Regional Training Centre of Excellence and establish itself as an International Certified Air Traffic Control Training Centre.
In support of all these developments, the academy will be relocated to a permanent campus in the new building next to Terminal 1, which will accommodate more students and feature a digital training centre, multiple classrooms and dedicated training facilities for different types of courses.
Incheon International Airport
Incheon Airport Aviation Academy (IAAA) at Incheon International Airport offers dynamic and practical courses, which consist of best practice sessions, airport field visits, case studies and workshops. It is an ICAO Regional Training Centre of Excellence. The 11-story building with the size of 73,000m² comprises various facilities for training, conference, accommodation and leisure. The Aviation Training Center provides ATC training and security/safety training.
GMR Hyderabad International Airport Limited
The educational port at Hyderabad Airport City and its Aviation Academy will be the knowledge hub with leading global and Indian institutes converging and creating flexible learning pathways for students of all ages and background. It aims to become a centre of learning, training, research and innovation.
Istanbul Airport
Within the boundaries of Istanbul Airport, Istanbul Airport City will include an innovation district, an aviation academy and university.
Stockholm Airport
DriveLAB Stockholm, located in the middle of Airport City Stockholm, is a gathering place for training and development in traffic and traffic safety, where companies and researchers from the automotive industry meet in a creative environment. Product development takes place alongside training activities and city testing that requires large areas.
Health centres within airport cities
GMR Hyderabad International Airport Limited
Hyderabad Airport City will have a global health complex that will host some of the best hospitals, centres of excellence, research facilities and alternative medicine operated by the leading healthcare providers in India and abroad. Among proposed facilities and services are hospitals, a medical school, a nursing school, a diagnostics centre and alternative medicines.
Manchester Airport
The Enterprise Zone's Medipark at Manchester Airport City will be the biggest health and science research and development centre in Europe. It caters specifically for life sciences, pharmaceutical and healthcare companies, and is situated adjacent to the University Hospital of South Manchester; an internationally recognised research centre.
Inha International Medical Center at Incheon International Airport and a planned world-class hospital facility at Istanbul Airport City are two more examples of close focus of airport cities on health facilities and services.
Expo centres within airport cities
Hong Kong International Airport
AsiaWorld-Expo Development HKIA – which is in walking distance of the passenger terminals of Hong Kong International Airport – is a world-class exhibition, convention, concert, sports and entertainment venue offering over 70,000m2 of rentable space. The venue features 10 exhibition halls, including the purpose-built AsiaWorld-Expo Arena, Hong Kong's largest and most versatile indoor arena with 14,000 seats.
Over the years, this venue has hosted large-scale trade fairs, high-level conferences, chart-topping concerts and international sports events. AsiaWorld-Expo will benefit from strong synergies with SKYCITY and the expanded airport.
Stockholm Airport
Scandinavian XPO at Airport City Stockholm will be a multi-use (fairs, events, conferences and meetings) international meeting and event venue with capacity for over 5,000 people.
Other examples include Exhibition & Convention Centre at Hyderabad Airport City, a convention/conference/trade fair centre at Oslo Airport City and a cultural and conference centre with a museum, exhibition space and conference halls at Istanbul Airport City.
Sport, events and entertainment centres
Incheon International Airport
The airport city development at Incheon International Airport includes a golf course in operation called Runway 5 area and two golf areas under development: SKY72 GOLF CLUB (SKY72) and Golf Club (Incheon Golf Club).
Manchester Airport
Platform Airport City at Airport City Manchester is a vibrant and interactive space for visitors and employees. Hosted twice a month, Platform Airport City brings together a variety of pop-up food stalls from specially picked local traders, alongside entertainment to provide the soundtrack. This new event space is part of the growing prominence of Airport City Manchester within the North West business community. Since February 2017, over 9,000 people have attended #FarFlungFridays, with 35 local traders taking part.
GMR Hyderabad International Airport Limited
The leisure and entertainment Fun Port at Hyderabad Airport City will be a recreational and open space district focused on hospitality and leisure activities with resort accommodations for day and weekend visitors. Proposed attractions include a theme/amusement park, water park and golf course.