Managing the Netherlands' airspace
An inside perspective into the world of air traffic, and how Air Traffic Control the Netherlands (LVNL) is working on safer and more sustainable aviation.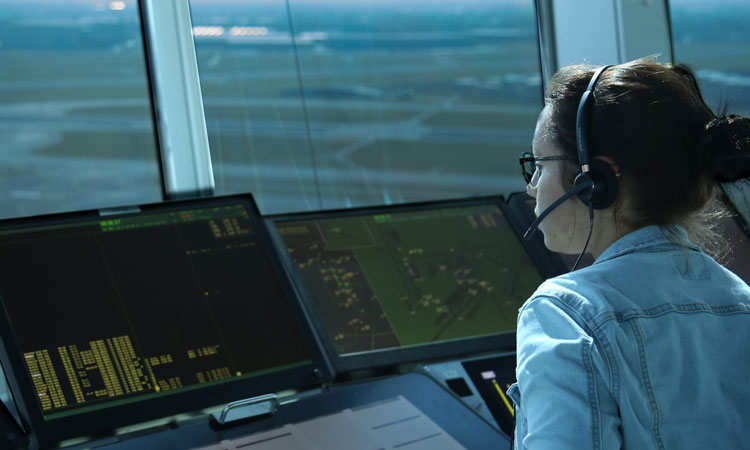 This will be the year that the Dutch national government will make decisions about their aviation policy, including determining how much growth will be approved for Amsterdam Airport Schiphol, and when Lelystad Airport will be open to commercial flights. The world of aviation is changing, and the need for flights remains undiminished with growing demand. Society is exerting more pressure to reduce noise and CO2 emissions, and to continue increasing safety. Air Traffic Control the Netherlands (LVNL) is jointly responsible for ensuring that the aviation sector can continue to develop safely.
Flying more efficiently by using optimal flight profiles, shorter routes and applying the latest technologies are important tools that air traffic control uses to facilitate more sustainable air traffic and reduce the inconvenience for the local community. New techniques have made it possible to increase the use of the runways that cause the least noise pollution. Recently, LVNL has designed a night route that skirts around a residential area. In the future, similar routes will also be designed for other landing runways.
Michiel van Dorst, CEO at LVNL, said: "The maximum gain we can get, in terms of sustainability, lies in designing optimal flight profiles. This approach contributes significantly to limiting emissions and noise pollution, as well as kerosene consumption and flight times for airlines. We can facilitate the airlines in their revenue model by incorporating more predictability into their planning. We are also working on making our operations more sustainable by significantly reducing our CO2 emissions. By purchasing green energy, we have already reduced our footprint by 50 per cent. Sustainability is also incorporated into our way of working by constantly improving our collaboration as chain partners."
For instance, LVNL is working closely with 19 other parties on the 'Smart and Sustainable' action plan to reduce emissions from air traffic – the aviation sector, the railway sector, a university and a major employers' association have all joined the initiative.
"With the latest knowledge, airlines renewing their fleets and efforts to optimise flight profiles, we collaborate in various ways to reduce emissions. At LVNL, we aim to create value for the surrounding communities; that means less noise and lower emissions. For our clients, we improve the accessibility of Schiphol under all weather conditions," continued van Dorst.
Integrated Safety Management System
Safety is the top priority for LVNL, which handles half a million flights at Schiphol annually. In addition, there are over 100,000 commercial flights that transit or fly to and from the three other Dutch airports.
Van Dorst commented: "We are fully committed to continue improving our operations. We have renovated the control towers to streamline the working environment for our air traffic controllers, and we have introduced electronic flight strips. To continue improving safety and joint operations in the aviation sector, we have developed the integrated Safety Management System (iSMS). In that system, we structurally work in close collaboration with airlines, handlers and the airport on joint safety cases and investment decisions. I am proud that we have started on this fundamentally different way of collaboration in the safety chain."
The Netherlands is the first country in Europe that is pursuing this type of collaboration to identify, analyse and resolve safety risks. Within iSMS, incidents are investigated jointly and proactive safety analyses are performed. Sharing information leads to better insights, improvements and conclusions.
Van Dorst stated: "We are taking a leading role in the ongoing implementation of the iSMS. We are working with Schiphol and the airlines to create a roadmap for concrete projects that will continue to improve safety even more. We have already achieved the first results. This roadmap is available to the public, ensuring that we are also transparent in informing the local community about our efforts. Twice per year, we provide an update with results and new projects. In addition, we will continue developing our own safety management system, because we want to be the safest air traffic control organisation in the world."
Control tower renovation
The extensive renovations of Schiphol's air traffic control towers, which were finished in summer 2019, represent a major contribution to ongoing safety improvements.
Van Dorst said: "Optimal working conditions and technical support in the control towers at Schiphol are instrumental to a safe and efficient handling of flight traffic. In the main tower there is more room, because it has been expanded from nine workstations to 15. Since the introduction of electronic flight strips, containing all information about inbound and outbound aircraft, the tower is less hectic. The renovation work didn't impact the operations."
Furthermore, the modernised towers offer the option to introduce more innovative systems, creating added value in terms of safety, efficiency and the environment.
"All of that contributes to our top priority: Safety. Electronic flight strips also offer possibilities for additional safety nets. This spring, for instance, a feature will be introduced that will block a flight strip if the airport has not officially cleared the runway for use and released it to air traffic control. With the control tower of the future, we are ready for all developments at Schiphol. That is our contribution to enabling aviation together," determined van Dorst.
Airspace restructuring
It is key for LVNL to keep in contact with the outside world and be able to maneuver and respond to all technological trends and developments. One of the innovations that is currently a major focus is the vital restructuring of Dutch airspace.
"This helps us prepare for future challenges in terms of capacity, sustainability and efficiency. The airspace restructuring aims to achieve more efficient use and management of Dutch airspace for all airspace users, provide more capacity for civilian and military aviation, and mitigate the impact of flight paths on the surrounding communities," van Dorst explained.
LVNL is one of the five partners in the airspace restructuring project, along with the Ministry of Infrastructure and the Environment, the Ministry of Defense, the Royal Netherlands Air Force, and MUAC (which handles air traffic in higher airspace above the Benelux and part of Germany). The restructuring of the airspace also depends on political agreement with other countries. It is only possible to restructure the Dutch airspace if it has good connections to the neighbouring airspace structure. The complex project will lead to a number of results that will improve airspace capacity and utilisation as of 2023.
Remote digital tower
After 2021, LVNL will provide tower and approach control for Groningen Airport Eelde and Maastricht Aachen Airport from the headquarters at Schiphol East. This will take place via a remote tower operations system – the innovative technology allows a tower controller at a different location to have a camera view of the airport site and the nearby airspace.
Van Dorst commented: "The development towards implementing a remote digital tower is very challenging, but presents incredible opportunities. It is in line with our vision on how LVNL creates value for the Netherlands, including the regional airports. Based on experiences from other countries, a solid system is now being implemented. I see a lot of potential for the future; this will enable us to deploy air traffic controllers efficiently at airports that handle less traffic. It also offers a number of appealing safety features. For example, the runway is constantly subjected to digital scanning, so any deviations or foreign object damage is identified immediately, and appropriate actions can be taken. Eventually, this will eliminate the need for runway safety checks with a vehicle. The remote digital tower concept ensures more efficient runway use and reduces the risk of errors."
Civilian-military integration
LVNL aims to accelerate the innovation cycle by integrating and improving established innovative technological solutions in new partnerships.
"We work with the aviation sector and air navigation service providers (ANSPs), and we have a close partnership with Delft University of Technology."
Air Force Command and LVNL will be integrated as of 2023. From then on, the civilian and military air traffic controllers will work as one organisation, providing air traffic services in the lower airspace in the Netherlands. Since December 2017, Schiphol East has already been used as the joint location for civilian and military air traffic control. Integration of the two organisations offers opportunities and maximises the effective management and use of the airspace, guaranteeing services for civil and military air traffic and safeguarding the constitutional duties assigned to the Ministry of Defense. In addition, both civilian and military air traffic control will be using an advanced new air traffic control system, iCAS. The new system is being developed jointly with DFS, the German ANSP. Following implementation in winter 2022/2023, iCAS offers a wide range of options for more efficient air traffic handling, as well as more collaboration with other ANSPs on such initiatives as trajectory-based operations.
Van Dorst concluded: "Since five different air traffic control centres across Europe will be using the same system, we will be able to accelerate innovation. With iCAS, LVNL will be ensuring that we can make huge strides in continuing to improve air traffic sustainability and safety, not only in the Netherlands, but across Europe."