CEO of Edinburgh Airport predicts the future of aviation will be rewarding
Gordon Dewar, for the first article in a series of interviews with airport CEOs, tells International Airport Review how being CEO of Edinburgh Airport enables him to connect not just cities and countries, but individuals too.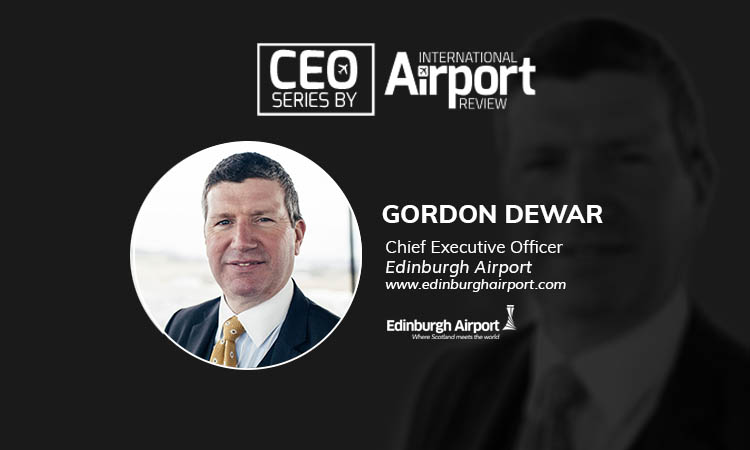 How did your career in the aviation industry begin?
My whole career has been spent in transport – after 10 years in transport consultancy, I started in operations working with one of Scotland's leading bus companies before moving on to trains with Scotland's rail provider. I then made the move into aviation as Managing Director of Glasgow Airport, before moving back to my home city and taking over the same role at Edinburgh Airport. A two-year stint at Bahrain International Airport creating a new commercial operational company was a fascinating challenge, but the lure of coming home to Edinburgh Airport with new owners and a new growth agenda was too good to miss.
I've always loved the immediacy and the societal importance of transport, so it made sense for me to fulfil that by working at an airport which reflects both elements on a daily basis. I'm also Edinburgh born and bred, and now work just four miles from where I grew up – it makes me immensely proud to promote to the world the city I've always called home.
What is the most rewarding aspect of being an airport CEO? On the other hand, what is most difficult?
Connectivity is the most rewarding aspect, and that goes beyond connecting Edinburgh to another country or city. It's the business we are in, but it's the wider elements of connectivity that are rewarding – taking Scotland to the world, opening our city to others, bringing families together and even facilitating that dream holiday. That's what I love to see and what I love to deliver – and that wouldn't be possible without the whole Edinburgh Airport team.
The challenge has been delivering new capacity to cope with demand. We've gone from nine million passengers in 2012 to 14.3 million in 2018 – that has had to be managed in a way that caters for the appetite to travel, but also respects our infrastructure and the restrictions on it. We've achieved that and, although it remains a challenge, we're now out in front of demand and are in a better place to handle further expected growth, as I'll explain later.
Can you give us an overview of the three most exciting developments currently happening at Edinburgh Airport?
The airport is constantly developing, and that makes working here incredibly exciting. And I'm not just saying that! I genuinely look forward to coming in to work every day and seeing the latest developments take shape.
We're building new aircraft stands to accommodate further growth, and that excites me as we continue to market Scotland's fantastic capital city to the world and hopefully bring new routes and carriers to Edinburgh. We're completely refurbishing our check-in hall and installing a brand-new baggage system – this will create more space and flexibility in the hall. We're also building a brand-new facility to improve transport access to and from the airport, with the East Terminus opening next summer and being home to our licensed taxi operation in addition to the six new bus routes serving the airport in the last five years.
It's all about improving the passenger experience and making that journey to, through and from the airport as positive as possible.
What is the biggest challenge Edinburgh Airport is having to tackle?
The terminal was initially designed to handle a mere one million passengers a year – we were at 14.3 million in 2018 and still growing. That presents challenges, both in terms of our own infrastructure and that which surrounds us.
We recently opened our new £75 million terminal expansion, which is the biggest in a generation at the airport. It has provided us with more gates, new stands, new retail outlets and, crucially, capacity headroom. We're now ahead of the growth curve and are planning more changes to cope with future growth. But we also need to improve external infrastructure, including access to and from the airport, which is why we are committed to building a new road to alleviate congestion on our single existing road. As you can imagine, roads to an airport designed for one million are now at capacity for one that caters for 14 million, so we're now setting out to address that.
At this moment in time, what do you see as the biggest disruptor to the aviation industry? In your opinion, how does the aviation industry need to adapt to secure its place in the future?
I'm going to answer both these questions together as I believe sustainability to be the most pertinent issue facing aviation at this moment. 
However, in regard to this, disruptor is the wrong word, as it is something that impacts all of us, whether we look at it as an industry, parents or even just as one of the individuals on the planet. But the astonishing rise in the awareness of the issue over the past year has created a greater focus for all of us.
Now, I think our industry is unfairly portrayed as one of the problem polluters, especially when we consider all the advances and improvements we've made to reduce our environmental impact. A tonne of CO2 is a tonne of CO2 no matter who emits it, and we all need to take responsibility. As an airport, we've been looking at our own approach to sustainability for several years and that's beginning to deliver positive results – our carbon footprint is down 18 per cent from 2017 despite passenger numbers going up by seven per cent, all our electricity comes from renewables and the introduction of electric vehicles in our fleet. Airlines have also made huge strides, introducing newer aircraft and green initiatives to play their part in sustainability and significantly reduce carbon emissions per passenger.
We understand aviation emissions are mostly from planes in the sky, but I believe our changes on the ground will encourage our airlines and partners to continue their good work to make operations and tourism more sustainable. That's what the industry can do together – we must adapt and show continual improvement to deliver a sustainable future.
As an airport, we are the facilitators of many things – tourism, education, business, research, culture. It would be remiss of anyone to overlook the important role that we play. The sustainability issue is not an opportunity to stand and point fingers, but a time for collective thinking that will deliver more climate-friendly futures for all of us and for Scotland to deliver innovation and new carbon reduction approaches that others will want to follow.
What does the future of the aviation industry look like to you?
Rewarding. Sustainable. Connecting.
As I said earlier, connectivity is the most rewarding thing in my role, and we must continue to connect the world because that's at the very heart of what we do. Aviation brings the world closer together in many ways, from tourism and business to the family reunions that take place in our airports every day. We make great things happen, but the greatest thing we can do is deliver an industry that is sustainable and has a positive place in a more environmentally-focused world. That work is well underway, we just need to continue to make the advances we need and the wider commitment to put that in the context of a Scottish solution and hopefully demonstrate leadership for world solutions.
If we achieve both things, and I'm confident we will, then the future for our industry will be one that is positive and rewarding. When I say rewarding, that is for anyone with a desire to work in this fantastic industry or to travel and see the world.
Gordon Dewar took up the post of Chief Executive of Edinburgh Airport in July 2012. Rebranding the airport as the place where 'Scotland meets the world', Dewar has overseen significant capital investment in capacity, productivity improvements and customer service enhancements that have been recognised through airport and wider business awards in Scotland, the UK and internationally. Dewar spent four years with BAA, from 2007 to 2010, running Glasgow and Edinburgh Airports through periods of extensive investments in terminal capacity and passenger growth. He then spent two years as Chief Executive at Bahrain International Airport, creating an independent and profitable business. Dewar has held a number of senior positions with leading transport operators, including commercial, general management and business development roles. Prior to this, he spent 10 years in Transport Consultancy. Dewar is a Board Member of the Scottish Police Authority and the Scottish Tourism Alliance.
If you are a Chief Executive Officer, General Manager or Director of an airport and would be interested in participating in this series, please contact Leah Hockley, Junior Editor of International Airport Review.