Brussels Airport has introduced electric buses into airside operations
Quiet, eco-friendly and high-tech, the new electric buses at Brussels Airport continue with the trend of carbon neutrality throughout the airport.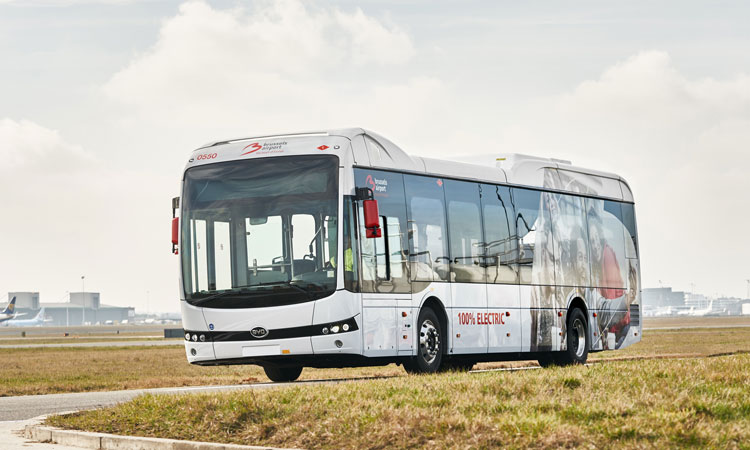 Brussels Airport's passengers are now able to use the new e-buses that will be used to carry passengers between their gates and the aircraft. The eco-friendly new buses provide a high standard of comfort and connectivity to improve our service to the passengers even further. With these new electric buses, Brussels Airport – which achieved carbon neutrality in 2018 – is stepping up its efforts to drive down its environmental footprint.
Brussels Airport has long harboured concerns over sustainable development. The airport makes unrelenting efforts to assess the impact of its operations on the environment and to reduce this impact wherever possible. Over the years, a wide number of measures have been put in place, including in terms of the airport's vehicle fleet. In addition to our investment in CNG-powered service vehicles, Brussels Airport is gradually replacing buses used to carry passengers between the terminals and the aircraft with modern e-buses. Starting from 1 March 2019, the majority of the buses that take passengers to and from the aircraft at Brussels Airport will be powered by electricity. These buses, built by the European branch of Chinese company BYD, are beneficial in more than one respect. For one thing, they are very quiet, eco-friendly (no carbon dioxide emissions) and are fitted with state-of-the-art equipment offering free Wi-Fi on-board and USB ports for charging smartphones. On the digital displays, passengers will also be able to consult the latest information on their onward flight as well as practical information about the airport.
CEO of Brussels Airport Company, Arnaud Feist, said: "The electric bus project fits in with Brussels Airport's ambition to drive down its carbon dioxide emissions by 40 per cent by 2030 (compared to 2010). For each equipment purchase decision, we seek out ecological solutions which at the same time offer increased comfort for our passengers. In addition to the fact that the new e-buses are silent and do not emit particulate matter or carbon dioxide, they also provide state-of-the-art connectivity with free Wi-Fi and USB ports. With the arrival of these new buses, we are further improving our passenger service."
At the beginning of 2019 the e-buses buses were tested and their drivers received specific training. The charging infrastructure for this project is co-funded by the financing instrument of the European Union, Connecting Europe Facility (CEF), through BENEFIC.