Heathrow to employ new Multimobby vehicles to improve mobility
The new electric vehicles are able to carry up to seven passengers through the terminals quickly, efficiently and safely, improving mobility through the airport.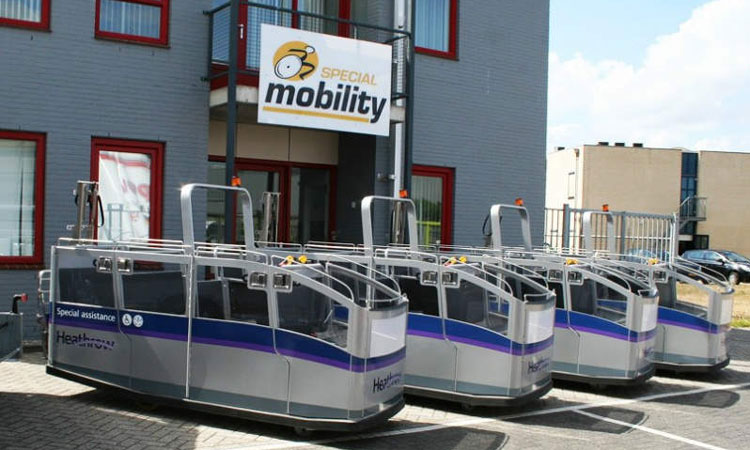 OmniServ, the UK's leading airline and airport assistance services provider, and Heathrow Airport, are introducing a new multi-passenger electric vehicle – the Multimobby – which can carry up to seven people plus an operator through the airport's terminal buildings quickly, efficiently and safely, in a move that will significantly enhance the assistance services provided to passengers with mobility issues or other disabilities.
Heathrow is the world's second busiest international passenger airport, and in 2017 it welcomed around 1.25 million passengers who required extra assistance, or 'Persons with Reduced Mobility' (PRM). This official EU designation includes people who have difficulty walking, may be wheelchair users, or who may have other, less obvious disabilities. Given the sheer size and scale of the terminal buildings, such passengers often appreciate the option of being transported in special vehicles.
The Multimobby is made by Netherlands-based company Special Mobility, which already supplies specialist equipment designed for airport use. iCaddy equipment has already been deployed at Heathrow and the new electric movers can handle up to three chairs at once and provide an innovative and efficient method of transport for passengers.
Jonathan Coen, Director of Customer Relations and Service at Heathrow, says: "We are committed to improving the journeys of all of our passengers – no matter their requirements. An airport the size of Heathrow can be difficult to manoeuvre through and these Multimobbys will make a real difference to our passengers requiring assistance, particularly those with mobility issues or disabilities. The introduction of technology like Multimobbys forms part of our wider efforts to transform our assistance service– including investing £23 million in an upgraded contract with OmniServ, and help us deliver the high levels of passenger service people have rightly come to expect from us."
The Multimobby is operator- and passenger-friendly and highly manoeuvrable, with the ability to turn on the spot, and fits into Heathrow's lifts. An elevated driver seat allows for an enhanced view of the terminal, while front and rear laser scanners automatically slow down and stop the vehicle if they detect a possible collision with people or objects. The people movers have raised sides to prevent passengers from putting their arms outside the vehicle, while the wheels are concealed so pedestrians cannot get their feet under them. The vehicle will stop automatically if a door is accidentally opened during operation.
For passenger comfort and ease of use, doorways are low while a smart vehicle layout optimises leg space. When carrying less than seven passengers, bench seats can be folded up to allow more luggage to be transported.
Samantha Berry, Head of Innovation & Regulatory Compliance at OmniServ, added: "OmniServ is committed to delivering the best possible experience for all passengers at Heathrow, including people who find it difficult to make their own way through the terminals. The new Multimobby vehicles are part of a major investment we are making in new equipment and technologies, which is being backed with in-depth training for our staff, that will help us deliver on that promise."
Frank Bod, Managing Director of Special Mobility, concluded: "The Multimobby has been designed and developed in cooperation with OmniServ and Heathrow. It has become a unique people mover for PRM users offering vast benefits compared to the more traditional 'golf carts'."
Heathrow, OmniServ and Special Mobility worked together to design a customised version of the Multimobby people mover to Heathrow's requirements, including the ability to fit in the airport's lifts and a space to attach a wheelchair.