$3 billion redevelopment at San Diego moves ahead with environmental report
With construction of terminal one due to be completed in 2023, the DIER is released and shows the environmental plans for the redevelopment.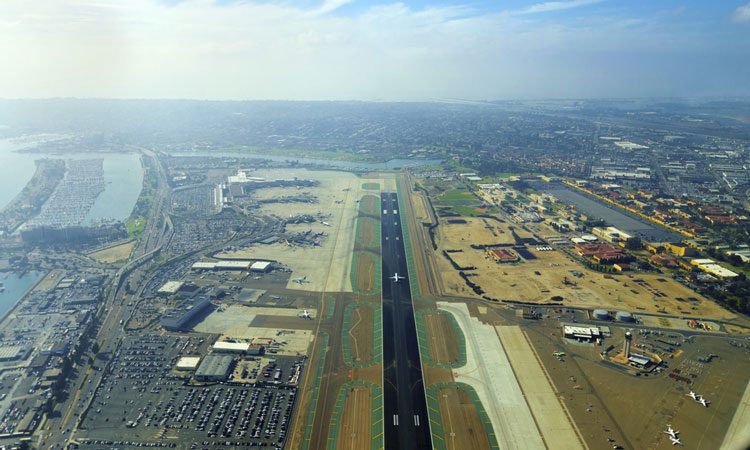 REDEVELOPMENT: Ahead of construction beginning in 2020, the DEIR is released
San Diego International Airport (SAN), has released the draft environmental impact report (DEIR) for a terminal redevelopment to replace its 51-year-old infrastructure.
The publication marks the opening of a public consultation on the Terminal 1 project, the most significant work the airport has ever seen.
Construction on the redevelopment is expected to begin in 2020 and will include an on-airport entry roadway, dual-level roadway and curbfront at the new terminal, expanded close-in parking, and major airfield efficiency improvements.
The airport development plan proposes to optimise the 661-acre site to accommodate the region's growing demand for air travel.
Kimberly J. Becker, San Diego Airport Authority President and CEO said: "This is the official launch of the most extensive improvement of San Diego International Airport (SAN) in its 90-year history. Upon completion, San Diego residents and visitors will enjoy a truly 21st century airport for decades to come."
The project is anticipated to cost approximately US$3 billion. It will be a self-sustaining enterprise that does not levy taxes and the Airport Authority will fund the project primarily through ongoing user fees.
The DEIR reveals potential environmental impacts to the surrounding area, including air quality, greenhouse gas emissions and climate change, water quality, traffic, and noise, as well as possible mitigation measures.
The new terminal will have sustainable features which make it more environmentally friendly. 
The project, which will target LEED Silver Certification or better, includes:
on-airport entry and loop roadways to reduce traffic on Harbor Drive
createing airfield efficiencies to reduce airplane taxiing and emissions
expanding electric vehicle charging (airside and landside), introduces hydrant aircraft fueling (replacing airfield tanker trucks)
a 9 million-plus gallon) stormwater capture and reuse system
Becker added: "While this is a significant undertaking, it is essential to enhance the customer experience and serve the needs of our region into the future. Our commitment to the community, as well as the tenets of sustainability, will drive us to deliver the most environmentally friendly project we can."
The terminal redevelopment is expected to open in 2023. 
The public comment period is open for 45 days and closes August 23 2018.  Public involvement is encouraged. The DEIR is online at www.san.org/plan and comments may be submitted to [email protected]. To join an e-mail list for updates, contact Rebecca Bloomfield at [email protected].