Miami first US airport with dedicated facial recognition passport screening
On Tuesday, officials from the Miami-Dade Aviation Department (MDAD) and U.S. Customs and Border Protection (CBP) hosted a ribbon-cutting ceremony to celebrate Miami International Airport's newly renovated Concourse E federal inspection facility for international arrivals.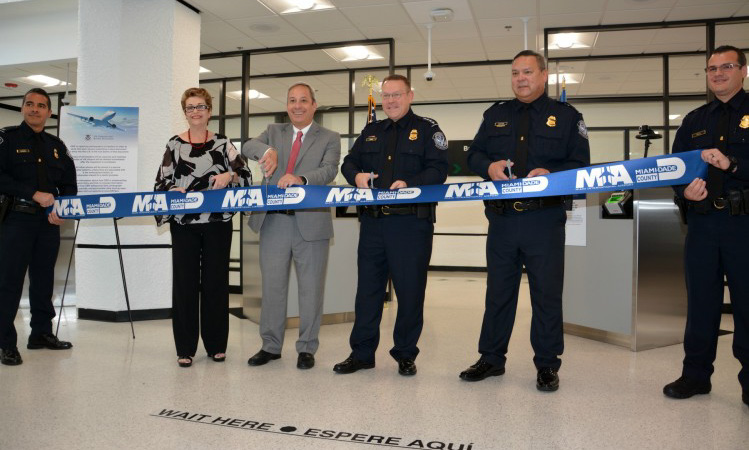 GRAND OPENING: Miami-Dade County Commissioner Rebeca Sosa, Miami-Dade Aviation Director Lester Sola, CBP Executive Assistant Commissioner Todd Owen, and CBP Miami Port Director Christopher Maston cut the ceremonial ribbon for the new Concourse E passport screening facility at MIA
Miami International has become the first airport in the USA to have a facility completely dedicated to providing faster passport screening via facial recognition with the opening of its newly renovated concourse.
Since launching the facial recognition pilot programme in November, the Concourse E facility has been screening as many as 10 passengers per minute.
In addition to providing the latest in expedited passport screening technology, the new facility reduces the walking distance for Concourse E and F passengers who previously only had access to the Concourse D passport hall – decongesting one of the country's busiest arrivals facilities in the process as well.
Miami-Dade County Mayor Carlos A. Gimenez said: "Miami International Airport, in partnership with CBP, has introduced yet another cutting-edge enhancement that improves the international arrival experience for visitors to our community.
"Congratulations to the Miami-Dade Aviation Department and our federal partners for continuing to simplify passport screening at Florida's busiest international gateway."
The Concourse E facility follows another innovation launched by MIA in 2017. Last August, MIA updated the MIA Airport Official app that allows users to seamlessly access mobile passport control and CBP Forms without ever leaving the app, the first airport in the world authorised by CBP to do so.
The county's Aviation Director Lester Sola said: "Improving customer service through technology and innovation is our highest priority at MIA. 
"We are proud to partner with CBP on this new technology, which has significantly reduced waiting times for our international passengers."
The re-designed, all-technology driven facility also offers passport clearance via Global Entry kiosks and the Mobile Passport Control (MPC) app for select flights arriving at concourses E and F.
U.S. Customs and Border Patrol Executive Assistant Commissioner Todd Owen said: "CBP's core mission is to safeguard America's borders.
"We must balance our need to increase security while still expediting travel.
"Passenger volumes are on the rise here at the Miami International Airport. In order to meet the growing challenge of balancing traveller volumes and security, CBP has partnered with industry stakeholders to leverage biometric technology and systems."