Putting the AI in airport: Aurora's Deep Learning powers facial recognition and more
With Heathrow embracing facial-recognition technology and other airports following suit, we hear from field-leader Aurora about where we are with the march of the software, how we got there and where we are going.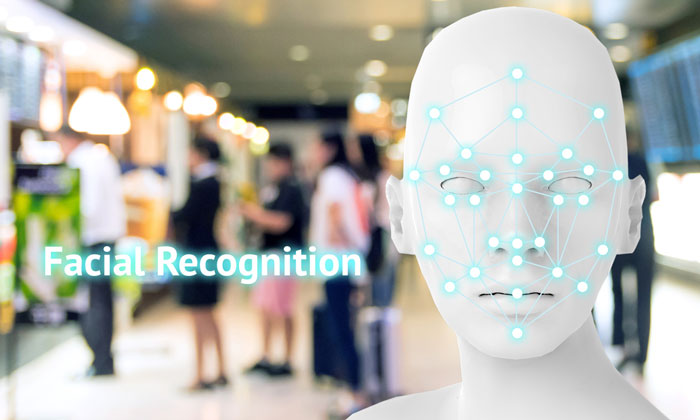 FACING THE FUTURE: Aurora is at the cutting edge of facial recognition tech
Recent months have seen a flurry of publicity for Heathrow Airport Limited (HAL) and British Airways' (BA) facial recognition-equipped self-boarding gates, which allow domestic passengers to scan their own boarding passes and, when approved, simply walk on board the aircraft. Those new gates are powered by technology from Northamptonshire company Aurora, a leader in the field of facial recognition and UK pioneers in the use of artificial intelligence.
The self-boarding gates are an extension of the technology which has been in use at Heathrow since 2012. Design, engineering and project management consultancy Atkins is the company responsible for the passenger processing system of which Aurora's facial recognition technology is part.
Andrew McCue-Brown, Identity Management Solutions Product Manager, at Atkins, explains. "Aurora and Atkins have worked together at Heathrow Airport for twelve years," he says. "We've integrated Aurora's face recognition technology into our PASS2 passenger-processing solution, which has enrolled and verified tens of millions of passengers at the airport since 2012. The technology has since been integrated into our Identity Management Toolkit (IDMT)."
Tom Heseltine, Aurora's CEO, says that with HAL and BA's gate initiative, once a passenger is enrolled in the system through a non-intrusive face scan, their image is linked with their boarding pass.
"When they go to board the plane, their face is checked against the recorded facial image previously associated with the boarding pass to make sure that this is the correct person who was issued with the boarding pass in the first place," he said. "And then they can get on the plane. It means the airline can get more passengers through more quickly, without the need to double or triple the staff at the gate."
A key differential between Aurora's facial recognition technology and that available elsewhere is that Aurora uses infrared lighting, rather than natural lighting, to overcome issues created by shadows or darkness. McCue-Brown said: "Airport design and the unpredictability of the British weather create rapid variations in terminal lighting conditions. Using an infrared light source helps overcome this."
But the real game-changer is in Aurora's embrace of artificial intelligence through Deep Learning. Heseltine says the first iteration of the system used at Heathrow was a "traditional face recognition system", but in 2016 this was upgraded to Aurora's latest AI-based system.
"You've probably seen in the news and in headlines about the big revolution in artificial intelligence – it seems to be in every Hollywood movie at the moment," Heseltine says. "And that's because there has been a huge breakthrough in AI. Not long ago Google DeepMind produced an artificial intelligence system that managed to beat the world champion Go player.
"When I was at university my professor told us that when an AI could beat world champion Go players, that's when true artificial intelligence had been born – and the world was about to change at that point. And that happened in January."
The technology behind both Google's DeepMind and Aurora's technology is called Deep Learning. This involves building an artificial neural network, a simulated 'brain'. You can then teach that brain to do, Heseltine says, "pretty much anything you like."
"At Aurora we trained an AI to recognise faces," he says. "And that greatly improved our face recognition capabilities. It's a huge improvement in accuracy that would have taken perhaps a decade to achieve before the advent of Deep Learning. And we installed the new AI-powered version of our system at Heathrow last summer, and it's what is being used in the new self-boarding gates and across the airport."
McCue-Brown says the longstanding working relationship between the two companies has been of benefit to both.
"Our real-world experience provides context which has helped Aurora develop their technology," he says. "They have been proactive in developing a Software Development Kit that gives us the configurability and control to adapt to our client's changing business and operational requirements. The introduction and development of the Deep Learning AI platform has further improved the underlying face-matching process.
"The biometric cameras combine a sleek aesthetic form and efficient function to support standard and exception processes at both staffed and self-service touch-points.
"Although Atkins is vendor-independent, we feel that as the modern terminal environment continues to evolve, Aurora's technology and flexibility provide the most effective solution to support identity management during the departing passenger journey."
Away from Heathrow
Heseltine says Aurora's facial recognition technology is also in place in the UK at Manchester Airport, and it's been trialled in Keflavik, in Iceland. "Outside of the air industry there's over 1000 installations around the world," he explains. "We're quite big in time and attendance in the construction industry, for instance. That's one of our biggest markets."
He says that there are specific issues that need to be addressed when designing a face recognition system to work in an airport or passenger scenario.
"Security, of course, is absolutely paramount in the air industry," Heseltine explain. "That isn't necessarily the top priority in the construction applications, where the system is used a lot of the time to confirm that hours are being worked and wages are being paid to the correct employee. Mistakes, if they are made, can be fixed.
"But obviously airports operate at a much higher level of security, so they require a cooperative passenger who is willing to go through the security process. For construction sites, you might have 6000 operatives who need to start work as soon as possible. Whereas on the airport side, while speed is important, it has to be balanced with security.
"The other big factor that's different between the two is that in the construction industry, and with our access control systems, people are using it several times a day, every day. So they get used to it. They know what they're doing. They know that it's not going to recognise you if you've got a balaclava on, or a scarf wrapped around your chin.
"But often in an airport, someone will be approaching the system for the very first time. They don't know it's there, they've never used it before – they might not realise face recognition's going to happen, even with signage there. So making a system that's very easy to use, is really intuitive, but will still operate quickly and effectively: that's a big challenge in the airport environment.
"You've got children, you've got the elderly, you've got tired passengers who have been on long-haul flights, and they've all got to be able to get through the system really quickly and painlessly to minimise delays and disruption. So we need to build that sort of intuitiveness into the way that it works."
AI's other airport applications
It's not all face recognition for Aurora, however. An airport, it turns out, is an ideal location for Deep Learning applications, due to the data rich environment created by the movement of millions of passengers, bags and aircraft. As a result, Aurora's Deep Learning technology is also being developed in other ways to benefit airports, Heseltine says.
"One project we're working on is AI to improve the efficiency of luggage processing in major hub airports," he says. "And then another one, which is just surfacing at the moment, is around car park prediction. How full is the car park going to get, based on weather, flight load factors, punctuality of flights, what time of year it is, is it school holidays, and so on.
"The applications of AI are just absolutely huge, it's so varied. The air industry is really ripe for this. To be able to scale and operate efficiently it needs this level of automation. And AI is perfect for delivering that."