Canadian airports report 6.3 per cent growth in 2017
Passenger footfall rising by as much as 80 per cent in some airports has drawn positive nods from the Canadian aviation community, but behind it there remain concerns over the lack of funding for security projects.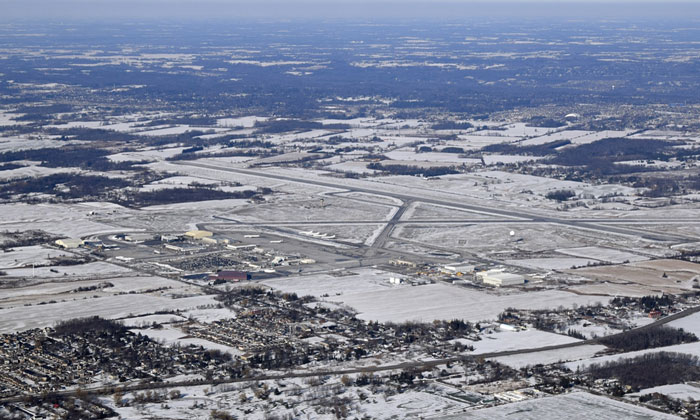 FROZEN NORTH: Hamilton Airport in Mount Hope during winter
Canadian airports saw record passenger numbers last year with a 6.3 per cent rise in overall traffic and a 9.8 per cent rise in international footfall.
The Canadian Airports Council (CAC) announced the growth in its monthly newsletter, but also warned that "federal funding for security screening and border services" was lagging behind.
The country's second busiest airport, Vancouver International, was up by 8.3 per cent, welcoming more than 24 million passengers.
Its President and CEO, Craig Richmond, said: "It's hard to believe that we have exceeded expectations and are only one million shy of our original goal of 25 million passengers by 2020. This growth puts YVR as one of the fastest growing airports in North America.
"Looking ahead, we are seeing exciting new destinations and increased frequencies. We are here to connect B.C. proudly to the world and we will continue to generate lift by facilitating the ambitions and endeavours of British Columbians."
Toronto Pearson, the nation's busiest airport, was also up by a substantial 6.3 per cent.
The airports council singled out a much smaller airport in its newsletter: John C. Monro Hamilton International. At 599,000 passengers in 2017, it had grown 80 per cent on the previous year.
Its CEO Cathie Puckering said: "This is an exciting time for Hamilton International as more passengers discover the ease and convenience of travelling from Hamilton. 
"The passengers are originating from Hamilton and surrounding areas including Toronto and beyond thanks to the wide variety of destinations being served from Hamilton."
In an opinion piece published on National Newswatch, the National Roundtable on Travel and Tourism (NRTT) expressed its concerns over funding for airport security. It said that the Canadian Air Transport Security Authority (CATSA) projected a funding shortfall of CAN $180 million next year as passenger numbers continue to climb.
The piece also criticises the way in which CATSA funding is allocated, describing it as "unnecessarily complicated". Flyers are charged a $7-25 fee on their ticket called an Air Travellers Security Charge but the NRTT said that this money does not go straight to CATSA. Instead, it goes into a "general revenues" pot "where [funds] are allocated to projects, without a specific tie back to CATSA".