Successful biometric e-gate demonstration at LAX blazes trail for commercial aviation
Passengers entered a British Airways flight from LA to London Heathrow at Los Angeles International Airport (LAX) this week, using their faces alone as a boarding pass.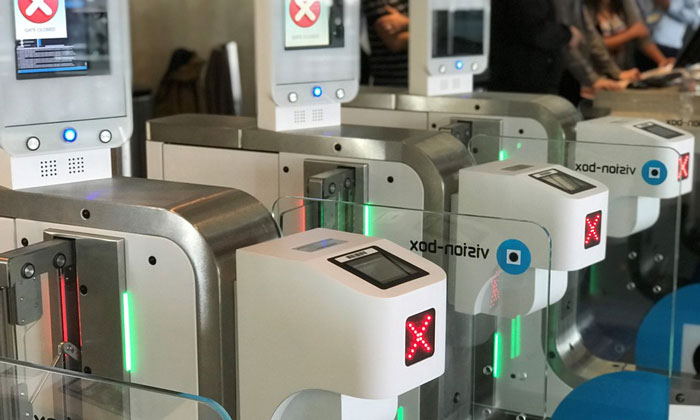 Image courtesy of British Airways
As part of the congressional mandate of the U.S. Customs and Border Protection (CBP) to implement a biometric exit system at its ports of entry, it has been working with LAWA's Information Management and Technology Group on the testing of new biometric equipment at LAX.
In addition to the Boeing 777, British Airways used facial-recognition technology developed by Vision-Box and supported by CBP to board an Airbus A-380, also bound for London Heathrow, later that evening.
Following trials of the equipment late last year, LAWA and British Airways are continuing a pilot programme to demonstrate the capabilities of the technology by using it for two nightly departures to London.
"Biometric boarding, where a passenger's face is their boarding pass, merges two of our highest priorities – improving the guest experience and enhancing security and safety for all those who travel through or work at LAX," said Los Angeles Airport Commissioner Gabriel Eshaghian. "These biometric boarding gates are one more way in which LAX is leading the pack, embracing and implementing innovative technology that will help create the world-class airport that Los Angeles deserves."
These e-gates use emerging technology to enable a faster and easier boarding process for passengers," said Justin Erbacci, LAWA's Chief Innovation and Commercial Strategy Officer. "LAX is proud to be the first location in the United States to pilot this unique, paperless, biometric boarding process."
Each passenger's photo is captured by the e-gate system and then sent to CBP for matching to the digital photo captured at the initial immigration process.
"U.S. Customs and Border Protection (CBP) Biometric Exit Program is successfully modernising the way travellers interact with airports, airlines and CBP –creating a seamless travel process that is both reliable and secure," said Carlos C. Martel, Director of CBP Office of Field Operations in Los Angeles. "CBP is leading nationwide efforts to streamline the travel process by providing the air travel industry a secure platform for identifying and matching travellers to their identities at multiple points in the travel process, and more predictable, by establishing a clear, easily-understood boarding process."
British Airways was the first to test this 'one-step,' contactless process that relies on the facial recognition capabilities of the system alone, rather than coupled with a boarding pass.
"At the heart of our operation will always be our frontline colleagues and we know that frequent flyers want to travel quickly and easily through the airport – and benefit from the advantages of self-serve technology," said Raoul Cooper, British Airways' Airport Transformation Design Manager. "Our aim is for customers to have a seamless experience when they travel with us, and we want to put our customers in complete control of their own journey. This step forward to modernise our operation is a first in the industry, and we will continue to work with airports around the world to evolve this technology, and revolutionise the way in which people travel."
The Vision-Box e-Gates have been installed at Gates 152, 154 and 156 in the Tom Bradley International Terminal, and additional airlines are making plans to test the technology.