Sustainability tops the agenda at air industry summit
This year's Air Transport Action Group's (ATAG) Global Sustainable Aviation Summit in Geneva brought leading aviation figures together to discuss their collective goals.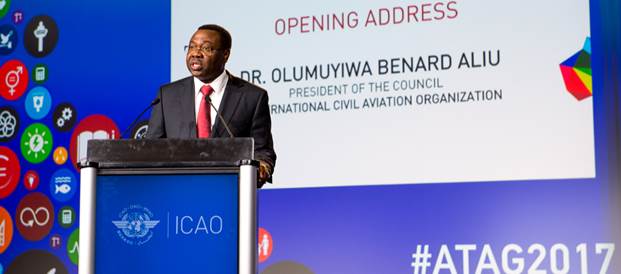 SAFE, SECURE, EFFICIENT: ICAO Council President Dr. Olumuyiwa Benard Aliu delivers the Keynote address to the 2017 Global Sustainable Aviation Summit hosted by the Air Transport Action Group. He stressed in his remarks that a well-supported and ICAO compliant air transport sector will bring tremendous benefits to cities and societies wherever aircraft fly. Photo: ATAG.
The coalition, whose goal is to unify the aviation industry and ensure it speaks with one voice, counts Bombardier, Airports Council International (ACI) and the International Air Transport Association (IATA) among its membership.
This week 300 delegates met in Geneva to discuss their common aims in developing sustainability across the sector. To coincide with the meeting, the group released a report, Flying in Formation, to help industry figures get to grips with the United Nation's (UN) Sustainable Development. 
ATAG Executive Director, Michael Gill said: "We hope Flying in Formation will provide ideas for how companies and partners across the sector can build the Sustainable Development Goals (SDGs) into their own corporate strategies. Whilst the SDGs are developed by and for governments, there are a number of reasons why companies also need to respond.
"Following the SDGs makes good business sense. Businesses thrive in societies with healthy, prosperous and stable populations, clear rules of engagement and open borders. Governments will also increasingly make legislation and regulations that follow the themes of the SDGs, particularly in emerging and developing economies. And the SDGs provide a very convenient template for a business to look at its own sustainability agenda."
Alternative fuels
In a panel discussion yesterday (October 4) a panel discussed the future of alternative energy.
One of the major challenges discussed was cost, with jet fuel being by far the biggest cost of any airline which is anywhere between 30 and 40 per cent. With the historic margins for airlines being somewhere around 2 per cent airlines will struggle to pay a premium for alternative fuels.
One of the airports leading the way is Geneva Airport, that has committed to introduce sustainable and renewable jet fuel for aircraft operations, with a target of at least one percent of the annual jet fuel consumption starting late 2018.
Andre Schneider, Chief Executive Officer Geneva Airport explained: "We won't make it an option to take alternative fuels or not. We have decided we want to add a fixed percentage which will be one percent of alternative fuels delivered. The Airport, with support of the government, will pick up the difference in costs, so the airlines will pay the exact same."
Jonathon Counsell, Group Head of Sustainability, International Airlines Group, the sixth biggest carrier in the world, said that the biggest challenge for IAG in the UK is policy and getting the right policy instruments in place.
The panel agreed that stable policies and legislation are key in order to continue to invest in sustainable fuels.
James Andersen, Business Director, Green Fuels & Chemicals, Honeywell UOP said: "At the moment, the market is going towards diesel fuels because of the way policies are structured."
Dr Bruno Miller, Managing Director, Fuels, Fulcrum Bioenergy, said: "Financing is the hardest part, technology is available, feedstock is too, but it's putting everything together. So eventually you need a business case for investment and for that you need private institution to invest.  But for that you need a stable policy environment – It's important that policies for 10-15 years stay the same."
International Civil Aviation Organisation (ICAO)
Speaking on Tuesday, ICAO Council President Dr. Olumuyiwa Benard Aliu delivered a message on the need for coordinated aviation investment and development, while providing important updates on his organisation's progress  on the new Carbon Offsetting and Reduction Scheme for International Aviation (CORSIA).  
He said: "Air transport's role in economic development is more important today than ever before and the 17 United Nations Sustainable Development Goals (SDGs) help to concentrate government and development planners on the varied means by which access to safe, secure, efficient and affordable air services brings direct benefits to civil society and local and regional commerce.
"A well-supported and ICAO compliant air transport sector will bring tremendous benefits to cities and societies wherever aircraft fly. But so too will underdevelopment and lack of compliance with ICAO Standards raise risks and barriers to governments' objectives for successful sustainable development."