ICAO and ATAG sign Joint Statement on sustainable approaches to emissions reduction
ICAO and ATAG signed a special Joint Statement…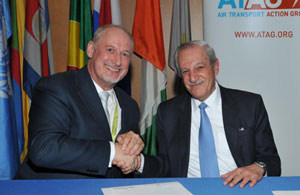 ICAO Council President Roberto Kobeh González (right) and ATAG Executive Director Paul Steele (left)
Worldwide, international aviation activity currently accounts for around 2 per cent of global man-made carbon dioxide emissions.
Recognizing that partnerships between ICAO Member States and the aviation industry are critical in moving toward a sustainable future for international aviation, ICAO and ATAG signed a special Joint Statement on sustainable approaches to emissions reduction last week. The signing ceremony took place after a special ATAG information session in advance of the 4th ICAO Symposium on Aviation and the Environment.
The full text of the Joint Statement is available here.