Up to 24 new connections for Finavia in the winter
Finavia's airports will open a whopping 24 new routes around Europe in the 2023–2024 winter season.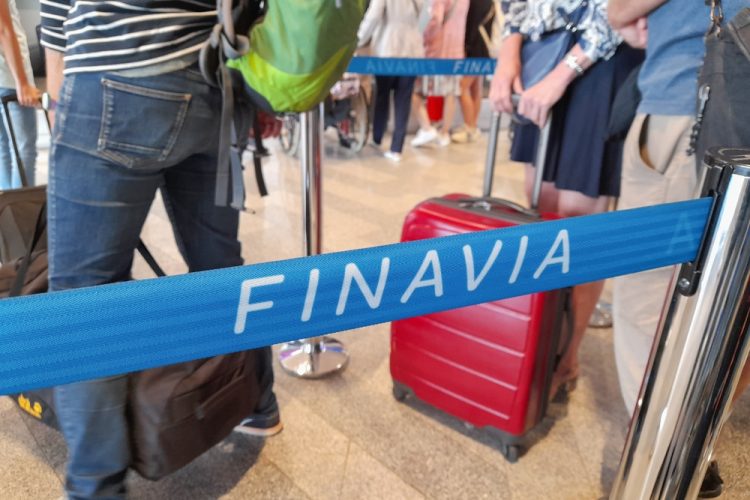 Finavia's new winter destinations.
Finavia's airports will open a whopping 24 new routes around Europe in the 2023–2024 winter season. You can fly from Finland in winter with direct route connections to more than 130 destinations worldwide. 
Numerous new connections to the world will be celebrated throughout Finland in the coming weeks and months. The global air traffic winter season started on Sunday, 29 October, and up to 24 new international route connections will open to Finavia's airports.
Finavia continuously cooperates with airlines and regional partners, so that the connections remain comprehensive and Finland accessible. The coming winter is proof of this long-term work. Our airports connect Finland to more than 130 destinations around the world, says Finavia's director of route development Petri Vuori.
A record season is coming to Lapland
Finavia's Lapland airports will open 18 new routes to Europe. A total of 35 direct international routes will fly to Lapland next winter. Airlines offer 240,000 passenger seats to Lapland (+16%) compared to the previous winter. About 150,000 of the increased seats will be allocated to Rovaniemi Airport.
In October-November, Ryanair will start flights to Rovaniemi from Liverpool and Milan. Easyjet, on the other hand, will open connections to Santa's hometown in December from no less than five different destinations: Edinburgh, Paris, London, Amsterdam and Naples.
The super day of route openings is 02 December 2023, when Finavia welcomes connections from up to four different airlines. Iberia Airlines will then start flights from Madrid, Vueling Barcelona, ​​Finnair Tromssa and Austrian Airlines from Vienna. Eurowings will also open a route from Rovaniemi to Berlin in January 2024.
In addition to the new routes, Ryanair will return to flying to Rovaniemi from Dublin, London Stansted and Brussels Charleroi. Easyjet, on the other hand, will continue its flights to London Gatwick, Bristol, Manchester and Milan. KLM continues its connection from Rovaniemi to Amsterdam, Air France to Paris, Turkish Airlines to Istanbul and Eurowings to Düsseldorf.
Starting in November, Kittilä will be connected to Great Britain on two new Easyjet routes, when the company starts flights to both Manchester and London Gatwick Airport. Routes returning to Kittilä airport include Air France's Paris, Eurowings' Düsseldorf, Air Baltic's Riga and Lufthansa's Munich.
Eurowings will start flights from both Ivalo and Kuusamo airports to Düsseldorf during the Christmas holidays. The Swiss airline Edelweiss Air will also land in Ivalo and Kuusamo, starting scheduled flights to Zurich at the beginning of February 2024. In addition, Lufthansa returns to flying from Frankfurt to both Ivalo and Kuusamo.
Finnair will increase its flights from Helsinki-Vantaa to all Finavia Lapland airports for the winter. In addition to Finnair, Norwegian also flies from Helsinki-Vantaa to Rovaniemi.
Lapland's travel season is becoming a record for winter. Next, we will turn our gaze even more closely to the construction of Lapland's summer season and the opportunities it brings to the region, Vuori continues.
The winter's comprehensive range of routes is not limited to Lapland
In October-December, Air Baltic will have four new destinations from Tampere-Pirkkala airport: Tenerife and Las Palmas in the Canary Islands, the company's first domestic route destination Kittilä, and daily flights to Tallinn. The company will also continue its current flights to Amsterdam, Copenhagen, Malaga and Riga.
In December, Lufthansa will open its long-awaited route from Oulu to Munich, the heart of Central Europe, and SAS will start flights from Helsinki-Vantaa to Oslo right at the turn of the winter season. Vueling will also return at the end of October to fly from Helsinki-Vantaa to Barcelona, ​​now with three weekly flights.
In addition to comprehensive European connections, Helsinki-Vantaa can fly directly to many distant destinations with several airlines. Finnair offers flights to destinations in North America, the Middle East and Asia, while Japan Airlines flies to Tokyo's Haneda Airport and Juneyao Airlines to Zhengzhou and Shanghai in China.
Rovaniemi Airport
| | | |
| --- | --- | --- |
| Target | Carrier | The start date of the route |
| Liverpool, United Kingdom | Ryanair | 30/10/2023 |
| Milan-Bergamo, Italy | Ryanair | 4 November 2023 |
| Madrid, Spain | Iberia Airlines | 2/12/2023 |
| Vienna, Austria | Austrian Airlines | 2/12/2023 |
| Tromsø, Norway | Finnair | 2/12/2023 |
| Edinburgh, United Kingdom | easyjet | 3/12/2023 |
| Paris, France | easyjet | 9/12/2023 |
| London-Luton, UK | easyjet | 9/12/2023 |
| Amsterdam, Netherlands | easyjet | 14/12/2023 |
| Naples, Italy | easyjet | 16/12/2023 |
| Berlin, Germany | Eurowings | 13.1.2024 |
Kittilä Airport
| | | |
| --- | --- | --- |
| Target | Carrier | The start date of the route |
| Manchester, United Kingdom | easyjet | 16/11/2023 |
| London-Gatwick | easyjet | 25/11/2023 |
Ivalo Airport
| | | |
| --- | --- | --- |
| Target | Carrier | The start date of the route |
| Dusseldorf, Germany | Eurowings | 23/12/2023 |
| Zurich, Switzerland | Edelweiss Air | 2/2/2024 |
Kuusamo Airport
| | | |
| --- | --- | --- |
| Target | Carrier | The start date of the route |
| Dusseldorf, Germany | Eurowings | 21.1.2023 |
| Zurich, Switzerland | Edelweiss Air | 2/2/2024 |
Tampere-Pirkkala Airport
| | | |
| --- | --- | --- |
| Target | Carrier | The start date of the route |
| Tallinn, Estonia | Air Baltic | 29/10/2023 |
| Tenerife, Spain | Air Baltic | 1/11/2023 |
| Las Palmas, Spain | Air Baltic | 2/12/2023 |
| Kittilä, Finland | Air Baltic | 22/12/2023 |
Oulu Airport
| | | |
| --- | --- | --- |
| Target | Carrier | The start date of the route |
| Munich, Germany | Lufthansa | 16/12/2023 |
Helsinki-Vantaa Airport
| | | |
| --- | --- | --- |
| Target | Carrier | The start date of the route |
| Oslo, Norway | SAS | 29/10/2023 |