JFKIAT to enhance passenger experience at Terminal 4
JFKIAT announced they are deploying an Auto Bag Drop and Next Generation Kiosk self-service technology to enhance passenger experience.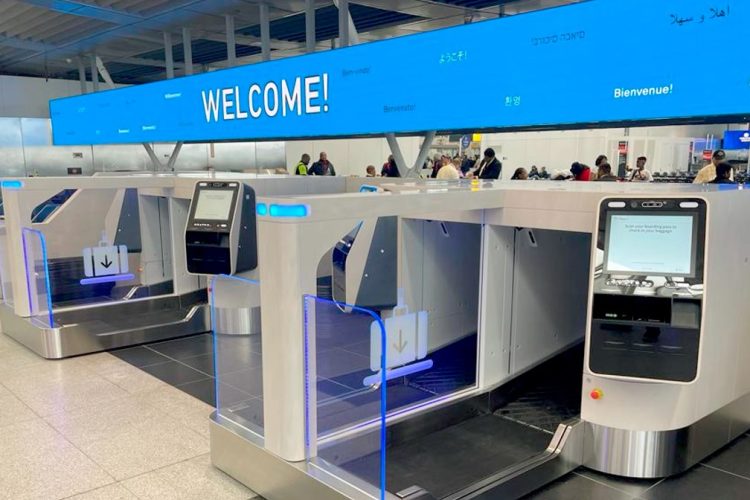 JFKIAT self-service stations. CREDIT: JFKIAT.
JFK International Air Terminal, LLC (JFKIAT) – the operator of Terminal 4 at JFK Airport – has announced that T4 is deploying an Auto Bag Drop (ABD) and Next Generation Kiosk (NGK) self-service technology to ensure a smooth and efficient passenger flow through the airport. 
Using the new self-service technology, passengers are able to check-in and print their bag tag at one of 86 kiosks. They can do this before leaving their bag to at of 42 Auto Bag Drop units. All available kiosks and bag drops will have biometric function, which will help ensure smooth operational efficiency because passengers can be identified via facial recognition. 
Roel Huinink, President & CEO of JFKIATKI, said: "JFKIAT shares (the) vision for the future of travel with an elevated passenger experience and a seamless flow that is enabled by self-service and biometrics. As part of our extensive Terminal 4 transformation and redevelopment plans, we are proud to launch these self-service technologies and are confident…to offer an enhanced experience for passengers travelling through our terminal." 
The new technologies of Auto Bag Drop and New Generation Kiosks are part of Terminal 4's $1.5 billion transformation, which is a component of JFK International Airport's redevelopment programme. This programme was announced in 2021 and continues its progress.
In the future, JFKIAT can introduce biometrics at these service points, giving travellers the option to use facial recognition for check-in/baggage drop, rather than presenting paper travel documents. Passengers can also enrol for biometrics at home by taking a 'selfie' from their phone, thus ensuring a smooth airport experience.