Stockholm Arlanda Airport to welcome first food hall
Stockholm Arlanda Airport continues plans to launch its new security checkpoint, marketplace, and food hall, which will allow passengers to enjoy food from a number of different restaurants.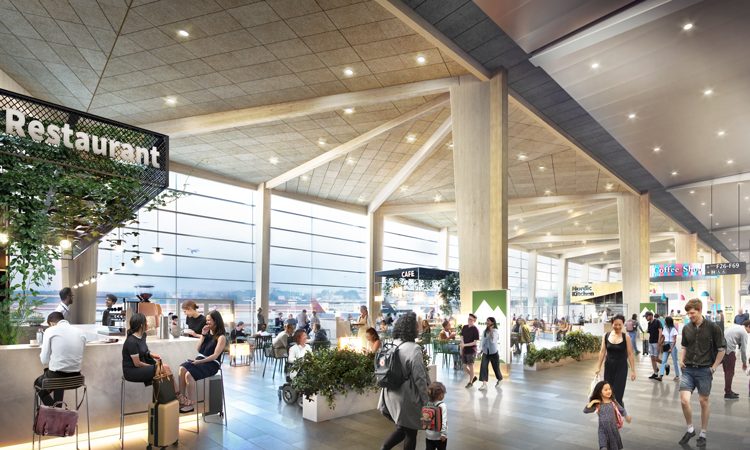 Photo: White. Stockholm Arlanda Airport's first food hall will open its doors at the Marketplace
The new Stockholm Arlanda Airport (ARN) continues to take shape, and when the new security checkpoint and the marketplace are completed, many new restaurants and bars will open. Among other changes, Stockholm Arlanda Airport's first food hall will open its doors. Passengers will be able to enjoy food from a number of different restaurants here, including everything from hamburgers to dishes with flavours from the Middle East.
A large security checkpoint with state-of-the-art technology is being built in Terminal 5, which will make screening easier for passengers. Right next door, the new marketplace, the biggest investment ever in commercial operations at Arlanda, is being built. The marketplace will feature Nordic design and have a total of 11,000 sqr-m of commercial space. The first of three phases will open in the summer of 2023, and the entire marketplace will be completed in late 2024 / early 2025.
Since 'eating is the new shopping,' more premises for restaurants and bars will be available in the marketplace and be adapted to the passengers of the future. The focus will be on a wide range of options and healthier food. A price cap will also be in place, which means prices cannot be more than 10 per cent higher compared to similar offerings 'in town'.
"It will be easy for passengers to choose from a varied range of options, with flavours from different parts of the world, and the offering will meet all the different kinds of needs that passengers can conceivably have no matter the time of day. All in all, the offering and experience should contribute to a memorable experience that people will want to share with others and experience again soon," commented Charlotte Ljunggren, Chief Marketing Officer, at Swedavia.
HMSHost is a leading provider in food and beverage services for travellers. They already run numerous restaurants and bars at Arlanda today, and in the summer of 2024 HMSHost will open Arlanda's first food hall in the marketplace, a venue that brings together a variety of different restaurants.
Here are the outlets that HMSHost will open at Stockholm Arlanda Airport and the Marketplace:
The food hall, which will feature La Neta, Bun Meat Bun and Baba Grill together with a bar and the pop-ups Asia Street Cooking and Bread Break. To open in summer 2024
Espresso House. To open in autumn 2024
60 Degrees – Bar and Brewery. To open in summer 2023
Fresh Forward. One outlet to open in 2023 and one to open in winter 2024
Brew'd. To open in autumn 2023.