Hamad International Airport sets the standard for green airports
Hamad International Airport has begun recycling organic compost from green waste generated during landscaping activities, as a further commitment to the airport's objective to meet zero landfill.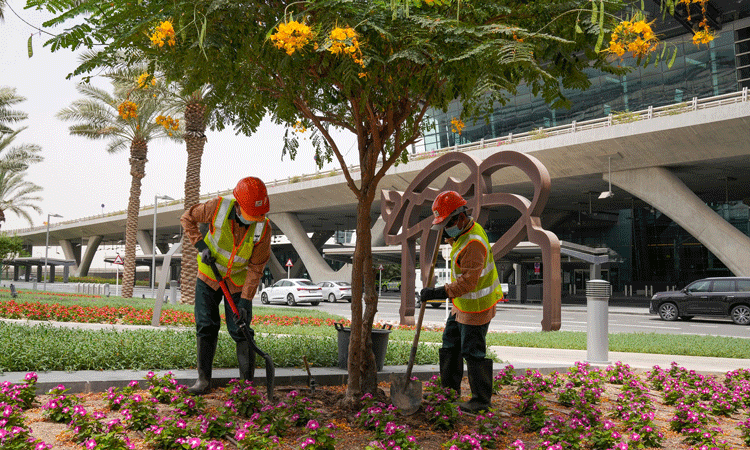 Credit: Hamad International Airport (HIA)
To meet Hamad International Airport's (HIA) commitment to environmental preservation and its objective of achieving zero landfill, the airport is recycling organic compost from green waste generated during landscaping activities. As a result, organic compost is being used at the airport as fertiliser for landscaping, reducing the use of synthetic chemical fertilisers and its risks. This initiative intends to generate about 3,979 tonnes of organic compost on an annual basis, which will then be used for the airport's landscaping activities and will also be provided to third parties for utilisation.
This initiative is in line with HIA's Memorandum of Understanding (MOU) with the Ministry of Municipality, to modernise and enhance the airport's waste management process and takes it a step closer to achieving Qatar's National Vision 2030.
Working alongside the Municipality, HIA aims to achieve sustainable development of its waste treatment and recycling, which includes waste sorting from the source point, to ultimately eliminating any of its waste ending up in landfill in the near future. The MoU also focuses on developing an integrated system for waste separation by safely transporting, recycling and disposing waste, whilst promoting environmental awareness and a culture of sustainability at Qatar's award-winning airport.
Michael McMillan, Vice President Facilities Management at HIA commented: "Throughout our young history, we have continued to showcase our commitment to environmental sustainability, from improving carbon efficiency to reducing greenhouse gas emissions and managing wastewater, sustainability has proudly been at the forefront of what we do since our inception. As a strong contender for SKYTRAX World's Best Airport 2022, this initiative is another milestone towards achieving our targets and cementing our place as leaders behind environmental sustainability in the aviation industry".       
Recently, HIA has invested in its green future through the introduction of sustainable measures at its Oryx Airport Hotel. The hotel has successfully replaced all its plastic water bottles with eco-friendly water containers, along with an extensive array of initiatives aimed at increasing the positive environmental impact of the airport. The Oryx Airport Hotel has also replaced all guestroom keycards with bamboo cards, adopted recycled paper for all hotel printing collaterals and operations, substituted plastics like bags and cups with biodegradable material.
Since 2014, HIA has demonstrated its commitment to environmental sustainability by pledging to improve carbon efficiency per traffic unit by 30 per cent by 2030. The airport has since established a continual decrease in overall CO2 emissions and has been certified at Level 3 by the Airport Council International's (ACI) Airport Carbon Accreditation (ACA) programme.
Environmental sustainability has been adopted through HIA's sustainable wastewater management strategy, which includes directing waste water and sewage to HIA's dedicated wastewater treatment plant, which returns the treated water for irrigating the airport's landscape features. Since 2014, HIA's wastewater treatment plant has been successful in treating 100 per cent of wastewater generated from the airport for re-use with zero discharge to the sea. In addition, potable water consumption was reduced by 19.25 per cent in 2020 in comparison to 2019.