Hamad Airport re-certified by BSI for COVID-19 safety protocols
After becoming the first global entity to receive the BSI certification at the onset of the pandemic, Hamad Airport has been successfully re-certified for its health and safety COVID-19 protocols.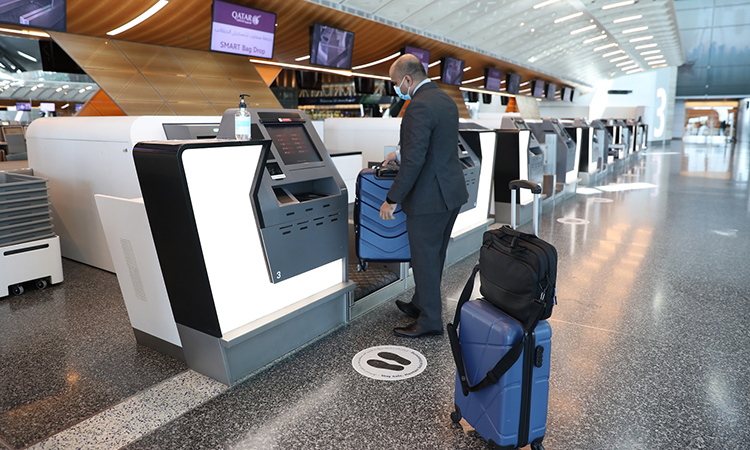 Credit: Hamad International Airport
Hamad International Airport (DOH) has announced that it has been re-certified by the leading standards body, the British Standards Institution (BSI), for its successful compliance with the safety and hygiene COVID-19 measures that were issued by the International Civil Aviation Organisation's (ICAO) Civil Aviation Recovery Taskforce (CART).
CART was developed to mitigate the health impact of the COVID-19 pandemic across the global aviation industry and provides practical and aligned guidance to industry stakeholders for the safe recovery of air travel.
Against the backdrop of the pandemic, Hamad Airport has continued to lead the recovery of international travel by rebuilding passenger confidence through ceaselessly monitoring and implementing the latest health, safety and security standards that have been outlined by renowned industry institutions.
BSI's re-certification attests the airport's execution of these measures, which provides health, hygiene and safety assurance to passengers travelling through DOH. The airport was the first global entity to receive the certification of the ICAO CART guidelines by BSI at the onset of the pandemic, and has now successfully achieved its re-certification.
Hamad Airport's ongoing safety measures for its staff and passengers include a vaccination drive for its staff to ensure their safety and wellbeing. Innovative solutions are also being adopted across the terminal to provide a seamless and touchless journey for passengers.
These technological solutions are evident in the airport's carry-on baggage screening, contactless elevators and cashless payment options. In addition, DOH, and the nation's carrier, Qatar Airways, are part of the International Air Transport Association's (IATA) Travel Pass trial, a digital platform that is providing passenger's with confidence at every step of their journey.  
Eng. Badr Mohammed Al-Meer, Chief Operating Officer at Hamad International Airport, said: "It is encouraging to see that our commitment to following the highest industry benchmark for delivering a safe and secure airport environment is being recognised. DOH's compliance to the CART health and safety guidelines has contributed to our position as the preferred travel hub for global passengers during the pandemic, providing travellers with comfort and security throughout their journey. Such industry protocols are vital for the safe restart of air travel. As more airports comply with ICAO CART guidelines, we can collectively boost passenger confidence and contribute to the highly anticipated re-emergence of air travel. DOH's re-certification is an achievement for all of our staff and stakeholders, as we have been working tirelessly towards building a new chapter for the global aviation industry."
Additional safety and hygiene measures at Hamad Airport include the strategic installation of hand sanitisers throughout the terminal; regular sanitisation of all staff and passenger touchpoints; frequent disinfection of baggage trolleys and tubs; baggage UV disinfection tunnels; and autonomous UV disinfectant robots.
Physical distancing is also maintained with the aid of floor stickers, queuing barriers, digital signage, acrylic barriers, distance seating and recurring announcements reinforcing the importance of following safety protocols. 
All of these efforts have also been recognised by other prominent organisations: Hamad Airport is the first and only airport in the Middle East and Asia to be awarded a Skytrax 5-Star COVID-19 Airport Safety Rating.
DOH is one of the few airports in the world to keep its door open during the pandemic. Qatar's airport utilised its resources and facilities to repatriate stranded passengers, deliver essential goods and support Qatar Airways to steadily rebuild the airline's international network to the largest in the world, with over 1,200 weekly flights to more than 140 destinations.
From fostering a strategic and advanced industry response to the pandemic with a holistic and sustainable approach, to adopting innovative safety and technological solutions, Hamad Airport continues to maintain its leading position as the preferred and trusted gateway for global travellers.