Melbourne Airport completes $85 million International Arrivals Hall refurbishment
In addition to the completion of its International Arrivals Hall refurbishment, Melbourne Airport has also completed an additional 64 construction projects since March 2020.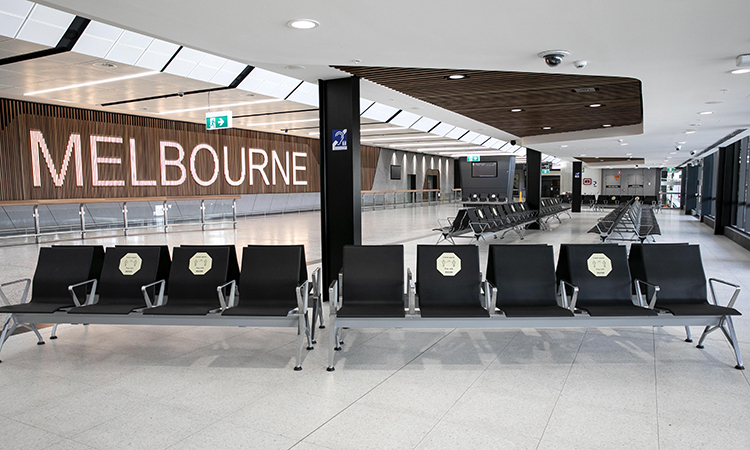 Credit: Melbourne Airport
Melbourne Airport (MEL) has announced that it has completed an $85 million refurbishment of its International Arrivals Hall. The upgrade, undertaken by Grimshaw architects, has created a more spacious and inviting environment, ready to welcome more New Zealanders and future international guests. 
The hall includes more seating for those waiting for their loved ones, a larger dwelling area, an improved undercover taxi-wait zone and repositioned retail outlets. 
As the largest international terminal investment made by Melbourne Airport in the past five years, the project included the installation of a contemporary indoor façade spanning 420m2 – the same size as the wing area of a Boeing 787 Dreamliner. 
Melbourne Airport's Chief of Infrastructure, Simon Gandy, said that the modernised arrivals space was sure to impress overseas visitors when they return: "The multi-million-dollar upgrade is spectacular, and we're confident that it will leave a great first impression on our international guests, especially all of the Kiwis that are about to touch down in Melbourne. The upgraded Arrivals Hall also makes it easier for people to connect with onward domestic flights, providing short connection times for passengers that need to walk between terminals." 
In addition to the International Arrivals Hall, Melbourne Airport has completed 64 construction projects from March 2020 to April 2021. The projects have added new infrastructure and amenities to the airport to support the overall passenger experience whilst also improving sustainability. 
"Despite COVID-19's huge impact on travel, we had to remain open, so we focused our resources on a select group of projects that would future-proof our operation. We took the opportunity of continuing some of the more intrusive construction works while the airport was quiet, to be ready to welcome our airline customers and guests as they return," said Gandy. 
He added: "Having paused a number of our larger capacity projects, and with a significantly reduced capital programme, we focused our resources on the projects that were essential to maintain safe and secure operations, to enhance the traveller experience and also those commercial projects that are assisting our property customers to rebound strongly from COVID-19. Our reduced spend of $450 million over this COVID-19 period provides a solid foundation on which to recover our business, and we will continue to manage with a clear focus on ensuring our prioritisation and pace of investment continues in concert with returning demand."
Melbourne Airport's key improvement projects
Key projects undertaken since March 2020 include:
International Arrivals Hall 
Melbourne Airport's new international arrivals area, located in Terminal 2. The Arrivals Hall is often the first impression of Melbourne that visitors have, and it is where many reconnect with loved ones. Pre-COVID-19, Melbourne Airport welcomed around 17,500 international arrivals daily. 
Amenities Upgrade Program 
Melbourne Airport is upgrading and adding additional bathroom facilities across the entire terminal precinct, including parents' rooms and service animal relief areas for those that rely on support animals. At this stage, new facilities have been unveiled in Terminal 3, while the next round of upgrades will take place inside Terminal 1.  
Taxiway Zulu (phase 1 completed in 2021) 
Taxiway Zulu forms part of a broader airfield development programme and is the largest single airfield investment for the airport since its opening in 1970. The new taxiway network replaces aged critical infrastructure, improves aircraft movements in the airport's northern precinct and will enable the future expansion of the international terminal and support the operations of a future third runway. 
Gandy said that the Taxiway Zulu project is the largest airfield project the airport has implemented: "Our taxiway works ensure that we can flow more aircraft without delay to and from our runways while also providing the opportunity to create more aircraft parking in the future. It's good news for our returning international airlines who will be looking for greater efficiency in their operations."
Security guardhouses 
Melbourne Airport has strengthened the capacity of two existing guardhouses and built a third guardhouse to support airfield access. The updated guardhouses include a three-lane tiered screening process and explosive trace detection facility, which are all part of the screening process required for contractors to enter the airfield. 
Airfield perimeter fencing overview
The airport delivered upgrades to security fencing – critical infrastructure that was approaching the end of its useful life. The fencing is not only a protection for the airport asset, but also prevents wildlife from burrowing onto the estate.
Solar farm
The solar farm is just one chapter in the airport's strategy to reduce its carbon footprint. Environmentally, Melbourne is committed to growing the airport in a sustainable way to not only benefit the operation, but also the airport community. The 12 megawatt solar farm took just over six months to complete and can generate enough power to support all four terminals.
Gandy said that the airport will continue to review and invest in energy solutions that deliver more sustainable outcomes and provide resilience to our airport operations: "We are focused on playing our part to reduce carbon emissions and, by adding this 12 megawatt farm, we're able to produce enough renewable energy to power all four passenger terminals. We are also looking to incorporate solar into all our new developments on the estate."
PFAS water treatment facility 
The water treatment facility took six months to construct and uses a series of processes to remove all solids in contaminated PFAS water on the airport estate. 
"Our water treatment facility helps us to manage PFAS by removing these contaminants, which then enables us to reuse water elsewhere on our estate. The facility is 100 per cent powered by solar, and we're really proud to have invested in this environment and sustainability initiative," said Gandy.